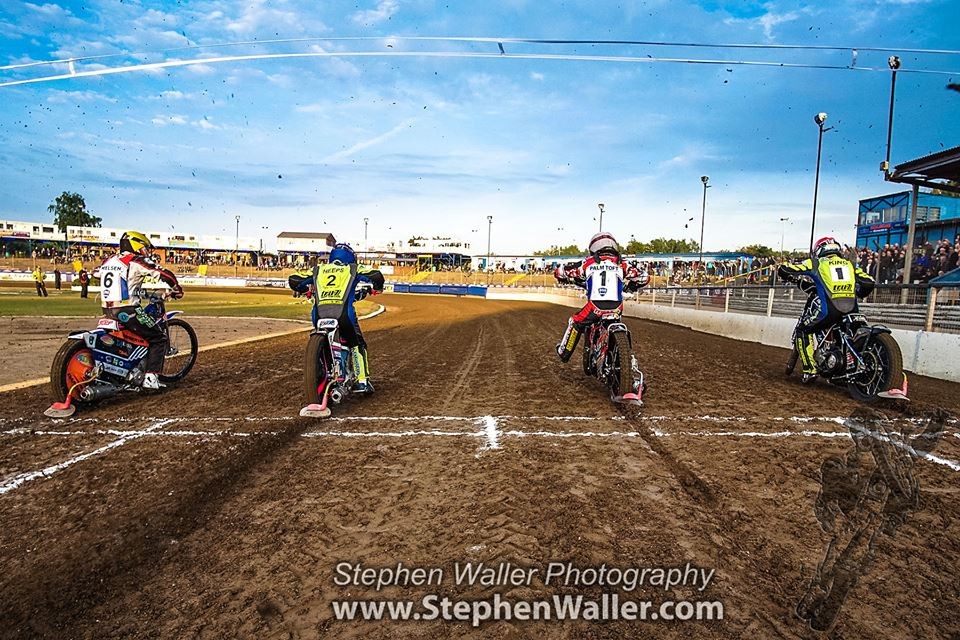 Words: Henry Chard
After much anticipation, the 2018 British Speedway fixtures have been announced this morning as the new season draws closer.
The 'Tru7.com' Witches have a mouth-watering start to the season at Easter as the traditional Good Friday double-header returns to the schedule with a local derby against Lakeside Hammers in the Championship Shield (March 30). The Suffolk side complete their Championship Shield campaign with more local clashes with Peterborough Panthers in April before starting the Championship season at Foxhall on April 26 against Newcastle Diamonds.
May begins with the Knockout Cup ties against the Hammers before the league action begins to gather pace. There are home comforts in June as the Witches stay at Foxhall for meetings against Sheffield Tigers and Edinburgh Monarchs but the travelling begins in July with long trips to face the Monarchs, Redcar Bears and Workington Comets.
It's a busy August as the race for the Play-Offs draws to its conclusion with eight confirmed fixtures leading into what will hopefully be a semi-final and final filled September for the Witches! The famous 16 Lap Classic also makes a return in 2018 to bring the season to a close (October 11).
You can find all of the 2018 fixtures below with home fixtures in bold.
Season tickets are still available to buy online here: www.ipswichwitches.co/tickets
2018 Ipswich Witches Fixtures
March
Friday 30th Ipswich v Lakeside CS (2.15pm)
Friday 30th Lakeside v Ipswich CS (8.00pm)
April
Sunday 1st Peterborough v Ipswich CS
Thursday 5th Ipswich v Peterborough CS
Thursday 12th Ipswich RESERVED Rain Off
Thursday 19th Ipswich RESERVED Rain Off
Thursday 26th Ipswich v Newcastle CH
May
Thursday 3rd Ipswich v Lakeside KOC
Friday 4th Lakeside v Ipswich KOC
Sunday 6th Newcastle v Ipswich CH
Saturday 12th Berwick v Ipswich CH
Thursday 17th Ipswich RESERVED Rain Off
Thursday 24th Ipswich v Berwick CH
Thursday 31st Ipswich RESERVED Rain Off
June
Thursday 7th Ipswich v Sheffield CH
Thursday 14th Ipswich RESERVED CS Semi-Final
Thursday 21st Ipswich v Edinburgh CH
July
Thursday 5th Sheffield v Ipswich CH
Thursday 12th Ipswich v Workington CH
Friday 13th Edinburgh v Ipswich CH
Thursday 19th Ipswich v Redcar CH
Thursday 26th Redcar v Ipswich CH
Friday 27th Workington v Ipswich CH
August
Thursday 2nd Ipswich v Lakeside CH
Friday 3rd Lakeside v Ipswich CH
Sunday 5th Peterborough v Ipswich CH
Thursday 9th Ipswich RESERVED KOC 1/4 Final
Thursday 16th Ipswich v Glasgow CH
Friday 17th Glasgow v Ipswich CH
Thursday 23rd Ipswich v Peterborough CH
Friday 24th Scunthorpe v Ipswich CH
Thursday 30th Ipswich v Scunthorpe CH
September
Thursday 6th Ipswich RESERVED KOC Semi-Final
Thursday 13th Ipswich RESERVED Play-Off Semi-Final
Thursday 20th Ipswich RESERVED KOC Final
Thursday 27th Ipswich RESERVED Play-Off Final
October
Thursday 11th 16 Lap Classic
Key
CS= Championship Shield
CH= Championship
KOC= Knockout Cup
'Reserved' dates will be used to re-arrange any rained-off fixtures or potential future cup meetings as listed above.