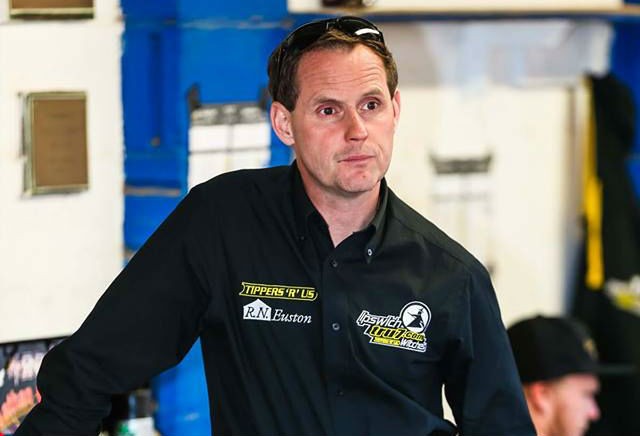 At the time, the home defeat to Edinburgh seemed like a bad thing, which of course it would. We have been raving about how strong we are at home this season so to lose to Edinburgh was a shock and a blow. I always thought that it would be Edinburgh, not as one of the toughest teams in the league but as one of the toughest teams we could face. They have got people that like Ipswich so much and you can now add Erik Riss to that list, they are quite tough to beat. It wasn't a shock to me at all as I felt if we were going to lose it would be to them. I don't think we would lose again and looking back with hindsight it was a timely kick up the backside for everybody. It has done us the world of good as it made us realise we are not unbeatable at home and there are some good sides out there and we can't afford to be complacent against anyone.
It put us under a little bit of pressure too. We went away after that defeat and suddenly realised that the play-offs were not a given and we needed some other results. That is the effect it had and it can only be seen now as a positive thing. Yes, we still can't afford to slip up at home and if we win both our remaining home meetings we will be safe in the play-offs. Although if we hadn't lost to Edinburgh we probably wouldn't even need that much right now! That added pressure made us lift our game though.
The Fours was a day of two halves and it was so strange to watch. We looked and felt confident after the semi-final having outscored everyone in both semis. None of the riders had any complaints about their performance, their equipment or the track and everyone was settled and confident. I thought we went into the final with the upper hand having come from the second semi-final, knowing track conditions a little better. We flopped dreadfully in the final and I can't put my finger on why and it was very disappointing.
I don't think the team change episode has had any effect on Connor (Mountain). He had no reason to be losing his team place prior to that other than we were looking to make an overall improvement to the team, predominantly down to Justin's (Sedgmen) problems and lack of performance. I don't think anything has changed for Connor. He has always been that professional before and has remained the same since and has continued to go in that direction with his confidence and riding and that has been Connor's season. I don't think that episode has made any difference to him.
There is no real update on Justin's injury, he was due to have treatment today (Tuesday) and when I speak to him we will know more about the prognosis and how much rest he needs. It is down to treatment, physio and rest. Rest meaning not racing as I am sure he has exercises to do but racing is too brutal on his shoulder and he runs the risk of falling on it again which he has been told he cannot afford to do.
It is not ideal going into the play-offs with these injuries and Cam (Heeps) has been having his best season, so it is not good for him or the team. Coupled with the fact we were already using r/r for Justin, availability of riders especially in the latter part of the season is very tough. It won't be as bad in the play-offs. We didn't want to go into the business end of the season using guests. It has all been about team ethic in the latter part of this season and some of that team spirit goes away when you're not a full team. Cam will still be around, he will still be at the meetings and supporting the lads. It will an effect and it won't be a positive one but I don't think the lads will let it derail their season.
The decision to have a cut-off for team changes was made to stop the likes of Matt Ford and Chris van Straaten making the Greg Hancock and Tai Woffinden type moves ahead of the play-offs, which I applaud and agree with. It shouldn't be done and you should go into the play-offs with the team that got you there. However, why there is no place to allow for a long-term injury that could be decided by a SCB and BSPA panel I don't know. I don't think it is good for teams or fans to go into the most important meetings of the year with guests. They are the rules and that is my opinion but we will play by the rules and get on with it.
Ten points between the top five in the Grand Prix is fantastic going into the last few rounds. It is nice to see Tai back on top as he has been very subdued this year but not so subdued that he hasn't left himself without a chance! It has really opened the championship up and the likes of (Patryk) Dudek won't give up on it easily as I am sure if he was honest he probably didn't expect to be in with a chance of winning it as this stage of the year. Jason Doyle is still my favourite as he hasn't won a championship yet and he won't let it go. You have seen how he has ridden in GP's straight after injuries. The guys who are serious about winning it, what they need to do is stop Tai having another good one. If Tai has another good one on the bounce I feel he will become unstoppable.
Craig Cook looks like he will be in next year's Grand Prix series and Robert Lambert recently won the European Under-21 Championship. For the first time in a few years we are showing we have lads good enough at the various levels capable of winning, not just being there, as we have been doing the last few years. I wish both well for the immediate future and we need more riders riding speedway bikes if we want to be a dominant nation again but at least on an individual basis we are beginning to compete again. Even down at 250cc level we have Jack Parkinson-Blackburn representing Team GB in the World 250cc Championship at Marketa Stadium in Prague on Tuesday. At every level, we have individuals that are winning. We don't have enough to build a successful team yet but it all helps.
To have to go to Sheffield, Glasgow and Edinburgh to finish your league programme off, if you need points you couldn't ask for a tougher finish in any way. That is where the relevance of winning on Saturday against Redcar and against Berwick comes into it because if Redcar do decide to go on a good run which could include beating us at Foxhall then all of a sudden, we are in a race and need points and they will not be the easiest tracks to get points.
Thank you for your continued support,
Chris