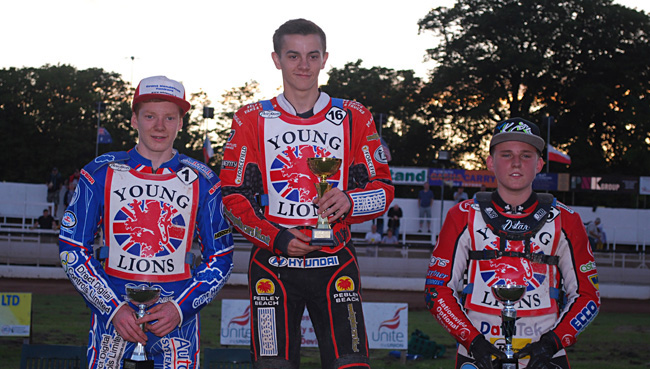 All eyes and attention are focused on the British Under 19 Final which is being held at Ipswich on Thursday 17th May.
As well documented through being able to host two British Under 21 semi-finals, the talent of Under 19s is at its highest level and in fact there will be a number of riders disappointed to be missing out on a place in the final.
With last year's British Under 19 winner Zach Wajtknecht now being ineligible, there will be a new British champion crowned on the night.
Last year's rostrum placed finishers Dan Bewley and Kyle Bickley will be amongst the favourites along with British semi-final winner Jack Thomas.
There will also be a lot of local interest with Mildenhall's Drew Kemp in action after so many years practicing at the Foxhall track.
Along with Kemp there will also be two other 15-year-olds competing in Jason Edwards and Leon Flint.
Bickley, Kemp, Flint and Tom Brennan will be hoping to add a British Under 19 title to their already impressive championship wins at British Youth Level
The full line up in draw order is as follows –
1) Jamie Halder (Coventry)
2) Joe Lawlor (Belle Vue Colts)
3) Dan Bewley (Belle Vue Aces & Workington Comets)
4) Ben Woodhull (Belle Vue Colts)
5) William O"Keefe (Stoke)
6) Taylor Hampshire (Kent)
7) Matt Marson (Mildenhall)
8) Charlie Brooks (Eastbourne)
9) Tom Brennan (Eastbourne)
10) Anders Rowe (Kent)
11) Jack Thomas (Kent)
12) Jason Edwards (Eastbourne)
13) Kyle Bickley (Workington Comets & Belle Vue Colts)
14) Alex Spooner (Kent)
15) Drew Kemp (Mildenhall)
16) Leon Flint (Birmingham)
Reserves
17) Lewis Whitmore (Buxton)
18) Macauley Leek (Plymouth)
The Young Lions Management would like to thank the Ipswich Promotion for agreeing to host this event.