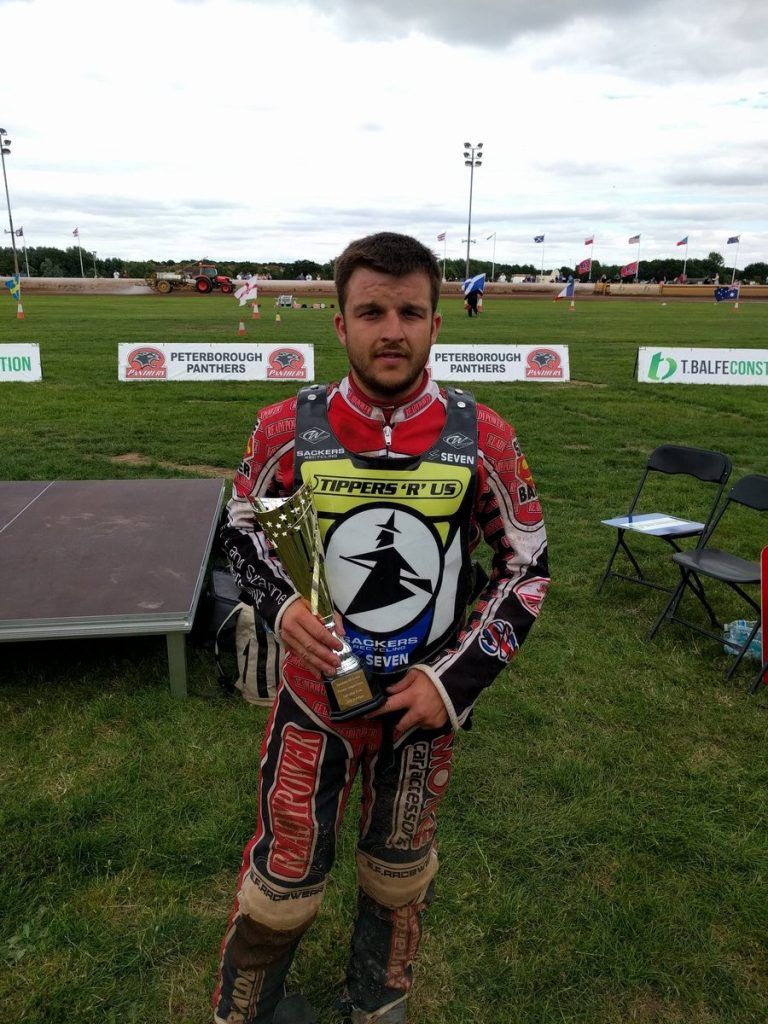 'Tru7.com' Witches rider Ben Barker finished third in Sunday's Individual meeting at Peterborough as part of the new revamped Fours weekend.
Nico Covatti also rode in the meeting and scored six which wasn't enough to progress past the group stage.
After the Witches early exit from the Fours on Saturday, Covatti and Barker were selected to represent the Witches on the Sunday and despite being an individual meeting, were paired together in every heat. Barker shot from the gate in heat four shaking off Richie Worrall with Covatti in third.
It was more of the same in heat seven as Barker was quick out of the gate and coasted home to collect another win with Covatti working overtime at the back to round Danny Phillips and collect another point.
Richie Worrall made the gate in heat 13 but was passed by both Witches men coming out of the second turn and Barker rode home to make it three wins from three with Covatti close behind him in second.
Barker and Steve Worrall had a good tussle for a lap in heat 16 before Barker suffered engine problems and retired allowing Covatti into second. It wasn't enough for Covatti though as he exited with six points.
Semi-Final two was action packed. With Barker still adjusting his bike, much to the Cornishman's surprise the tapes went up but luckily for Barker Lasse Bjerre went through the tapes and was forced to go off 15 metres in a re-run. In the re-run Steve Worrall took the win whilst Barker came out on top of an entertaining scrap with Jonas B Andersen to take second and qualify for the Final.
The first attempt of the Final was stopped just as Barker hit the front with Steve Worrall falling whilst on the outside of twin brother Richie Worrall on the fourth turn, the latter being excluded for the move. In the re-run Barker and Steve Worrall traded moves for a few laps before the Newcastle man pulled away and nearly caught eventual winner Ryan Douglas.
The Witches man was pleased with how the day went as he looks to find the right set-up with his engines.
"It was good for me personally, it's just a shame we're not in the Fours Final," said Barker. "The engines were going good and I'm trying to get a set-up that works and I think I'm finding something slowly."
Barker admitted his frustration at having the final stopped whilst ahead but felt he was quick all day.
"I was winning the first one and getting a re-run wasn't great but I knew it was going to be tough off gate three. Once I got to the front I knew I would have been alright as I had plenty of pace but I just couldn't quite get there. I'm really happy with the engines and we'll keep working at it."
Premier League Individual Meeting:
Winner: Ryan Douglas (Scunthorpe)
2nd: Steve Worrall (Newcastle)
3rd: Ben Barker (Witches)
Group A
Fernando Garcia 2
Richie Worrall 7 (Q)
Steve Worrall 8 (Q)
Danny Phillips 3
Nico Covatti 6
Ben Barker 9 (Q)
Group B
Kyle Howarth 11 (Q)
Josh Bates 5
Leigh Lanham 6
Ben Morley 3
Ryan Douglas 9 (Q)
Carl Wilkinson 2
Group C
Ryan Fisher 8 (Q)
Erik Riss 3
Jake Allen 1
Rohan Tungate 7
Lasse Bjerre 8 (Q)
Jonas B Andersen 9 (Q)
Next Meeting: PL 28th July vs Plymouth Devils (home)