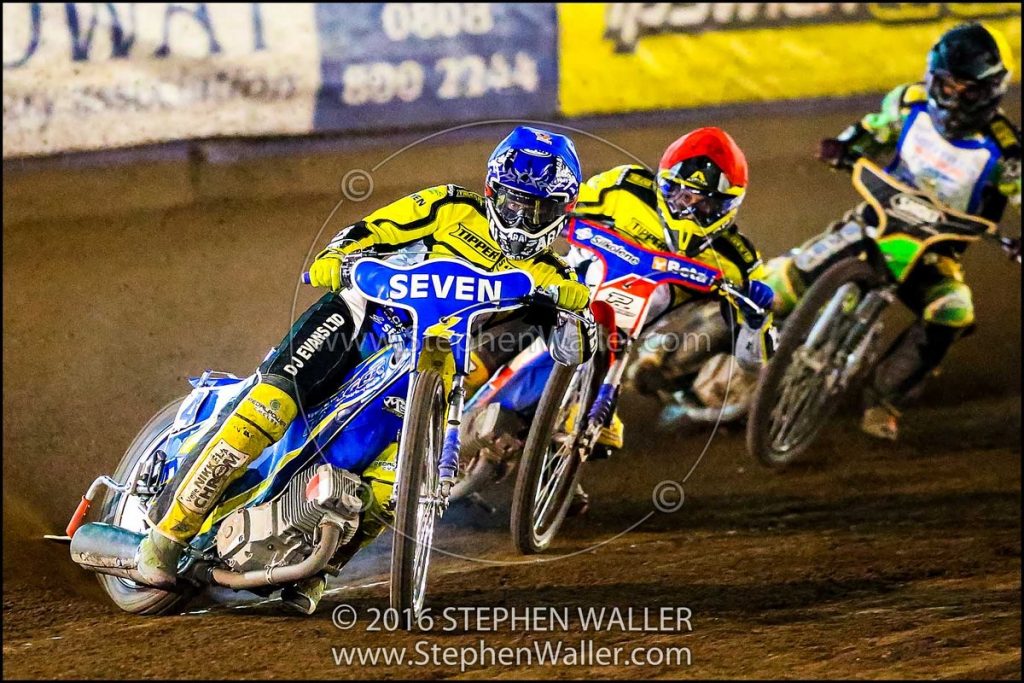 The 'Tru7.com' Witches head to Edinburgh on Friday for the second leg of the Play-Off Quarter-Final looking to defend their lead and progress to the Semi-Final.
The Witches dominated the first leg at Foxhall last Thursday and built up a 26 point lead to take to the two-time reigning champions at Armadale. The Suffolk side are firm favourites to progress after such a convincing performance but are taking nothing for granted against a side so used to success over recent years.
Danyon Hume is still on the sidelines after breaking his collarbone and the management have again moved to secure the services of Mildenhall's Connor Coles to guest at number seven. The 22-year-old will be cutting short his holiday in Spain to ride for the Witches.
The Monarchs are also without their number seven Dan Bewley again as he is still recovering from injury. They also call upon the same man they used for last week's clash with Ben Hopwood again deputising at number seven.
The home side are likely to be fired up from the off for this clash as they look to make up for last week's performance and the Witches must be at their best to progress to the Semi-Final. The Scottish side ran out 52-39 winners earlier in the season at Armadale.
Team Manager Ritchie Hawkins says his side will go to Edinburgh looking to win despite the strong position they hold and is pleased with the enthusiasm shown by Coles.
"I think the form we are in and the confidence they have got we will go into the meeting looking to get a win and that is the attitude we have got to take," said Hawkins.
"Connor's enthusiasm got him a shot in the Premier League with us in the first place. He is keen to do a lot more Premier League racing. We told him he was in the team Friday if he wanted it and he's cancelled his holiday rather than miss the meeting! It's nice to hear that enthusiasm to race."
Hawkins is well aware of the threat the Monarchs pose and it will also be a nervy time for the boss as he waits for news back home from wife Anna who is due to give birth any moment.
"Like we said last week they (Edinburgh) have beaten many teams by 26 points in recent years so we need to make sure we get the job done even though we are in a very good position.
"Hopefully the baby will be here by Friday. If it comes on Friday and I miss the meeting I can imagine the amount of stick I'm going to get for missing Edinburgh but I certainly don't want to miss any meetings at the moment."
Edinburgh 'Border Roofing' Monarchs: 
1. Sam Masters (c) 8.97
2. Ryan Fisher 7.77
3. Erik Riss 6.56
4. Mark Riss 5.00
5. Kevin Wolbert 8.13
6. Max Clegg 3.60
7. Ben Hopwood (g) 3.00
Team Manager: Alex Harkess
Ipswich 'Tru7.com' Witches:
1. Danny King (c) 9.38
2. James Sarjeant 5.45
3. Nico Covatti 7.32
4. Morten Risager 6.88
5. Ben Barker 7.56
6. Joe Jacobs 4.78
7. Connor Coles (g) 3.00 
Team Manager: Ritchie Hawkins
Premier League Play-Off Fixtures:
Quarter-Finals:
Edinburgh (32) vs Ipswich (58)
Newcastle (42) vs Sheffield (48)
Semi-Finals:
Somerset vs Edinburgh/Ipswich
Glasgow vs Newcastle/Sheffield
Last five results at Edinburgh:
10.06.16 L39-52
14.08.15 L34-56
05.06.15 L37-53
17.10.14 L32-58
16.05.14 L36-56 
Edinburgh Factfile
Main Sponsor: Border Roofing
Team Colours: Blue and Gold
Race-Night: Friday (7.30pm)
Website: www.edinburghmonarchs.co
Track Length: 260 metres
Track Record: 54.0 seconds (Craig Cook, August 14 2015)
Admission Prices:
Adults: £17 (£15 in advance)
OAP: £14 (£12 in advance)
Students: £14 (£12 in advance)
Children (12-16): £7 (£5 in advance)
Children (5-11): £2 (£1 in advance)
Children (under 5s): Free
Programme: £2.50
Stadium Address
Scotwaste Arena, Armadale Stadium, 2 Bathgate Road, Armadale, West Lothian, EH48 2PD.
Telephone: 01501 734404
By Train: There is now a station at Armadale with a regular service from Edinburgh, about 20 minutes' walk from the station.