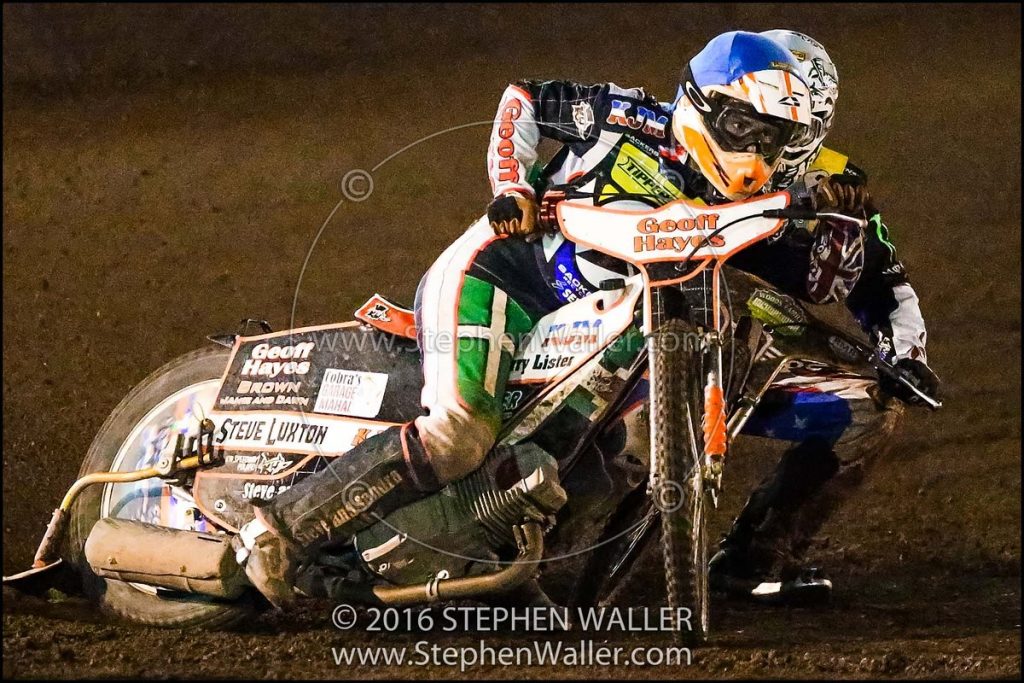 Popular guest Connor Coles will be cutting his holiday short to take his place in the Witches line-up at Edinburgh on Friday.
Coles came in for the injured Danyon Hume last Thursday for the vital Play-Off Quarter-Final clash with the champions and impressed many with his performance.
The Mildenhall rider scored 3+1 but it could have been significantly higher if not for a few small errors whilst in good positions and the youngster can't wait to ride again on Friday.
"It was a good night but I was annoyed with myself because I could have easily ended up with double figures and I ended up with paid four," said Coles. "I enjoyed racing though and not just being amongst it but beating some riders until my silly slide offs!
"The crowd reaction was really nice to hear and getting a 5-1 with Ben Barker was great too. I can't wait to ride on Friday. I get back on Thursday from Spain and then go up to Edinburgh for another holiday!"
The 22-year-old will be in the south of Spain with girlfriend Kirsty visiting family during the week but will be cutting his time in the sun short to ride for the Witches.
"I'm going to see my Gran and Grandad in Spain but I'll be coming back on Thursday now. I'm flying to Alicante and their house is about an hour's drive from there and I was supposed to be staying there until Saturday. I'll catch a flight back to Stansted on Thursday instead now though and the club are helping me out with regards to the change of flight but it's an extra £230, so I wasn't expecting them to pay all of that anyway! I'll make the trip up to Edinburgh on Friday and then I'm riding at Stoke on Saturday."
The Exeter born rider says girlfriend Kirsty was not overly enamoured with the news as Coles revealed he is hoping a former Witches favourite will help him with the long drive north of the border.
"I'm going out there with my girlfriend and she was not best pleased when I told her the holiday was being cut short!
"It's my sponsors van and hopefully Nigel Flatman will be going up with me as I've said I'll give him a lift but hopefully he can drive some of the way as I don't want to drive the whole way up there!"
Coles says he is happy with his progress in the National League after a slow start but says he is not too worried about averages.
"It's been alright, the start of the season wasn't disgraceful but it took me a while to start hitting double figures. I was close to it but wasn't hitting them for quite a while and then something clicked and I was getting them every week.
"My average is back up to about where I was when I broke my leg and obviously I'd like it higher but you can have the highest average in the National League and not ride well in the Premier League. An average doesn't actually matter, it just makes it easier for Premier League people to spot you."
A National Trophy winner with Mildenhall in 2014, Coles says he found the jump up from the National League fairly easy last week on a track that many visitors label 'tricky'.
"It's going to sound quite cheeky but last week was easier than every National League meeting I've had this year. Every other time I've ridden in the Premier League though it's been the gating that's been the main difference. They are just quick everywhere in the Premier League. Last week I seemed to find it easy apart from staying on!
"I guested for Ipswich last year and I've had a couple of practices at Foxhall too. I don't mind it because I ride at Mildenhall and that can be quite inconsistent between each meeting so I'm quite used to it. I got on quite well but I made a few silly mistakes and slid off."
The former Kent rider says having the likes of Danny King, Ritchie Hawkins and Chris Louis in the pits was a massive boost as he looks to gain a spot in the Premier League next season.
"It was amazing having those guys in the pits especially when I came in after I slid off. They said: 'Don't get your head down, you're riding awesome and keep your chin up' and that was a big boost.
"Even before last week I would have liked a Premier League spot but I was saying I wasn't sure if I was ready or not. If I can do it once though and ride that quick, I've got to be able to do that more than once a season and I think I'm almost ready."
Coles Facts
Date of Birth: 7 September 1994, Exeter
British Career:
2012 Rye House Raiders
2013 Kent Kings
2014-16 Mildenhall Fen Tigers