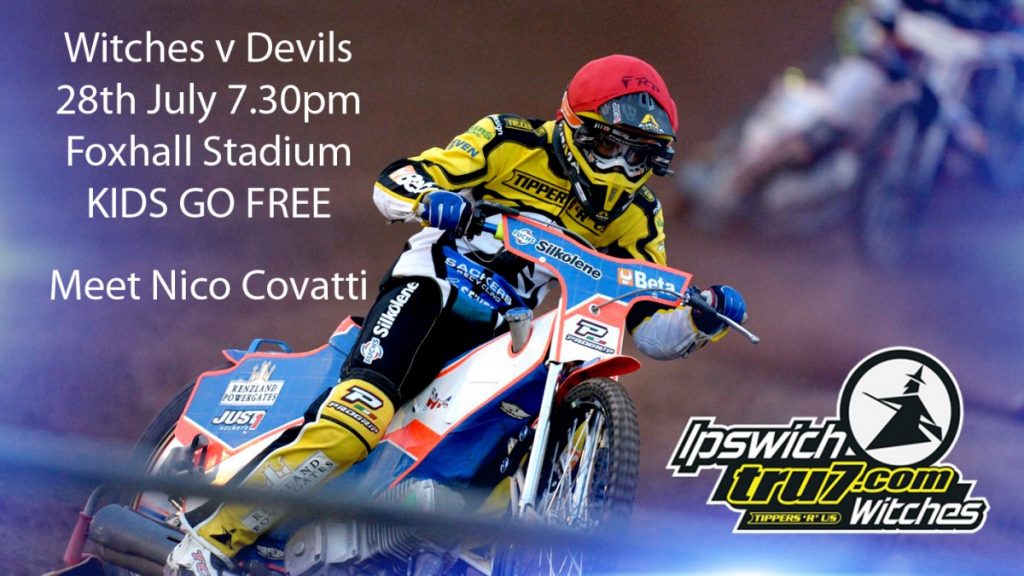 The 'Tru7.com' Witches are back in action on Thursday at Foxhall as they entertain the Plymouth Devils in the Premier League (7.30pm).
It's the fourth meeting in a run of home fixtures for the Witches this month and they will be looking to maintain their 100% record so far with a win on Thursday to push them ever closer to the play-off spots.
After a narrow win over Rye House to start the month the Witches have dispatched of Berwick and Peterborough with relative ease to push themselves up the table. After a disappointing weekend at the Fours, Ritchie Hawkins' side will be keen to put things right on Thursday.
Danyon Hume comes in at number seven this week as Joe Jacobs returns to the side after being in Elite League action last week.
The Plymouth Devils come to Foxhall in buoyant mood having won the Premier League Fours at the weekend showing the capabilities they have in their side despite their lowly league position. Witches asset Rohan Tungate guests at number one for the Devils with Brady Kurtz in World Cup action whilst local rider Leigh Lanham is in at reserve for the injured Stefan Nielsen. Rider Replacement will be operated at number two for the injured Sam Simota.
The two sides have met already this season down at Plymouth with the Witches recording their only away win of the campaign so far.
Team Manager Ritchie Hawkins is hoping the Witches can continue their recent form on Thursday.
"We need to carry on from where we have been the last two weeks with two good performances," said Hawkins. "Plymouth have got a good side I think and they'll be on a high from the weekend so we're going to need to be at our best or else we'll get beat."
Hawkins says Hume has his chance to impress this week after Connor Mountain has had his chance the past two weeks.
"It was always the plan to use Danyon and Connor, so Danyon gets another shot and it's his chance to impress. He's having a great year so it's good to give him some more meetings. We've got a plan for Danyon and we are working to that."
The boss is not looking at the Devils' league position and knows the threat they pose.
"I know we won there a few weeks ago but they could come and turn us over and we need to be careful of that. We know they've got a strong side so we have to be on top of our game again because we can't afford anymore slip ups at home for our play-off hopes and for our season in general."
Hawkins is hoping the Foxhall faithful continue to get behind the boys this week.
"When you've got riders coming in and commenting on the atmosphere that's a boost for them. It's been a tough season so far but it's a real boost for them to have the fans behind them."
With the school holidays in full swing our summer promotion continues as KIDS GO FREE to all of our summer meetings! Prior to the meeting fans will have the chance to meet Argentine Champion Nico Covatti who will be up by the turnstiles inside the stadium with his bike for fans to have photos with. Nico will be signing autographs from 6.45pm until around 7.10pm. Advertising poster attached.
Meeting Sponsor: RN Euston Construction
Ipswich 'Tru7.com' Witches:
1. Danny King (c) 8.82
2. James Sarjeant 4.79
3. Nico Covatti 7.83
4. Morten Risager 6.83
5. Ben Barker 7.16
6. Joe Jacobs 4.07
7. Danyon Hume 3.00
Team Manager: Ritchie Hawkins

Plymouth 'Skills Group' Devils:
1. Rohan Tungate (g) 7.92
2. R/R for Sam Simota 5.84
3. Kyle Newman (c) 6.76
4. Todd Kurtz 7.16
5. Jack Holder 7.25
6. Leigh Lanham (g) 5.57
7. Ellis Perks 3.00
Team manager Lee Trigger
Premier League table
| | | |
| --- | --- | --- |
| Team |   Pl     | Pts   |
| Glasgow | 15 | 32 |
| Somerset | 9 | 28 |
| Sheffield | 12 | 27 |
| Peterborough | 13 | 26 |
| Berwick | 17 | 24 |
| Edinburgh | 13 | 23 |
| Rye House | 12 | 18 |
| Witches | 14 | 18 |
| Workington | 11 | 17 |
| Newcastle | 9 | 16 |
| Plymouth | 15 | 16 |
| Scunthorpe | 13 | 12 |
| Redcar | 13 | 10 |
Last five home results v Devils:
02.07.15 W56-35
16.04.15 W57-33
11.09.14 W65-25
10.07.14 W58-36
10.04.14 W50-41
Devils' last five:
PL Devils 48-42 Redcar
PL Sheffield 51-42 Devils
PL Newcastle 55-37 Devils
PL Berwick 40-32 Devils
LC Devils 30-60 Somerset