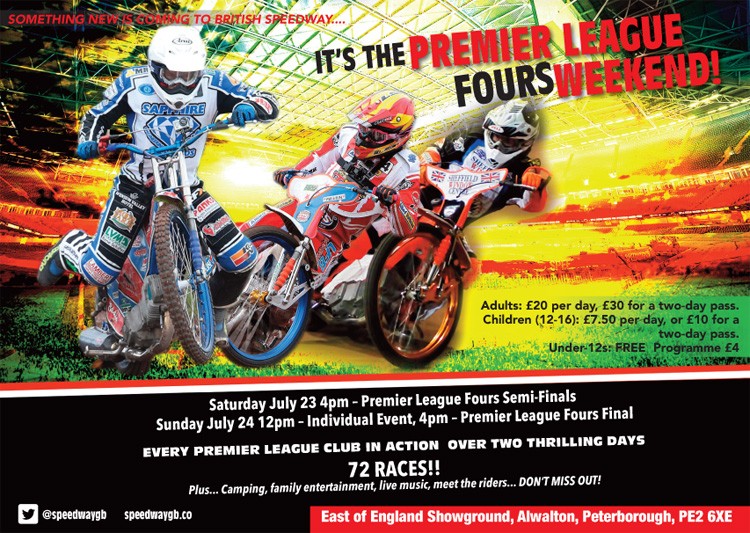 The 'Tru7.com' Witches take a break from League action this weekend as they head to Peterborough for a weekend of Premier League Fours Speedway.
Representing the Witches will be Danny King, Nico Covatti, Ben Barker and Morten Risager with James Sarjeant at reserve.
The Witches have been drawn in group three alongside holders Edinburgh, Rye House and Berwick with only the team finishing top progressing into Sunday's final to join hosts Peterborough.
The semi-finals start on Saturday at 4pm at the East of England Showground with many fans expected to make the most of a feast of Speedway with 72 heats of action over the course of the weekend.  Should the Witches not progress to Sunday's final, two riders will be entered into an individual meeting on the Sunday.
Team Manager Ritchie Hawkins says the Witches will be one of the favourites for the title.
"We've got a strong four and we will be down as one of the favourites," said Hawkins. "It's not going to be easy, there are some real strong top fours there as well but on paper we are one of those strong fours. There are some good looking teams but we've got to perform to our potential try and win."
Hawkins is a former winner of the competition and knows how tough it is to take the trophy home.
"The semis are going to be really tough, it's going to be a mega tough weekend and everyone needs to perform. It's a meeting I've won myself and I know it takes a lot to step up and win it but it would be a big boost to us and our season if we win it. I think we can do something special there."
It promises to be a tough weekend on man and machine but the boss was full of praise for the new format of the competition.
"It's something different having a two day meeting but obviously you race two days running all the time. The plan is to win the group on Saturday and go into Sunday high on confidence.
"I think it's brilliant and it's one of the best ideas to come out of British Speedway for a long time and I hope everyone gets behind it and supports it because it will be a great weekend. It's awesome to see someone trying something new and with the music on Saturday night it makes it like a festival and it's a great idea. Hopefully there will be lots of Ipswich fans there backing it and I'm fully behind it."
SEMI-FINAL 1:
GLASGOW: Richard Lawson, Aaron Summers, Richie Worrall, Rene Bach
WORKINGTON: Ricky Wells, Claus Vissing, Kenneth Hansen, Rasmus Jensen
SOMERSET: Josh Grajczonek, Rohan Tungate, Charles Wright, Paul Starke
SCUNTHORPE: Josh Auty, Ryan Douglas, Michael Palm Toft, Carl Wilkinson
SEMI-FINAL 2:
SHEFFIELD: Simon Stead, Kyle Howarth, Dimitri Berge, Jason Garrity
NEWCASTLE: Steve Worrall, Robert Lambert, Danny Phillips, Lewis Rose
PLYMOUTH: Brady Kurtz, Todd Kurtz, Kyle Newman, Jack Holder
REDCAR: David Bellego, Hugh Skidmore, Lasse Bjerre, Jonas B Andersen
SEMI-FINAL 3:
EDINBURGH: Sam Masters, Kevin Wolbert, Ryan Fisher, Erik Riss
IPSWICH: Danny King, Nico Covatti, Ben Barker, Morten Risager
RYE HOUSE: Leigh Lanham, Cameron Heeps, Stuart Robson, Edward Kennett
BERWICK: Kevin Doolan, Thomas Jorgensen, Theo Pijper, Matthew Wethers
FINAL:
Three semi-final winners + Peterborough
PETERBOROUGH: Craig Cook, Nikolaj B Jakobsen, Ulrich Ostergaard, Tom Perry
DATES:
Saturday July 23 & Sunday July 24
VENUE:
East of England Showground, Alwalton, Peterborough, PE2 6XE
Track Telephone:07760 162164
Website: www.peterboroughpanthers.co
ADMISSION PRICES:
PAY AT THE TURNSTILES ON THE DAY
Adults: £20.00 per day, or £30.00 for a two-day pass.
Children (12-16): £7.50 per day, or £10.00 for a two-day pass.
Under-12s: FREE
PROGRAMME:
£4.00
CAMPING FACILITIES:
Camping, which can be booked via Peterborough Speedway for the Friday, Saturday and Sunday, will cost £10 per night although hook-ups for a motorhome or caravan will cost extra.
All enquiries: peterboroughspeedwayoffice@yahoo.com
EVENING ENTERTAINMENT:
Saturday night will see a number of live bands and special guests performing (cost £5.00 per person), whilst there will also be special events on Sunday to compliment the on-track action.
All enquiries: peterboroughspeedwayoffice@yahoo.com
WEEKEND ITINERARY:
FRIDAY, JULY 22
5pm to 9pm – East of England Showground gates open from 5pm to 9pm for the arrival of campers
Camping fee is £10 per night, payable on the gate
SATURDAY, JULY 23
9am – East of England Showground gates open
11am – Inter-club supporters' football tournament
Noon to 1.30pm – Riders' village with representatives from all competing clubs
4pm – Premier League Fours semi-finals
8pm to midnight – Evening entertainment (tickets £5 to be purchased on the day. Maximum capacity 600)
SUNDAY, JULY 24
9am – East of England Showground gates open
Noon – Individual meeting featuring two riders from all teams who fail to qualify for the Premier League Fours final
4pm – Premier League Fours final
WEEKEND ATTRACTIONS
Also available are . . .
• Fairground rides
• Speedway shopping market
• Junior motorcycle stunt team
• Vintage bike exhibition
• British speedway Under 16 youth team display
• Pop Idol's Jamie Tinkler
• Ex-rider 'talk in'