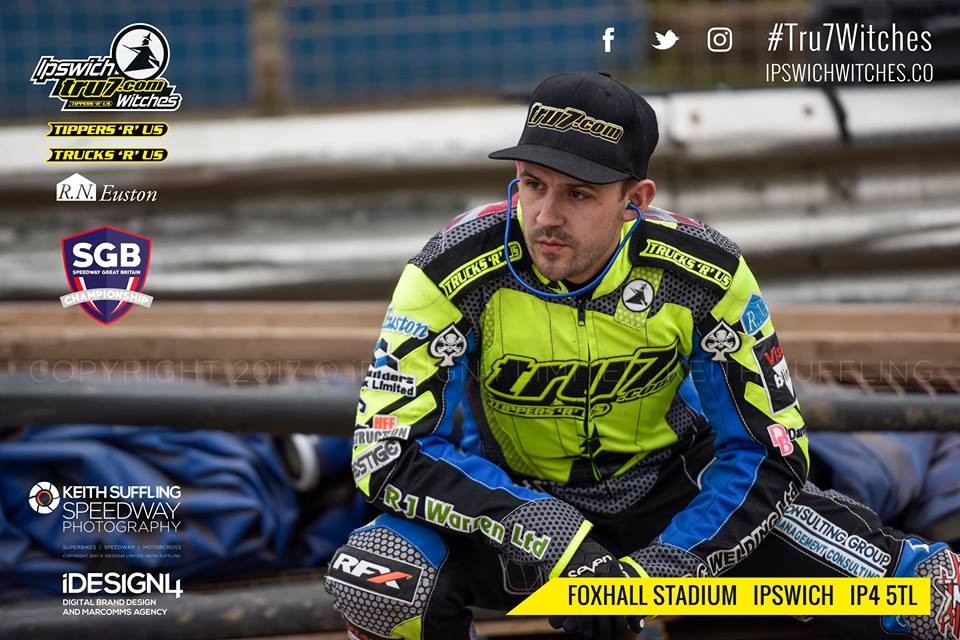 It has been a very good month or so and we had a couple of good away wins at Berwick and Scunthorpe. It has been a bit up and down on the road and the big loss at Workington wasn't ideal but importantly we bounced back from that last week against Newcastle at home with a good win against a good team. We need to find our form away from home, there are a lot of riders in the team who are not happy with their form, yet we are still going and winning meetings and getting points. That shows that when they do hit form we can go anywhere and get points and win. It's important we go to Glasgow and get back some points after they got a point at our place and I believe we can go there and win.
We have a grippy track at Ipswich, that is the way it is. People know that and you have to get on with it. You can't always get it the same every week but there is dirt on it that is for sure. We need to adapt to it and we are doing that and are getting settled in. It didn't help having a rain off which meant two weeks off from Foxhall but we are back now and need to push on with another tough meeting against Edinburgh. Grip is difficult to ride, you need to be brave and strong and set the bike up correctly. On a slick track, you can ride around it all day long but on a grippy track you have to turn the bike yourself. That is what Ipswich is known for and I think it is good that we still have that.
I'm really happy with my own form again now and I am feeling like myself again. I am feeling happier everywhere and it is similar to last year really. The GP Qualifier in Denmark was the turning point for me and after that I made a lot of changes behind the scenes and now my season is coming together.
I am looking forward to the British Final but we know it is going to be a tough meeting. I really want to win it again and I am pleased my form has come back at the right time and I am looking forward to defending my title. On the night everyone is a rival, there is only one thing on the night that I am concentrating on and that is the trophy. It's a strong line-up and the home boys will be favourites I guess but anything can happen on these nights as we have seen. We will take it race by race and get to the final, the same as last year and then anything can happen.
I think the new starting rule that has been introduced is good for the sport. We get one warning in the meeting and if we get caught moving again in the meeting you are out, even if you don't touch the tapes. It is good if referees enforce it and we have had a few meetings where they haven't this year and that is not good enough. The rule is there for a reason. You get a lot of riders that like to roll the start or jump the start and both give you an advantage and it is not fair. This way, it gives you something to think about, if you have been warned once the chances are you will stay still for the rest of the meeting.
Sometimes you guess the start but not on purpose. Sometimes you think the tapes are going up and your instinct tells you it is going up and you go. I am not a rider who moves or rolls at the start, I am not clever enough to do that! I try my hardest just to make a good start and sometimes you do jump it, it is just natural. There is a lot of pressure on you and you are waiting to move and dropping the clutch as soon as you can, you are on edge. Sometimes you jump it, sometimes you touch the tapes but for me it is not something I try and do.
The new Gerhard engine has been talked about a lot recently and it is designed by a motorbike company in Switzerland, who make hi-tech bikes. They have designed an engine that is supposed to last a ridiculously long time. I would do 30 heats on my engines before I got them serviced, basically 30 minutes work. Half an hour of work and I have to get it serviced. The new engines are designed to do over 200 heats which is obviously a ridiculous amount more. The idea is that you don't have to service them as much and they last three or four times as long.
Are they better? We don't know yet. Freddie Lindgren is riding them at the moment and is scoring well but I personally don't believe they are the same as the stock ones everyone else can buy. I believe he has something a bit better as he is a Grand Prix rider. I haven't tried one myself yet, I know there are a lot of lads going over to them. For me, they are the perfect for the beginner in speedway because you can have an engine, ride it to the death and you have not got to service it. You will save a lot of money, the average service is probably £400-£500, so if I am servicing mine every 30 heats and they are doing it every 200, you save yourself a lot of money.
I think it is great for beginners, what I am not sure about is that they are what they are and you can't change them. For example, myself and Rory (Schlein) have the same GM engines but they are completely different and we will set them up completely different. Rory would not be able to ride my bike in a million years and I wouldn't be able to ride his. So, although it is the same engine you can set them up very differently. With this one, everyone has the same thing so there are a lot of questions marks over it. Until I try one I can't say too much but that is my view on it at the moment. It certainly is great for the youngsters but until I try one in a couple of weeks I can't say too much more on it! Chris (Louis) is dying for me to try one and I would like to try one just to see what they are all about.
A lot has been said about the number of riders doubling up in England and there have been suggestions that squad systems could work. I don't think a squad system would work in England. The Premiership and Championship are similar but they are not the same. The Premiership is harder. Yes, a lot of riders double up but they are in different positions in the team. They are both tough leagues and that is good but I don't think a squad system is the way to go.
It has been tricky at Leicester, they had to build the team after everyone else was done. I think we have a good team and have been showing that on the road by going to places like Belle Vue, King's Lynn and Wolves and getting points, yet we are not winning at home. We haven't had many home meetings though, we have had two in the last two weeks which has been good, which we lost and then drew. We have two coming up in the next two weeks too so hopefully we can build some momentum. We are so far behind on home meetings and it is a new track, none of us really know it but every week we are looking better and better. Unfortunately, we always seem to have riders missing and never seem to have the full team. We had three guests last Saturday so that is not easy and I hope that can get ironed out so we can show the people the team we have got push up the table. We don't deserve to finish bottom and we are better than that, we have shown that by going away to tough places and getting points.
All the best,
Danny