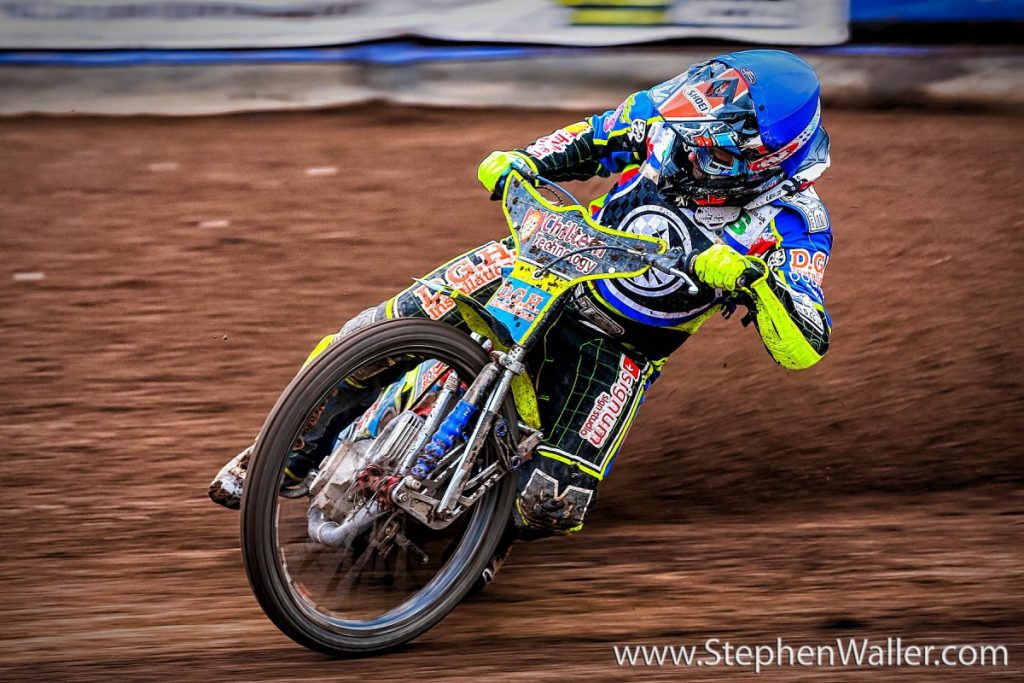 I genuinely thought Plymouth  was the turning point for our season. I know we went there with two ex Plymouth riders and that definitely gave us a boost down there but it wasn't just them it was a good all round team performance. It did feel like it was the start of something different to what we have been doing so far this season. However, we immediately followed it up by going to Scunthorpe which was on a par with our worst performance of the season at Berwick.
That was disappointing and of course since Plymouth has come another change with Paco (Castagna) leaving us. I think he was given enough time to prove himself but it just wasn't happening. There were glimpses of what I know he is capable of but he wasn't able to produce that on a regular basis. To be fair to the team and the fans we had to work on that position and Joe (Jacobs) was wanting to do it and at that time he had really found his feet again after having a year off so the timing was right to make that change.
Very shortly after that Ollie (Greenwood) quit. It came as a complete surprise as he had made no indication prior but I think it was building up on him after the conversation we had about crashes that kept coming on a weekly basis and banging his head and that in the end took its toll. He wasn't enjoying riding the bike and wasn't getting the points that he wanted and we had to honour his decision because at the end of the day if you feel like that you shouldn't be riding a speedway bike. I had no problem with that, it was disappointing but I backed his decision all the way.
We have 28 days to make a decision which gives us the opportunity to try Danyon (Hume) who is our number eight and our asset and we bought him at the start of the year, so he is someone we want to work with and give the opportunity to, just to gauge where he is at. The first meeting definitely did that and you can see there are elements of his game that need improving on to make him Premier League ready but he isn't far off. If you look at the difficult bits which in my mind are the starts and the first turn he actually is just about there with that which will stand him in good stead. We have just got a little more work to do with his riding but I was very impressed with his home debut. It also gives us an opportunity to share that role with Connor (Mountain) who has been fantastic for Mildenhall all season. He is a local lad and deserves a chance to ride Premier League and it gives a chance to take a look at him.
We can't afford to lose any of the home fixtures in July, we've started well enough but Rye House was one of the teams we needed to stop getting a point and we didn't manage to do that which is disappointing. It was disappointing as we'd built up a position where we should have comfortably prevented them from getting anything from the meeting but we failed to do that. It's been a bit of a trend this season where we have built up a lead and then thrown it away with a mid-meeting collapse. We've looked at the riding order and it's not like we are ignoring it or not looking into it, we have tweaked it on a couple of occasions this year but that riding order change won't make any difference. It's not who is in the races, it's the mental approach we have as a bunch of riders to get to that point in the meeting where the opposition can't do anything about it. We need to get to that point and push the opposition to the point of no return and we haven't been able to do that this season.
Danny's (King) British Final win was fantastic! The final ride where he had to do what he did and he was prepared to do it was the stuff of legends really without going over the top. No one else had the commitment to the cause that night to pull it off like he did. He 100% deserved it there was no luck at all to it. I don't think I've seen him that focused pre-meeting, during the meeting to the end of the meeting ever before. I know the British Final has always meant a lot to him and he has always wanted to do well but that is the most focused I've ever seen him.
The Grand Prix then went well for him too. The first two rides he suffered a little bit, a little overawed by the occasion which is understandable as I've been there. He didn't sit back after a couple of last places though and say 'oh well that's that'. He kept working at it with his pit crew with what to do with the bike and he found the speed to be competitive and that was all he needed to do because he is who he is. He will always go to the fastest lines wherever they are, hopefully round the fence because that's what he does best. To finish with a win is a massive boost for him and it ought to have secured his World Cup place and I think he played a part in sending the British contingent of the crowd, which is 90% at Cardiff, home with a boost. Obviously Tai (Woffinden) finishing second and maintaining a strong position in the championship was the biggest thing on the night but I think it added to the occasion to the British fans.
The World Cup Final is on a track nobody knows too well, unfortunately that includes our lads and it is the nearest thing in this country that we've had to a continental track so I think that is a bit of a leveller really. However, the fact that we are in the Final means the lads can sit back without the extra stress of getting there if Rosco (Alun Rossiter) can prepare them properly that will help them.  For what it's worth I think Tai and Danny are certainties as the first two in the team. There are no right or wrong picks for the other two spots but I think Robert Lambert deserves his chance and my final pick would be Chris Harris but there would be no complaints if it was anyone else for those two spots.
Nico (Covatti) is one step closer to the Grand Prix in 2017 after qualifying for the GP Challenge. He is ambitious and has never made a secret of the fact that the world stage is where he wants to be. It's a big hurdle that last GP Challenge and it's definitely the highest fence on the course but he is good enough to get over it. He suffers a little bit as Danny does that at that level because if your strongest point is your starts then it's a boost but unfortunately it isn't! If track conditions are halfway to suiting him though he has a chance.
We have the Premier League Fours coming up this month too and we should be strong in that with our top four. That's why we built the team we built and that's why we should be nearer the top of the table than we are so it's no different to the rest of the season. If they perform we will be strong, if it doesn't we won't! We're looking forward to the event though, it's a new format, a couple of days mingling with the fans and it gives the fans the opportunity to integrate with the riders and probably just as importantly with the promotion which gives them a chance to put some of their ideas forward so it should be a fun weekend.
Thank you for your continued support,
Chris