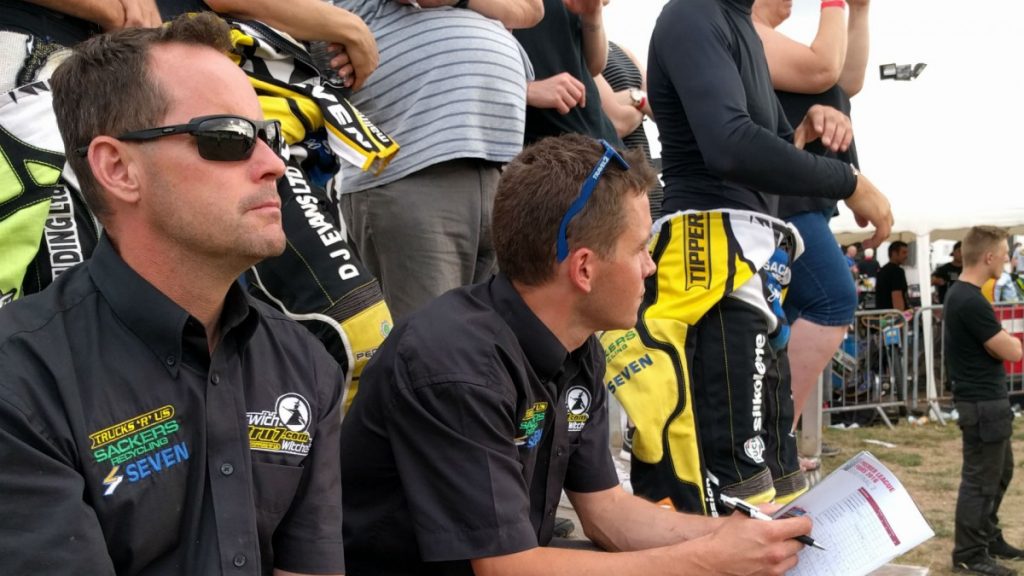 I need a rest after this winter! It's mainly been the usual stuff of organising sponsorship and advertising and things like that and there are other people at the club who help me with that. It has gone reasonably well but we need more financial input into the club. Hopefully the team will start strongly, we are starting as many people's favourites to be up there and the racing will be very entertaining and with a bit of luck that will be enough to tempt another local company on board with us.
We've retained Tru7.com as title sponsors which is great and Guy (Nicholls) remains as keen as ever to see us succeed on and off the track and more people coming to watch is the aim. We've also gained RN EustonConstruction as a partner sponsor which is a great news. They have been supporting the club by sponsoring various meetings and getting involved with programme advertising for a number of years so it is really nice to get them more involved. The air fence sponsorship continues, it was always the plan to have that for two years to cover the cost of renewing the air fence last year and that has gone well. Just about everyone has renewed that and we've gained Scott Properties on the air fence sponsorship and they are another company that have supported us over the years so that's good.
The big job of the winter has been making a few changes to the track which hasn't been going well due to the unfortunate regular rain showers and frost after Christmas but we have had a couple of breaks in the weather and managed to crack on and it's looking really good now. It's not 100% finished but it is almost done and we're 100% confident it will be done by Press Day. I'm looking forward to seeing the lads out on the track and getting their feedback and seeing what they think.
I've kept in contact with all of the lads and got a late call up to go to France with Danny (King) and Danyon (Hume). It was a great couple of days and they both got plenty of laps in and I managed to get half a dozen laps in myself which was fun! It was good to see Danyon riding strong and feeling good and not having any backlash from his injuries last year and that was an important fitness test for him and it went really well.
Ritchie (Hawkins) has a really good attitude towards management. He got on well with the riders and he understood them and where they are coming from and their needs and their shortcomings. He was able to get his message across and communicate with them. Having had a very good side but having made a poor start to the season made me aware that changes were going to be necessary and he had the right ideas and wanted to make the changes so we enabled that to happen. He really did instil a belief into the team after we made the changes that we could climb the table and make the play-offs which we did. We fell short when the pressure was on at the end. Having had pressure on us for a while to win every meeting, it did take its toll in the end but Somerset were better than any side in the league and that showed.
I was shocked when I looked at our team on paper after we had completed it and was wondering how we had done it with 2.5 points less than we had previously! It looks stronger than any team we have built previously since we have been in the Premier League, which is now the Championship. it was surprising but I'm very happy with it and we are in many people's top bracket to do well and rightly so. I don't think anyone wants to label anyone 'favourites' as it looks competitive again this year. We have a strong top five and we have the best two '2-pointers' in the league with the most potential. I'm very pleased with the side and enthusiastic and looking forward to working with them and watching them and obviously with the track changes I think it is going to be a really interesting year.
We start against Sheffield and they are a lot of people's favourites to be up there again so we couldn't have asked for a tougher start. Berwick in the cup is also a tough one and we need a cup run and need to stay in that competition so they are two very full on fixtures to start with. As soon as it was a Saturday meeting  against Sheffield I decided to run our 'Kids for free' offer as there's no school on Sunday and we want to get a big crowd in. We need plenty of support for the lads and need to get off to a good start.
It's been a strange and tough winter for the sport and I have to say it could have been a lot worse if wasn't for the chairman and his management committee team. Buster Chapman has put so much work into this winter to help maintain Belle Vue and Leicester and he did everything he could to try and save Coventry. They did everything they could to keep them on track but in the end it wasn't going to be possible. The TV deal was a shocker for everybody. We had no reason to not want Sky Sports on board as they have been a great media partner for speedway for many years now and it is a shame to have lost them but the fact we have had another major player in BT Sportstep in is great for the sport.
Thank you for your continued support,
Chris