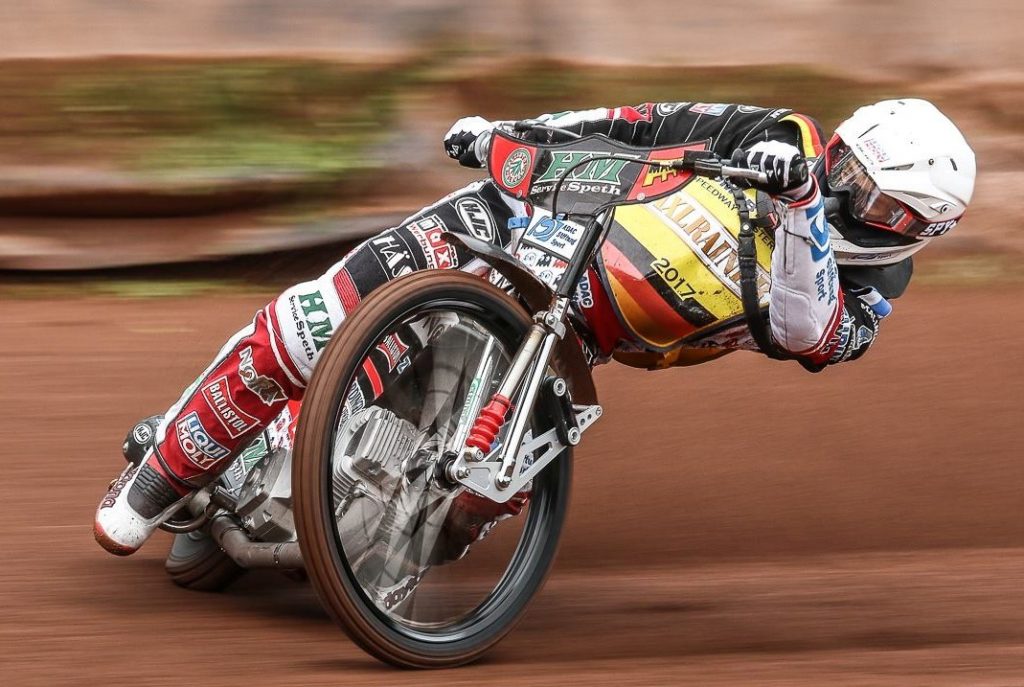 Words: Henry Chard
New 'Tru7.com' Witches asset Michael Härtel says he is looking forward to learning as much as possible in his first season in British speedway.
Härtel is the only new face to Witches fans in the 2018 line-up and with the new season fast approaching, we got to know a little bit more about the youngster.
Having completed his schooling, the German rider believes he will gain more experience by riding in the Championship rather than going to Poland, where the battle for team spots can be tough.
"I don't have any school next year, so I just took on UK racing but I was wondering if Poland might be good too," said Härtel. "However, in Poland at first it is very hard to get a place at a club, there are always three or four riders for one place so it is always hard there.
"I thought it would be better to go to the UK, to go to the second tier and Ipswich will be a good club. Everybody I talked with told me Ipswich are usually good and all the guys there are nice and you have time to get used to everything. They work professionally, and you have the meetings. When you go to Poland, if you have one bad meeting you will be staying at home, so I hope it's better in the UK. I just want to race as well as possible and score as many points as possible."
The 20-year-old says he heard of interest in the winter of 2016 and spoke to former Witch Tobi Kroner about the Suffolk side.
"I heard last winter, I talked to Chris (Louis). I finished school last June, so last winter I talked with some German guys here that know a few guys in the UK. They told me Ipswich would be a nice club, so I talked with Tobi Kroner and he said it was a very good club. Then I spoke to Chris but I told him it was not possible to race from the beginning of the season as I wanted to finish my school first. After I passed my exams the season was not nearly over but a big part was done. I came over to the UK with a friend with my bikes and practiced a bit at Rye House and at Ipswich once."
Härtel practiced at Foxhall after a meeting last season and says he likes grippy tracks but he knows it won't be easy in his first season.
"The track is much grippier at Foxhall, like German tracks but they are becoming more and more slick these days so you are always fighting against the engine and pushing the power down. Normally I like grippy tracks but I know that it won't be easy because the corners are tight not like in Germany where they are wider. I think it will take a bit of time to get used to it but I hope my teammates who have experience of the track help me with the set-up and look at me at the first practice and tell me where I have to ride."
The Landshut-born rider plans to continue living in Germany during the season, flying over for meetings in Britain due to a busy schedule in his homeland.
"Here in the south of Germany it is a long way to Poland, so it would be better to be in East Germany for that league. I am preparing everything for the UK now and it is all nearly finished now with the two bikes. It is easier to fly over and go back home again as I have a lot of meetings here in Germany too.
"I have the Long Track meetings too and I am also focused on those Grand Prix meetings. I came second last year which was a big success for me. The plan is that nearly every weekend I have meetings in Germany in the top league and second tier and all the world championship qualifying rounds and the Germany team qualifications and also the U21 Championship."
The rider who sights Leigh Adams as a role model in the sport has enjoyed a successful start to his speedway career. Since coming into the sport Härtel has picked up many individual trophies at different levels.
"I started speedway in 2006 because my grandad was watching it. Around our town, they are just five or six meetings a year and he was always watching them. Once I went with him to watch and I saw the junior classes, 50 and 60cc, 125cc and so on and I said I want to race too and that's why I started speedway. Before 2006 I got my first little bike for my fifth birthday from my mum and dad and we have a little farm here with enough room to race a bit and that is where I learnt to race a bit.
"In 2006 I already was very successful as I qualified for the German Championship at 50cc and I was just an outsider against other riders who had been doing it two or three years but I won it for the first time that year. Then I went through to 125cc and then 250cc and won the first world championship at 125cc level in the UK at Tellington. Then I was world champion in 2012 at 250cc level and they were a few successful years until I got to 500cc in 2013. After that I won the U21 German Championship in my first year in 2014, 2015 and 2016. Last year was the first year I didn't win it because I didn't participate as I was injured."
The new Witches asset has had experience against some of the best riders in the world too after competing in the Best Pairs Cup in 2014 in his hometown.
"The Best Pairs Cup was a nice experience in my home town at Landshut. I know all the fast lines there but it is a special track because it looks easy but it isn't so easy to ride. You have to know a few things but it was nice there as the fans know me as I have been there since 2006 with the junior classes and now I have been with the best of the best. The experience in Eskilstuna at the Speedway Best Pairs with the German team was great also."
Nicknamed Michi, Härtel says he is looking forward to learning the different tracks in Britain whilst also concentrating on his Long Track ambitions back home.
"Here in Germany I am focused on Long Track and also the U21 world championship and the European championship. I want to qualify for the final rounds and see what I can do. I want to learn as much as possible in the UK and just make everything a bit better and get used to the difficult tracks. I think this is good for experience, when you are always on good tracks you don't learn so much. On difficult and specialist tracks you can learn the most."
Season tickets are still available to buy online until 16th March at www.ipswichwitches.co/tickets with the first meeting of the new season on 30th March at Foxhall against Lakeside in the Championship Shield (2.15pm).