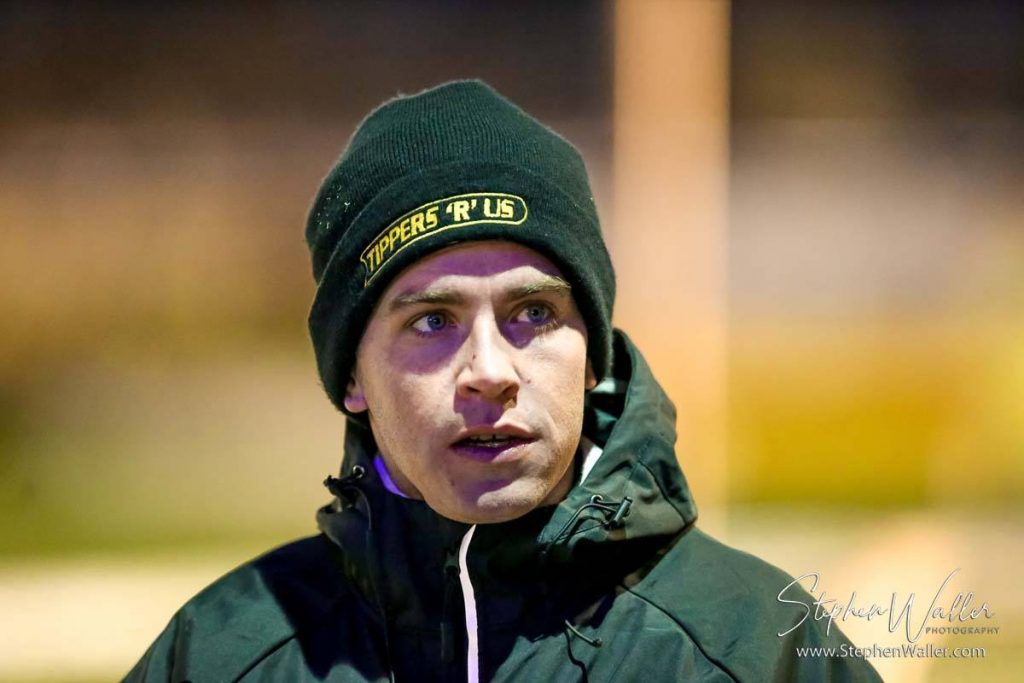 By Henry Chard
'Tru Plant' Witches Team Manager Ritchie Hawkins admitted it has been a tough start to the season for his side but is not worried after a 54-35 defeat at Lakeside in the Championship Shield on Friday.
The Witches started brightly on the night and kept within striking distance of the Hammers but the possibility of any away points faded from heat 10 onwards as the hosts continued to stretch their lead and win comfortably.
It was the first time that Michael Härtel, Cameron Heeps and Danyon Hume had raced at the Arena Essex Raceway and Hawkins says it was an eye opener for the three of them.
"I think you could tell there was a big difference from the boys that have never rode here and it was a really tough night for them," said Hawkins. "Nico (Covatti) hasn't been here very often and he improved every race as did Danyon and how Connor (Mountain) rode was a massive positive tonight."
The boss says that the three will all have learnt from their first experience of the tight circuit ahead of the return to Essex in the Knockout Cup.
"It was really tough on Michael as he got excluded and only got two rides and I don't think he did too badly considering he has never rode a track like this before. They have learnt a lot to go into the Knockout Cup match here and that is really important to us. We have seen the track and had some laps on it now and Danyon will go away really happy with his last couple of rides. Michael will improve every meeting."
The former skipper was delighted with Mountain's performance as he scored 10 from reserve and says that qualification from the group is still possible.
"The track suited Connor, he made good starts and he was superb and it was brilliant to see. He deserved all he got.
"Mathematically it is still possible to qualify and I don't know the exact points at this moment but we will need a massive home win on Saturday and a four-point win at Peterborough and that is what we have got to look at doing but the main thing is to improve a lot."
Hawkins says that although the season has started with two defeats there is no reason to panic at this early stage of the campaign.
"It has been a tough start for us, we have not had regular meetings and the boys are getting rained off and a lot of people are in the same boat. We just need to settle in and improve. Its two bad meetings not two bad months that they have been struggling so there are no worries in that respect."
The scores
Lakeside 54: Richard Lawson 14 ©, Adam Ellis 12, Nick Morris 8+1, Zach Wajtknecht 7+1, Kyle Newman 5+2, Alfie Bowtell 4+1, Ben Morley 4
Ipswich 35: Danny King 12 ©, Connor Mountain 10, Rory Schlein 8+1, Nico Covatti 4, Danyon Hume 1, Michael Härtel 0, Cameron Heeps 0
Championship Shield table
| | | |
| --- | --- | --- |
| Team | Meetings | Points |
| 1 Lakeside | 3 | 7 |
| 2 Peterborough | 3 | 6 |
| 3 Ipswich | 2 | 0 |
Rider of the Night
Mountain was the star for the Witches, scoring 10 points from five rides. He took two heat wins on the night and a fantastic second place as he held off heavy pressure from Kyle Newman in heat 14.
Next meeting
The 'Tru Plant' Witches are back in action on Saturday 21st April when they host Lakeside Hammers at Foxhall in the Championship Shield.