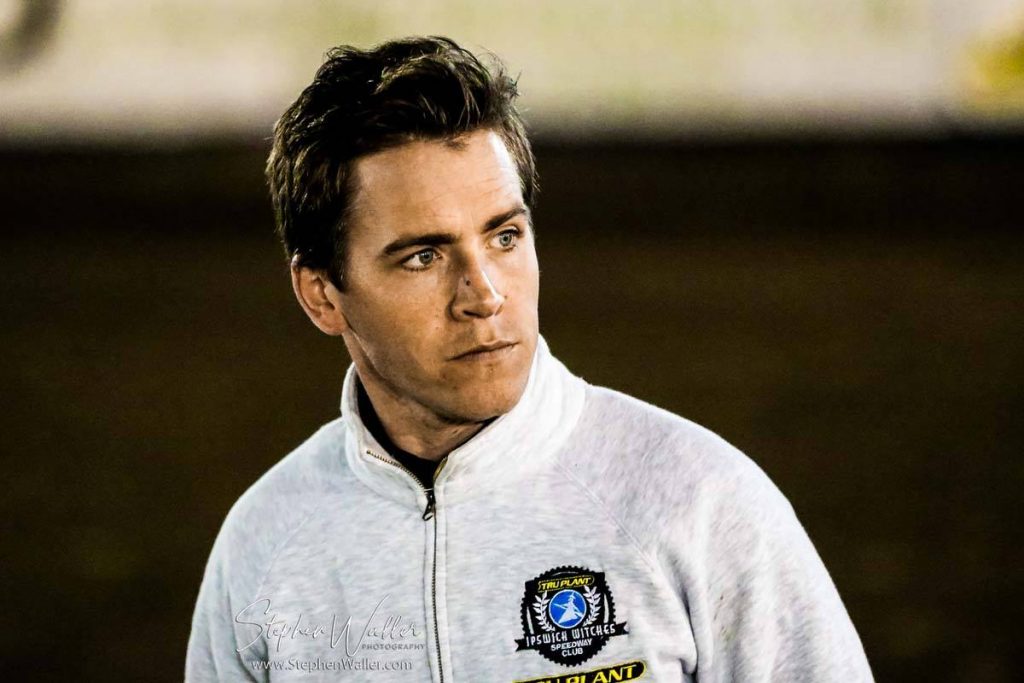 By Henry Chard
'Tru Plant' Witches Team Manager Ritchie Hawkins admitted his side's performance was not good enough as they fell to a 50-40 defeat at Berwick in the Championship on Saturday.
The visitors kept things tight but fell away in the latter part of the meeting as they went home empty handed despite Rory Schlein's faultless 18-point maximum and Hawkins says his team need to find their form.
"Bar Rory we were not good enough as a team," said Hawkins. "Rory was superb and Michael (Härtel) did really well on his first visit there. We dropped away at the end from even picking up a point and it wasn't a great performance. We are going to have to move on and by the time our next away meeting comes hopefully we will be in a lot better form and pick up the points then."
The boss was full of praise for Schlein who has started the season in excellent form but says the rest of the top five need to start scoring to take the pressure off of the young reserve pairing.
"Rory has had a brilliant start to the season. He is confident and fit and healthy and he is riding as good as I have seen for a long time. He was a class above tonight.
"Our reserves are inexperienced and they are improving all the time but at the moment our top five are not scoring enough points to carry them which is what we need them to do and then they can chip in with a few points. Connor (Mountain) scored three points and last year he scored more here and he looked quicker, the same with Danyon (Hume). They are so close to getting half a dozen each meeting and they are right on the edge of pushing on a little bit.
"Danyon is coming back from a serious injury and a lot of his form is because of time off the bike and getting over that. With Connor you can see he is so close to pushing onto the next level and that is something everyone goes through, it will click one day and then those two's and three's become sixes and then you push on from there."
Cameron Heeps endured a difficult night at Shielfield Park and Hawkins says he needs to work hard so that he can hit the heights of last season again.
"Cam has not had a good night and on the face of it he has a big role at the moment with Danny (King) and Nico (Covatti) away. He hasn't performed tonight and we have a little break now and he has to work hard now but there is plenty of time for him to have a good season still. He has had a tough start to the year but he can get back on form."
The former skipper says the break before their next league fixture is a welcome one as they look to get back to full fitness after a tough opening to the year.
"We have a little break and we probably need that to get our full seven riders back. It has been a tough start to the season and after this little break we need to re-group and come back as a unit and start performing. We have the league to go for and we need to be in a lot better form."
The scores
Berwick 50: Jye Etheridge 10+1. Kevin Doolan © 9+2, Aaron Summers 9+1, John Lindman 8+2, Dany Gappmaier 6+1, Paul Starke (g) 5+1, David Howe 3+1.
Ipswich 40: Rory Schlein 18 (Maximum), Michael Härtel 7+2, Ben Barker (g) 7+1, Cameron Heeps 3, Connor Mountain 3, Danyon Hume 2.
Championship table
| | | |
| --- | --- | --- |
| Team | Meetings | Points |
| 1 Berwick | 2 | 6 |
| 2 Peterborough | 4 | 6 |
| 3 Ipswich | 3 | 5 |
| 4 Workington | 1 | 4 |
| 5 Scunthorpe | 1 | 3 |
| 6 Glasgow | 1 | 3 |
| 7 Lakeside | 2 | 3 |
| 8 Edinburgh | 1 | 3 |
| 9 Sheffield | 2 | 1 |
| 10 Newcastle | 2 | 1 |
| 11 Redcar | 3 | 0 |
Rider of the Night
No doubts about this one, Schlein was in a class of his own all night as he won all six rides and carried the Witches threat all night, a stunning performance from the Australian.
Next meeting
The next action at Foxhall is the showpiece British U19 Final on Thursday 17th May.