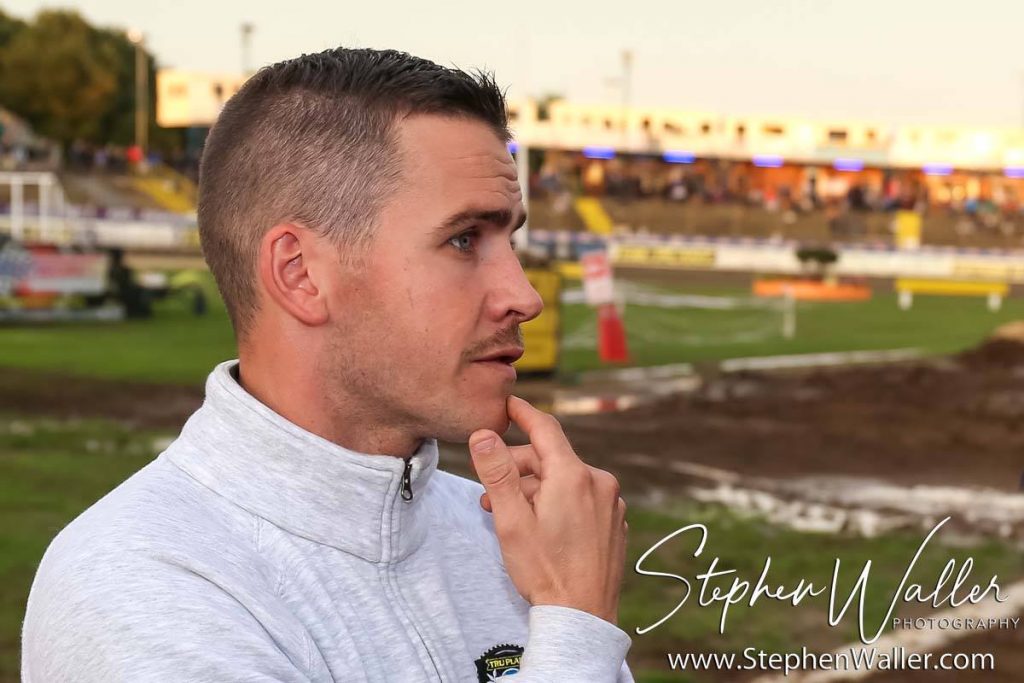 By Henry Chard
'Tru Plant' Witches Team Manager Ritchie Hawkins felt his side deserved more after a 50-40 defeat to Workington in the Championship on Saturday.
The Suffolk side were no more than four points behind all meeting until heat 13 when the home side hit a 5-1 and moved eight points clear. The Comets sealed their win and denied the visitors a consolation point in the remaining two heats and Hawkins felt it was harsh on his side.
"We were in it all meeting, battling really well and winning a lot of races," said Hawkins. "Rory (Schlein) had a lot of things go wrong and ended it with a crash and an injury. Heat 13 is where the meeting turned and I think with the way we performed all meeting we deserved something out of it. With Rory's injury we didn't have enough at the end.
"Rory has a knee injury and it looks like ligament damage. We will know more in the coming days."
With just two away meetings remaining the boss believes his side may need to win twice to secure a spot in the top four at the end of the season.
"We were always going to need to win away from home, maybe we will need to win twice, it depends on other results but we might have to win both of our remaining away meetings which we are capable of doing. We need to assess Rory's injury now too."
The former skipper was pleased to see Cameron Heeps and Coty Garcia perform well and was encouraged by Drew Kemp's debut for the club.
"Cam did really well and it was Coty's best meeting for us. There are positives and it was a very tough meeting for Drew to come into but he nearly scored in heat two and he was on the pace against the top riders, he did really well.
The Witches are now seventh in the table with Berwick, Workington and Edinburgh moving ahead in the last couple of days but Hawkins says they must focus on their own results.
"We need to win away from home to push up the table now because we are sitting behind Glasgow, Workington and Edinburgh now. Peterborough didn't score tonight but we need to worry about ourselves."
The scores
Workington 50: Rene Bach 14+1, Ty Proctor © 13+1, Nicolai Klindt 10+1, Mason Campton 6+3, Rasmus Jensen 6, Kyle Bickley 1+1.
Ipswich 40: Cameron Heeps 12+2, Coty Garcia 8, Steve Worrall (g) 7, Mark Riss 6, Nico Covatti 4+1, Rory Schlein 3 ©, Drew Kemp 0.
Championship table
| | | |
| --- | --- | --- |
| Team | Meetings | Points |
| 1 Peterborough | 15 | 33 |
| 2 Lakeside | 14 | 32 |
| 3 Berwick | 17 | 30 |
| 4 Glasgow | 14 | 27 |
| 5 Workington | 12 | 26 |
| 6 Edinburgh | 13 | 23 |
| 7 Ipswich | 14 | 23 |
| 8 Scunthorpe | 16 | 21 |
| 9 Newcastle | 12 | 18 |
| 10 Sheffield | 17 | 14 |
| 11 Redcar | 16 | 14 |
Rider of the Night
Heeps has not found his consistent best form on the road in 2018 but at Derwent Park he was the top performer for the away side, scoring 12+2 including two race wins.
Next meeting
The Witches are next in action at Foxhall against Peterborough on Thursday 23rd August in a Championship clash. Kids go free to this meeting.