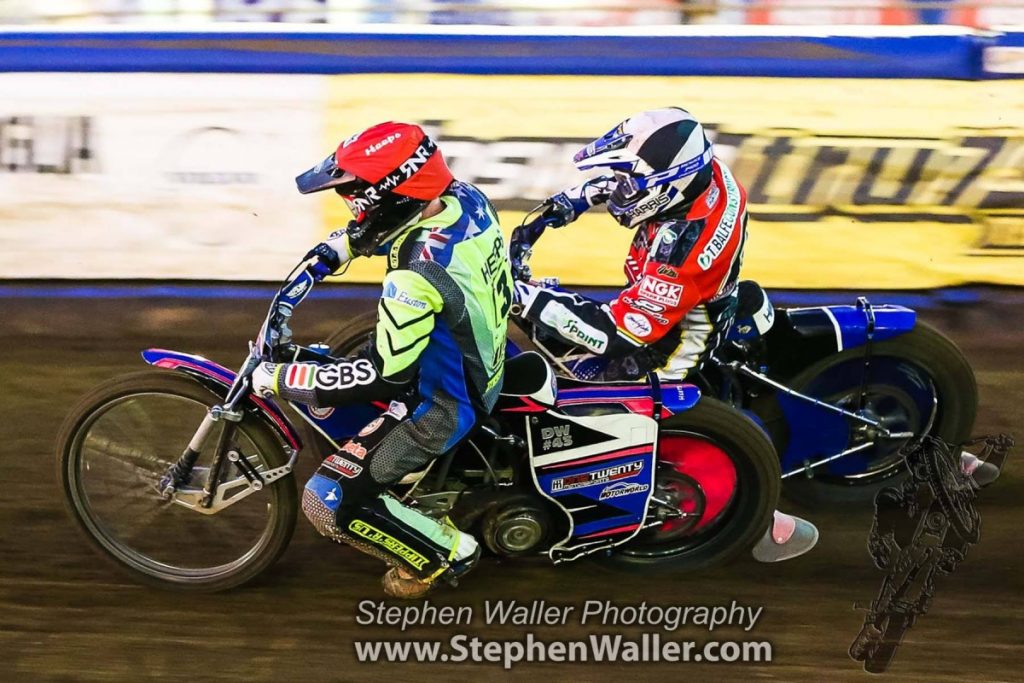 'Tru7.com' Witches rider Cameron Heeps is hoping for a large and vocal crowd at Foxhall Stadium on Thursday night when they face Peterborough Panthers in the second leg of the Knockout Cup final.
The Witches have a four-point deficit to overcome on the night and the Australian admitted that the support of the fans can play a big part during the meeting.
"Probably before this year if you had asked me a question about the support I would have said something but I have never really realised until this year how much it means for us boys to have the fans behind us," said Heeps.
"Especially in those Play-Off meetings, riding around with the fans behind you, it gives you such a good feeling to know you have so much support behind you. If we have a good crowd on Thursday it will get us all geed up and it should be a good meeting."
Heeps says he was surprised at how close the score was at the East of England Arena and Events Centre going into heat 15.
"It was a brilliant meeting. If I am honest I saw a couple of good scores come in towards the end and after heat 12. Before heat 15 Ritchie (Hawkins) said we needed a 5-1 for a draw and I was like 'brilliant!' I had looked at the score before that and we were 14 down and I didn't really add it up. I saw a couple of 5-1's and I was buzzing for the boys but I didn't really look at the score. To find out we were only four points down was even better."
The Perth-born rider says the current side never let their heads drop after what has been a season of defying the odds.
"We all went and saw Rory (Schlein) when he crashed and then Ritchie got us all together and said: 'Look boys, it is what is and we have been here before. We just need to crack on and keep doing what we are doing.' That's what we did and it all seemed to happen. We had had a couple of heat advantages against us but we didn't let our heads drop and we picked ourselves up and went hard."
The 22-year-old says that his year away from the club in 2016 was needed and that the support of Hawkins has been a big help.
"I have always got on well with Ritchie and I wanted a year away last year and I think it has done me some good this year. Ritchie and I had a chat and he said: 'I don't want you to ride in the team because I am here. I want you to ride because you want to be a Witch and want to do well.' That is exactly what I wanted to do. Having him as a good mate and a Team Manager has been a bonus and he has helped me out all the way."
The Ipswich asset is desperate to win his first trophy with the club but adds that the tie is far from over against the Panthers.
"It would be a very special night as I don't think I have won anything in the years I have ridden for Ipswich. It would be nice to bring something home and it would top off the end of season dinner dance with a nice trophy sitting there for the fans.
"It is definitely not over and Peterborough will put up a good fight. I think if we go into it and treat it like we have every meeting this year and do our thing, it is up for grabs. It only takes one heat to get rid of four points. We need to get off to a good start and enjoy ourselves like we have done all year, it is doable."
Heeps has recently returned from a shoulder injury and admitted it was right not to comeback too early.
"It was one of those injuries where I wanted to come back earlier than I did but I am glad Ritchie kept putting me off for two weeks. I wanted to come back two or three weeks after my injury but in the end it was five weeks. He wanted me 100% fit and he knew I could then come back and hit the ground running. That is what I did and I scored paid seven at Sheffield and then had a good meeting at home. I was chuffed to come back and ride well and it has been a good year."
The current Western Australian State Champion has enjoyed his best season in the sport and says that determination has been key to his good form.
"I wish I knew the secret but it is probably something I have always been told since I came here but not put into practice that much. It is about the more the put in the more you get out and that has been the key this year.  A bit of determination on and off the bike and just enjoying it. I have been having fun and making sure I do the same things every time and then I know where I am at. Once it clicks it is easy to keep the train running."
Kids go free on Thursday at Foxhall for the Knockout Cup final second leg!
Words: Henry Chard
Heeps Factfile
Date of Birth: 27 October 1995, Perth, West Australia
British career
2011 Midenhall
2012 Ipswich, Mildenhall
2013-15 Ipswich
2016 Rye House
2017 Ipswich, Somerset
Honours:
Western Australia Under 16 Champion: 2006, 2007, 2008, 2009, 2010
Western Australia Under 19 Champion: 2012, 2014
2017 Witches form
Meetings: 35
Rides: 160
1st: 49
2nd: 52
3rd: 30
4th: 29
Points: 284
BP: 32