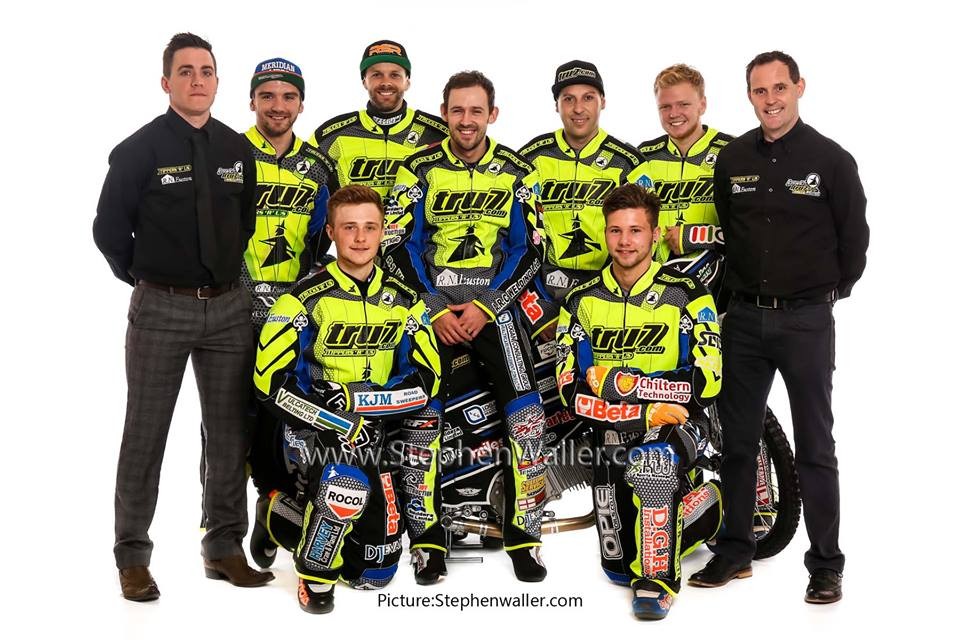 I look back on the first month of the season with mixed emotions. We put out a strong side on paper at the start of the season and I don't think we are ever going to see it which is unfortunate but we won't let that beat us.  Given the circumstance we have been under it has been a good start to the season. I think we have dropped points because of our injuries and illness, not many but a few which ultimately could make the difference if it is nip and tuck at the end of the season. I can still see us going on a strong charge once we get up and running with seven fit riders and a few meetings under our belt and I think we will have more than enough to be competitive and stick in there.
We want a team that will get on and help each other and that is worth a few points on its own. Ultimately though, it is the points they score that matter, we need to outscore the opposition home and away and win meetings. Every decision we make is based on that and we have got to get it right for the team, it is simple really. It's been a difficult start but having said that if we compare it to last year, we have made a better start and we made the play-offs last year. When I look at it like that there is no panic.
Illness is not very common thankfully and hopefully lasts for a meeting or so. Unfortunately for Cam (Heeps) his came when we had three meetings in quick succession and of course Ritchie (Hawkins) then fell ill too which didn't help. Injury wise as soon as it happens Ritchie and I talk. First of all, you need to know the prognosis of the rider involved and how long he is likely to be out for. That really makes your decision on whether you can wait for them for a couple of weeks and use R/R if you don't have a busy period. The other option, if it is long term and you are busy in that period, you have to replace the guy. You have to wait to know a little about the injury before you can make cast iron decisions.
There is a certain amount of support structure for injured riders at some clubs and of course as a club you try to give that injured rider as much support as you can in whatever way he needs. Ultimately, away from the meetings though, the riders are their own business and need to look after themselves. The motivation to get fit as soon as possible is there because if you are not riding you are not earning. It is a tough one for speedway riders because for example, injured footballers want to play and want to be in the squad of course, but ultimately the club arranges all of your treatment and continues to pay your wages. Things are not quite as bad as they are when you are a speedway rider. That is the motivation for every rider, to get back fit and riding and earning again.
The Foxhall track is good but I have been a little disappointed. I'm very happy with the surface we have got thanks to our sponsors Tippers 'R' Us. Everything has gone well and as I had hoped but at the moment the racing has not produced. I think that has been down to our opposition and their attitude towards our team or track, I don't really know. We have been fairly dominant at home and we have not seen the best racing. As the season goes on we have some attractive fixtures with Sheffield coming back and Glasgow at Foxhall. So, yes I have been happy with the track but no I haven't been as happy with the racing, that is no reflection on the track though or the team.
I can't go into what needs to be done in the sport as it is a long large process but I am pleased that some things have been done and some parts of the organisation have been improved. There is a long way to go and I think the crowds have slightly improved this year. It is what it is, it's a good sport, it's exciting and I think local people are turning to speedway as an option to football. I think one or two people in the smaller towns where there isn't a major club like in Manchester or London, are thinking about speedway as a family sport to go to and support.
The Grand Prix is a real tough one to call this year and it is as competitive as the Championship. There is a bunch of experienced Grand Prix riders and there is a bunch of younger new guys to the Grand Prix and I honestly don't know how to call it. Winners have been coming from the more experienced Grand Prix riders in the last few years but for me it is time for another youngster to come in like Tai (Woffinden) did when he was starting out and it would be nice to see one of the young guns get more consistently involved.
I think Rory (Schlein) joining the field is good for the British Championship but it sits a bit strangely when I think of the British Championship but times do change! He is based here and has been a good servant to British speedway and races on an ACU licence. There is no reason for him not to be involved and it can only be a good thing. With Kyle's (Newman) inclusion I think we have a good chance of seeing all three of them in the Final. In one way, it's a shame they are all in one round but the other round would have clashed so that was no good. Even, so I think they all have a chance of getting to the Final.
Thank you for your continued support,
Chris