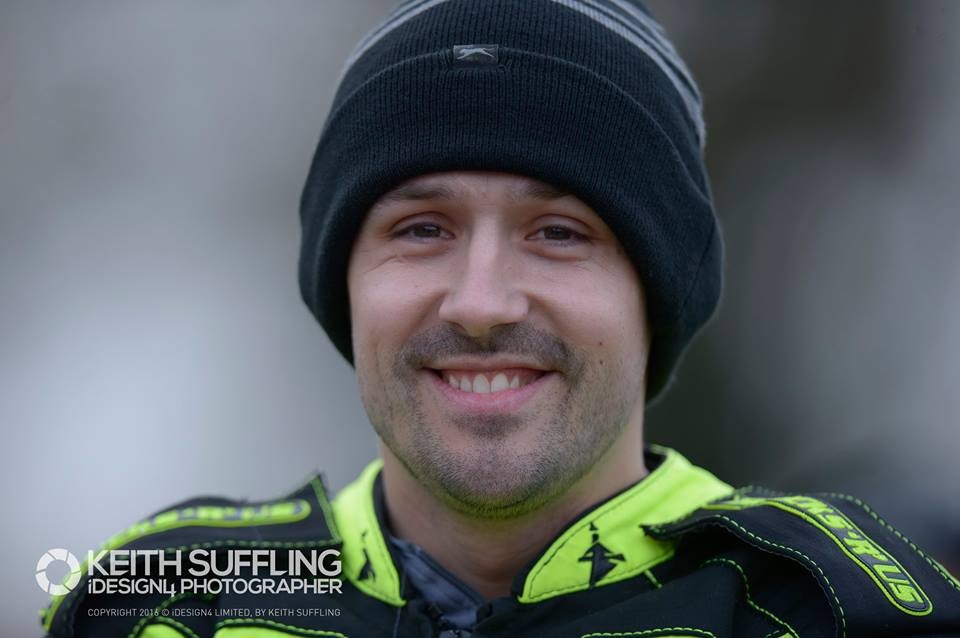 I went on holiday just after the season finished and didn't get up to too much before Christmas and then the hard work started in January getting the bikes ready. We got them ready and we got the chance to go to France to do some testing and that was great as we were lucky with the weather too. We had two really good days there and it was really nice to be back on the bike and it felt like I hadn't been off it. Since then we've had a couple of days training with Team GB which was great and seeing everyone with the new bikes. We had a new engine too which we tested and we we're really happy with it. I'm excited for the season to start now.
My own personal fitness plan has gone really well this winter, I'm probably the lightest I have been since I was a teenager! It's been different as I have completely changed my training regime and approach. I've got involved with the Team GB trainer too personally and he has worked with some of the top guys in the sport too like Doyley (Jason Doyle) and (Niels Kristian) Iversen. It's totally different to what I have been doing and I'm feeling the benefits and hopefully that will help on track as well. I think you feel generally better if your body is in better shape. As I've said I'm lighter and they say the lighter the better so we will wait and see! I always train but I've never been this light going into a season that's for sure. I never feel that rusty getting back on the bike, I just get on and wind it on! I just drop the clutch and give it everything and that's the best way for me.
The Coventry situation has been tough, I'm lucky I have a Championship side and have managed to pick up a couple of guest bookings and some challenge meetings that Coventry are putting on. So, at the start of the season my calendar is fairly full which is nice. However, as soon as we get to May it will start to quieten down and hopefully I will pick up another team. I just have to start the season well and keep myself in the shop window. It's a difficult situation but I will have to take any opportunity given to me. On a personal note I need to earn a living and I can't do that just riding in the Championship. I have tried not to worry about it too much and it is something I just have to get on with and I'm lucky enough to start the season quite busy and as long as I do my job on the track I am sure something will come up.
I'm very excited about the Ipswich team this year and I think it is the best team we have assembled since we have been in the Championship and I have been with the club. It's so hard to say though, people get excited when they see a team and we have had it before where on paper it looks good but that does not win meetings, you have to perform. We've got myself, Nico (Covatti), Rory (Schlein) and Kyle (Newman) who are all capable number ones in the league, all in the same team! That tells me how strong we are and if we all do our job I'm confident we'll be up there.
The track is looking good and I'm looking forward to getting out there for some practice. What I think will happen is that it will ride very similar to how it was before but it will allow more racing room and riders to take more chances. You'll see more passing and there might even be more contact and things like that because riders will be going for those gaps that you wouldn't go for previously. Chris (Louis) is very clever with things like this. Although we always go well on our home track he is thinking of the fans and you need to have good racing and Chris thinks about that. With the track changes that have been made he wants riders to come here and go for those gaps that you would normally back out of.
We had a terrible start last year and let's be honest it can't get any worse than that can it?! We need to hit the ground running and I really believe we will. We have great characters in the team and everyone is high on confidence even those who have struggled with injuries. I watched Connor (Mountain) ride yesterday and it looked like he hadn't been off the bike and Rory has dealt with injuries before, he is an experienced rider and he has come back before, he is an ultra-professional and knows what to do.
We didn't get away this year as a team but we have got the group chat on Whatsapp and there has been a lot of jokes flying around and team spirit is high. We all know each other, no one is new there is no unknown in the team.
I'm going into the new season hoping to carry on from last year as we were happy with that. It is going to be difficult to top what we did last year as it was the best year of my life! I want to maintain my British title, go back to Cardiff and I want to represent Team GB again and I want to win silverware with Ipswich. It is a big year when you sit down and look at it and there is a lot to happen ahead.
All the best,
Danny