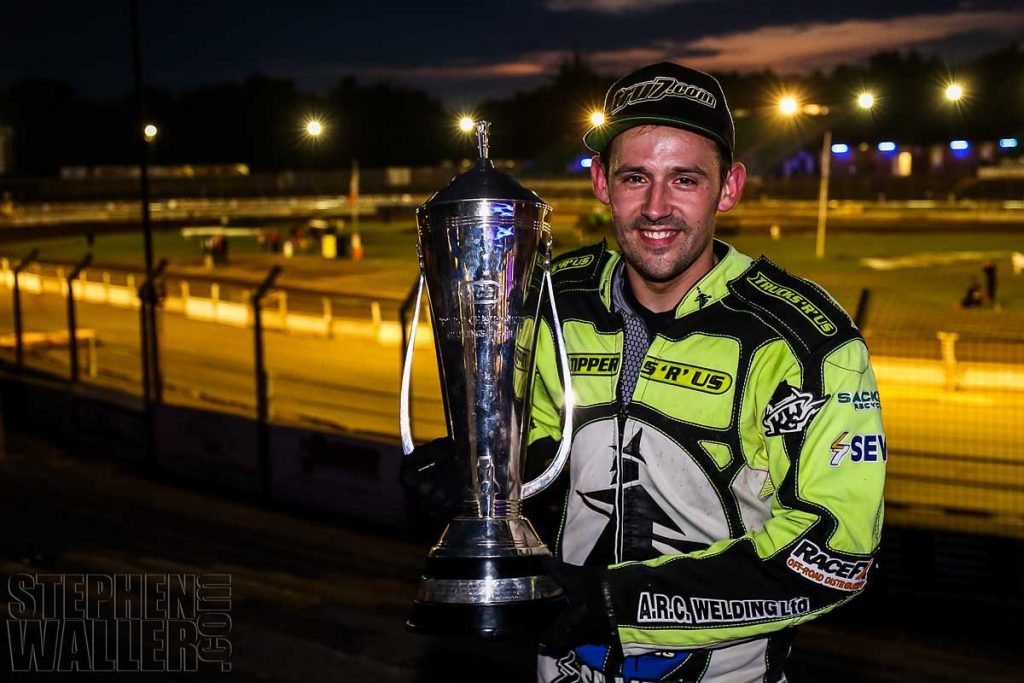 It was a bitter-sweet-bitter season really! It was a terrible start and it was a shame because we had a team that on paper looked solid and when it wasn't working you were thinking 'what do you do?' Chris (Louis) and Ritchie (Hawkins) were looking at making changes but you can't drop a rider for someone who isn't as good on paper if that makes sense. In the end it had to be done and it proved to be what we needed. We then went on a good run and hit a crest of a wave really, home and away. When we made the Play-Offs I thought we had a really good chance of doing it but I don't know what happened, we just died out.
It was a disappointing way to sign off as the team in form and it was a bitter pill to swallow really. We went to Somerset and had so many silly problems that should never happen really and it cost us. In the home leg they were the better team and we didn't turn up. Once we had lost our heads went down and that was it.
Every rider in the sport understands how the sport works and it's never nice to be dropped but the boys who came in, they knew us all and settled into the team straight away. When you've got a captain like me and a manager like Ritchie you don't have much option other to get along really! We are quite close and like a laugh and a joke and we know when it's time to be serious. I do believe that when I'm laughing and joking I'm not nervous and stressed. For me personally I've always tried to be like that ahead of a meeting because it takes my mind off the meeting and I'm relaxed, ready and concentrated for heat one. That works for me and I think it worked for us as a team this year.
I thought Ritchie did very well. It was a struggle early on and he got a lot of stick but that is part of the job unfortunately. I always knew he was capable and would make a great Team Manager. I'm pleased for him but I think he was gutted at the end of the Somerset meeting. It was hard for him to see the team struggle and not perform and he knew we were better than that. I think people have a bit more respect for him as he is a former rider and that makes a big difference. He was never a world beater but he rode at a good level, Premier League level, and he knows how to ride a speedway bike and how they work. I think riders confide in him with regards to what set-ups to use and where to ride on the track and you can really talk to him which makes a big difference. I think its difficult to listen to a manager that has never been on the bike telling you something and it can cause offence and cause problems whereas this way round it doesn't happen.
It was probably the worst start ever for me this season but I don't give up and we stuck with it and finally got going in the end and what a season it was! It's been my best year to date for sure. On a personal note to become British champion was the best feeling in the world and then to build on that at Cardiff was an unbelievable experience for me and something I will never ever forget. The race win in my final heat really topped the weekend off. Then of course we had the World Cup and got a silver medal so personally it's been fantastic. My form throughout the leagues has been brilliant and really consistent in the end, it was just that first couple of months which were a slow start. I'm happy with where I am and I'm looking forward to next year now. Maybe the issues we had at the start were a good thing in the end because it got us to where we are now. We are really happy with the engines and the clutch set-up and we are feeling confident going into next year with everything staying the same.
I always knew consistency was key and I really ironed that out this year. I don't know if that was down to me personally or down to machinery or a bit of both but whatever it is, it's working. Even if we're not at 100% and not having a great night, we are still doing OK, which is always a good sign and everything is staying the same for next year and we hope to just build on what we have got.
I don't think the BSPA know what they are doing yet but I'd like to stay at Ipswich and I'd probably like to stay at Coventry and do exactly what I've done this year. Of course we have to wait and see if we can double up and see what leagues we are in, what the rules are, what the averages are etc. It's silly season where we don't know anything at the moment!
I wouldn't touch the Premier League. I think it works and is a brilliant product, so I would leave it as it is. It's a high standard of racing, it's tough and I enjoy it. I think the racing is better in the Premier League than the Elite League. I would like the Elite League to go back to the old format like the Premier League. It worked and I don't like the new format and how it works so that is the first change I would be making but I don't know what they are going to do.
I'm off on holiday on the 6th November and the AGM finishes on the 3rd so in-between I'll be probably trying to sort my contracts out! If not I'll be hopefully finalising them on holiday and I'd like to think that by early next month I will know where I'm going and have my contracts signed and can relax and enjoy Christmas and have some family time. Then gradually I'll start doing some gym work and some fitness before Christmas and then hit it hard in the New Year.
I'd like to thank my mechanics Dickie (Richard Maull) and Big D (David Brabbin) and all my sponsors because without them I wouldn't be able to do what I do and have the success I had this year. I'd like to thank the Ipswich management too, Chris has worked closely with me especially when I was struggling early in the year. Thank you to the fans for sticking with us when we were losing at the start. They got behind us towards the end of the year and they were almost like our eighth rider pushing us on. I suppose I'd better thank Henry (Chard) and his ugly mug for all of his hard work on the press stuff and for helping me when I've needed something writing! Lastly I'd better thank my wife Clara for putting up with me! It can be very stressful being married to a speedway rider as you can imagine. When things are not going well you probably come home and take it out on the people you shouldn't. She sticks by me and never gives me any hassle which I'm grateful for.
All the best,
Danny