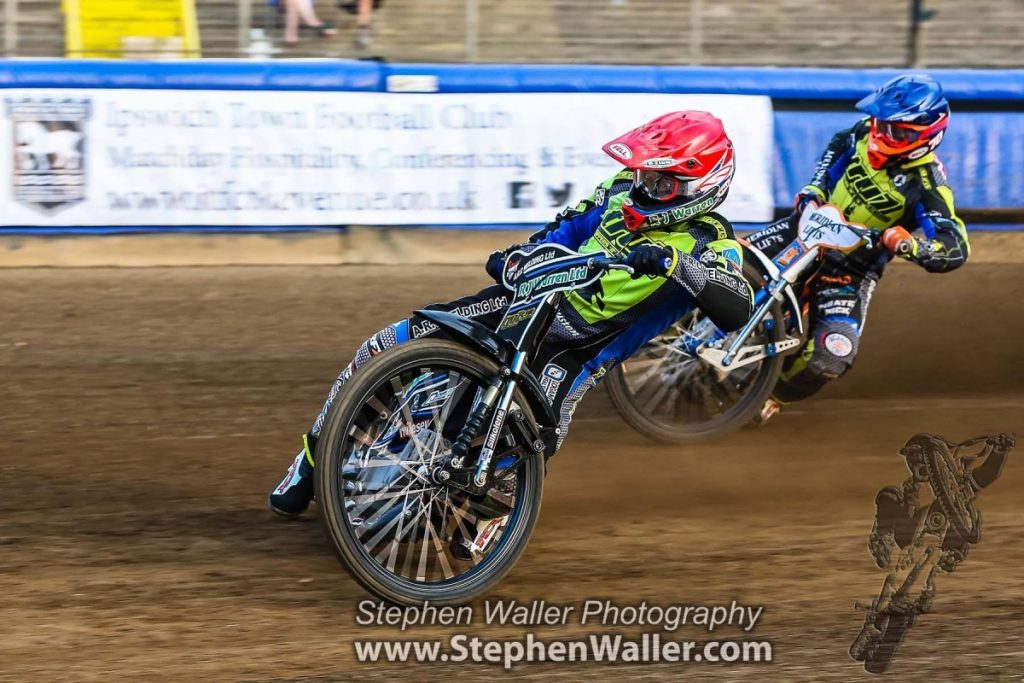 The Edinburgh defeat was a bit of a blip, what more can you say, we shouldn't have lost that night but that is the way it goes. We had some bad luck on the night as well but we had to move on from it and learn from it. It gave us a kick up the backside and we have shown how strong we are since that. It kept us on our toes and showed that we can't relax and settle for things because these things can happen. It wasn't detrimental to our position in the play-offs as we were still in a good position and it didn't cost anything but it is never good to lose at home but we learnt from it and that is the main thing.
We have been picking up points away from home a lot more frequently in the second half of the season and it has been exactly like I said it would be at the start of the season. We needed to try and do well the first time around at tracks but the second time everyone has been there and found the set-up especially the youngsters who probably haven't been to some of the tracks, so at least when they go back they know what to expect. So far that has been the case, we have been picking up points and getting some big wins on the road.
The team changes episode was difficult for everyone but we had a team meeting the following week and cleared the air. We are a team and you can't be bringing this sort of stuff up later in the year. Everything that needed to be said was said and we have moved on as a team.
My form is better now after a shaky start where I had some problems behind the scenes with the bikes and stuff. It is a lot better now though and I have shown that in both leagues, my average is good and the season is going in the right direction. I don't really set targets at the start of the season, my attitude in the sport is to go out and do my best and that is all I can do, I can't do any more than that. I go out and give 100% and that is all I know, sometimes it is good enough, other times it is not but hopefully the majority of the time it is.
We know most riders in this small community and we all know each other so having guests to cover injuries is not so bad. The problem I have with r/r is that especially at this time of year, if there is another injury during the meeting, you are screwed! I don't really know what you do, I suppose you could have a number eight in that scenario but it is not ideal. I am not a lover of r/r but unfortunately when you run out of options that is all you can do. When I am a guest I just go out and give 100%, as I said earlier that is all you can do.
It would be nice for the Leicester fans to get off of the bottom of the table, I think they have finished bottom twice in the last three years. Obviously, we are not going to make the play-offs and it has been another terrible year for the fans but there have been a lot of positives. The Bates' have come in and are doing everything they can to succeed and considering they were left with the lack of riders at the end after coming in so late, they built the team quite well and we have been hounded by injury and all sorts all year. We have never really had a one to seven but of late we have had more consistency and six of the riders back and we have been getting points and that proves when we are together the team is not that bad. It is too little too late now but we are going out now and showing what we are capable of. We can't win anything but it would be nice to get off the bottom of the table.
I thought I was the one letting the boys down in the first half of the Fours at Peterborough but I got my stuff together in the final but the boys struggled and I don't know why, it was a really strange meeting and I don't know what more to say about it!
There has been a lot of talk about track preparation here in England recently and the thing is we use different material here to what they use on the continent. Our tracks are very clay based and the problem with clay is that when it gets wet it gets slippery. We struggle when it comes to rain whereas on the continent they have sand based tracks which absorbs more of the wet and you can get meetings on. Track preparation has always been the same, you get quite a mixture, tracks that have dirt on it and some that haven't. I wouldn't say we go to many tracks that are dangerous or unrideable, if they are then it is normally down to the weather. I don't think there are tracks that are dangerous through preparation if that makes sense, it is dangerous due to conditions.
Craig Cook looks like he has qualified for the Grand Prix and I still have GP ambitions myself. It is so tough to get there but I would love to do it and have a go, it has just never worked out for me. It is a shame because I feel I can mix it at that level but it is a tough format to qualify from and I always seem to have a bit of bad luck at those events. That is life and good luck to him. Robert Lambert was crowned European U21 champion and I am sure he will want to be in the Grand Prix one day and I am sure he will be, it is good for British speedway to see them doing well.
I took part in the World Games event in Poland too and it was a great event to be a part of. I didn't get many rides which is a shame as I would have liked more but for speedway to be involved in an event like that, I don't think it will happen for a very long time again. It was nice to be part of it and the atmosphere was unreal not just at the speedway but at the whole games. We were all in dorms in our different countries with their flags, all from different sports in the complex and it was good fun. We didn't really have time to mix much as we were not there long as we flew in the night before and then left but there was a good atmosphere everywhere.
The end of the season will be great practice of the play-offs! It is difficult now with the current team situation as I am not sure what the outcome of that will be. I am not sure if Justin (Sedgmen) will be riding anymore and the same with Cam (Heeps), so it really depends on where we go from that. Obviously, we cannot replace them and it will depend on what guests we can use etc. If the team is fit we can go anywhere and win but it is tricky at the moment with the injuries. The next few weeks are going to be vital, especially with Cammo, if it means missing him for a month and he can come back for the play-offs then that would be wise to rest him.
All the best,
Danny