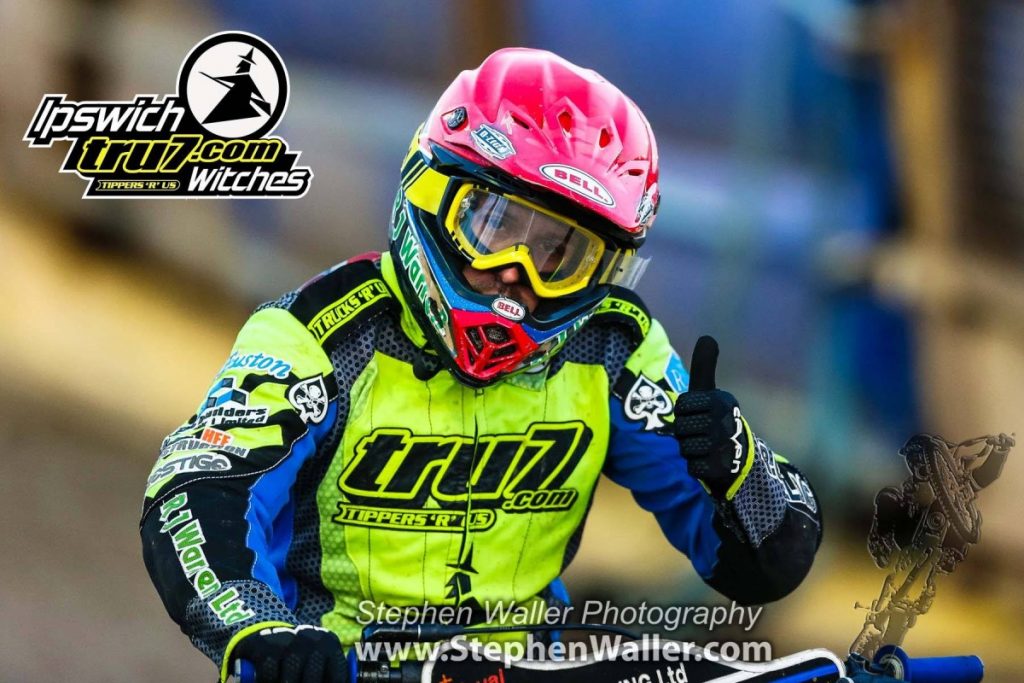 We are just over the halfway stage now and we are in a solid position. It would be nice to be a bit higher up but that's the way it is. It is all about making the play-offs at the end of the day and where we are now is looking good and as long as we continue to get points away from home we should stay in that top four. We were hit by injuries at the start of the season and that punished us but we are back to a full team now and that is showing. We are picking up points on the road and the reserves are really doing their thing at the moment and have stepped up in the last month.
I certainly think we have the team that can do the job this year but it is speedway at the end of the day and we need to stay injury free and hope nothing silly happens. Our first port of call has to be the play-offs and then it is down to four meetings at the end of the day but we have the team to do the job, let's just get there first.
We are really confident at home and are happy with our track and feel we can beat anyone at our track. I keep saying it but I feel we can beat anyone anywhere. Everyone has the set up at home and likes the track and it is important to keep that 100% record at home and I feel we will be pushing for that. If we lose at home it will be a huge disappointment but I don't see it happening with how strong we have been so far, but we can't be big-headed and need to continue that level of performance. The track has a bit of dirt on it and I don't think many tracks have dirt on it these days. We ride it more than anyone else and have the set up for it, that is all it is down to I think.
Ritchie (Hawkins) has tinkered with the riding order over the last month but we all know each other and I don't think it matters who rides with who. We are all able to adapt and are all happy to ride where we are put. Everyone gets on well and the team spirit is great and we are just like a load of mates riding our bikes and that is why we are having success so far this season.
It was a good win for Leicester on Monday against a depleted King's Lynn side but we were unlucky the week before against Swindon live on TV, when we had a four man team and still nearly took the win, just falling short in the end. It's been a tough season with a lot of team changes and injuries and it has not gone our way. We have a consistent run coming up now and hopefully we can get our team back with Pawel (Przedpelski) coming back in a few weeks which will be nice and hopefully we can finish the season strongly and get off the bottom of the table. Leicester have had a tough few years and it will be nice to have an upturn in form.
I didn't watch the World Cup as I was riding but we did great at King's Lynn and the boys did what they needed to do, it was a fantastic performance. It was the same old story in Europe though, it is a different ball game and I'm sure they will be disappointed but hopefully they can learn from it and push on for next year. Personally, it was disappointing to miss out. I like riding in Europe as it suits my style but at the end of the day Rosco (Alun Rossiter) has to pick the team he thinks is best for the job and will upset someone along the way. To narrow it down to five is tough and it wasn't my year unfortunately.
We have the Championship Fours coming up in August and we have built a top heavy team, starting with two 2.00 reserves at the start of the season. I'm not sure what four will be going to the Fours but whatever four it is, we are one of the strongest. It is ours for the taking and we need to go there and do the business.
The Grand Prix at Cardiff got a lot of people talking with the quality of racing and it takes a lot of different things to get to that elite level. It is experience, it is confidence, its equipment, it is everything really. Cookie (Craig Cook) struggled and I thought he would be better having had experience of it before, so I'm not sure what was going on. I'm sure he will be disappointed with his performance. It is a tough one as these guys are the best in the world, they have the best equipment and are ultra-professional and if you are going to compete you have to have the same as them but you also need the confidence. If you do not have that you are going to struggle. If you go out there and you are confident at the tapes and you make a start and are leading in a race, you are probably going to win it. You could have the same bike and the same rider, but if he is not confident and comes out of the first corner last, he is not going to win the race. It really is down to confidence, you need to make it into that first corner ahead.
There has been a bit of talk about how different the bike are these days compared to in the past. The way the bikes reacts these days is very different to a few years ago. They are really short stroke engines and they are actually called 'babies' because they have such a short stroke. They are baby offset engines that we run now. Basically, it means they react a lot harder and quicker to anything. For example, if there was a rut or a hole or a bit of dirt, the bike wants to come up on one wheel a lot more and I think that makes them harder to ride. If you can imagine riding closely against another rider and the bike lifts, there is a chance you are going to crash and take him with you. That's why you see a lot more slicker tracks these days, so that we don't do that and we can commit to racing. It is a tough one because if you do get it right they are very fast but obviously if you get it wrong it is costly.
The away side of things is key from now until the end of the season and we need points from every away meeting I think and I believe we can do that. We need to go away confident and enjoying ourselves and if we do that we will come away with something.
All the best,
Danny