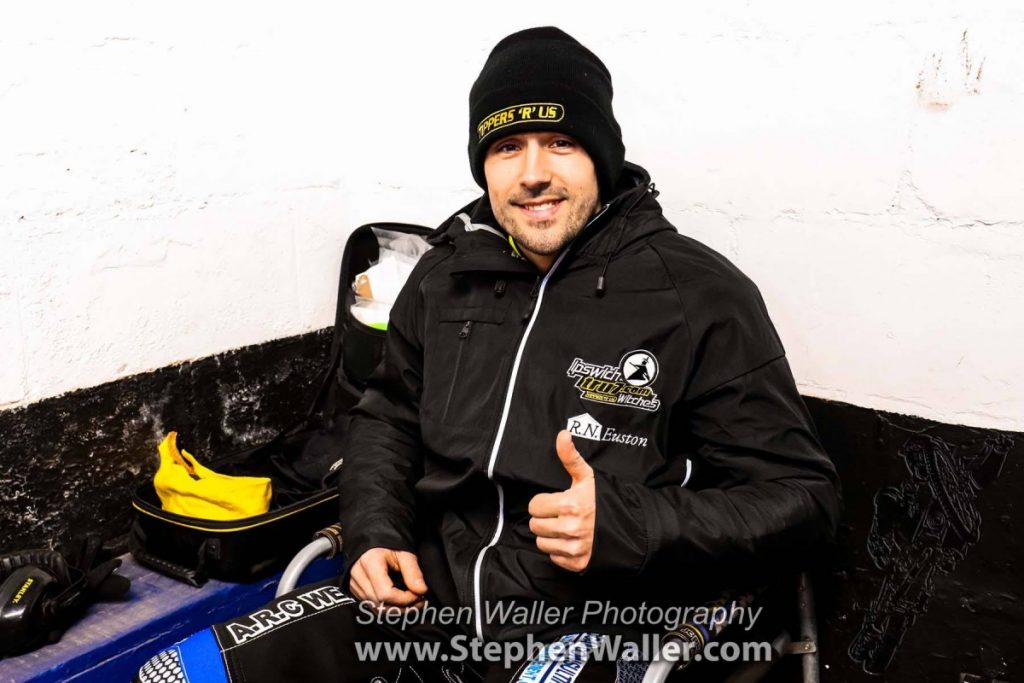 'Tru7.com' Witches captain Danny King says he will bounce back from his worst night of the season last week as he looks to lead Ipswich to Championship glory this year.
The Witches saw off Edinburgh in the semi-final to progress to the final where they will meet Sheffield at Owlerton on Thursday in the first leg before hosting the second leg this Saturday at Foxhall.
King says it will be a big night at Foxhall on Saturday and is determined to put things right in the final after scoring four last Friday at Edinburgh.
"It is a big night and I will be feeling the pressure a little bit but I am experienced enough to deal with it," said King. "The reason I will be feeling it is because of the way I rode last week at Edinburgh and I know I can't do that again, 100%. I need to make sure that does not happen but I am used to pressure and I deal with it all the time. I will come back stronger and I am not worried about it, I am looking forward to Sheffield."
The skipper says his side wanted to build a bigger lead than 10 points last Thursday and was disappointed with the how the rain was dealt with by the referee.
"We dug deep that day and at one point it didn't look like there was going to be a 10 point lead. Going into the meeting we wanted more than 10 points but halfway through we would have snatched at a 10 point lead if someone offered it to us.
"The referee didn't do a great job in letting that heat go in the rain because it was hammering down and you couldn't even see and it was always going to play into their hands, that is the way it is and they got a 5-1 in that heat. It was disappointing but we took the 10 point lead to Edinburgh and it was enough…just!"
The 31-year-old felt he let the side down last Friday in the second leg and thanked his teammates for their performances.
"I personally let the side down last Friday, I had a terrible night, the worst of the season. I had a bit of bike trouble and just couldn't get going. I really want to thank the boys as they stepped up and it really shows what a team we are. When one has a bad night, the rest step up and that is what it is all about."
The 2016 British champion says he is focused on getting back to his best this week and is confident in his side's chances.
"I just need to make sure I am back to where I need to be and I think we have as good a chance as them to win it. I am confident at their place, I am not saying we are going to go there and win but I am confident we can keep it close and we have beaten them at home twice comfortably this season so there is no reason we can't do that a third time."
The Maidstone-born rider is delighted to have Cameron Heeps back after injury but says losing Connor Mountain is a big blow.
"It's definitely a positive to have Cam back in the side but sadly it comes with the negative that Connor will be missing. Connor had a fantastic meeting at Sheffield when we were there a couple of weeks ago and he will be sorely missed. To get a guest at his average that is as good as him is going to be tough but we have to deal with it, that is the way it is.
"In terms of Cammo coming back, it's fantastic and hopefully he can hit the ground running. He has had a bit of time off but has been on the bike and practising. Hopefully it will make us strong as we have been quite strong with r/r the way we have had to do it and we have had some good guests in but we would rather have Cammo back and we know what he is capable of."
King is hoping that the Witches can finish the job at Foxhall on Saturday and lift the trophy in front of their home fans.
"What a great place to lift the trophy, hey? We have to take one meeting at a time. We go to Sheffield, and we go to win it is as simple as that but worst case scenario we come away from it a few points down. Then we come back to a big crowd at Ipswich and finish the job hopefully.
"It doesn't really matter where the first or second leg is but in terms of winning it is always nice to do it on your home track and lift the trophy in front of your home crowd. I really thought Sheffield would want to do it the other way round but it wasn't meant to be for them, who knows maybe it is meant to be for us this year."
Ipswich take on Sheffield in the deciding leg of the Championship Play-Off final this Saturday at Foxhall, 7.30pm. Kids go free to this meeting.
Words: Henry Chard
Championship Play-Off final
28.09.17 Sheffield v Ipswich
30.09.17 Ipswich v Sheffield
King profile
Date of birth: 14 August 1986, Maidstone, Kent
British Career
2001 Peterborough II
2002 Peterborough II, Swindon II
2003 Peterborough II, Ipswich, Reading, Mildenhall, Arena-Essex
2004 Ipswich, Mildenhall
2005 Rye House, Ipswich
2006 Mildenhall, Ipswich
2007-08 Peterborough
2009-10 Ipswich
2011-13 Birmingham
2014 Birmingham, Lakeside, Newcastle
2015-16 Coventry, Ipswich
2017 Leicester, Ipswich
Major Honours
British Under-18 Champion: 2004
British Champion: 2016
Club Honours
League Championship winner: 2002 (Peterborough II), 2005 (Rye House)
Knock-Out Cup winner: 2003 (Mildenhall)
Premier Trophy winner: 2005 (Rye House)
Elite Shield winner: 2007 (Peterborough)
Pairs Championship winner: 2015 (Ipswich)
Grand Prix Record: 1 GP ridden, 7 GP points
World Cup Record: 9 meetings, 51 points, 1 Silver medal
2017 Witches form
Meetings: 40
Rides: 190
1st: 97
2nd: 50
3rd: 24
4th: 19
Points: 420
BP: 21