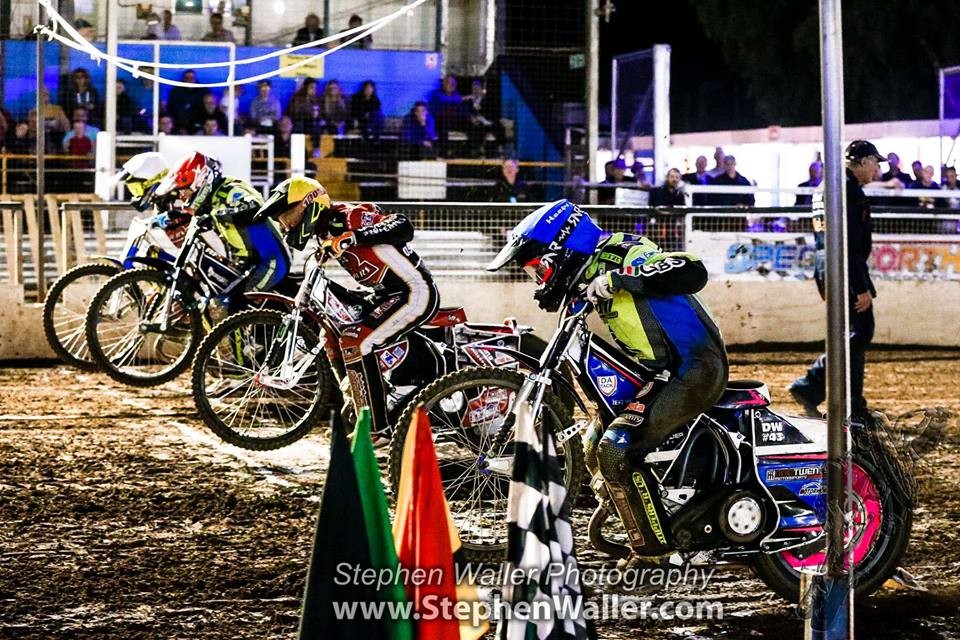 The 'Tru7.com' Witches face local rivals Peterborough Panthers in the Knockout Cup final with the first leg at the East of England Arena & Events Centre on Sunday (5.00pm).
The Witches confirmed their place in the final after beating Championship champions Sheffield last week and were awaiting the winners of the semi-final between Glasgow and Peterborough. The Suffolk side were made to wait with the rain causing two postponements in Glasgow but the Panthers confirmed their spot in the final on Friday following a draw in Scotland having beaten the Tigers at home in the first leg by 10 points.
There is positive news on the injury front for Ipswich as both Rory Schlein and Kyle Newman return to the side after missing the semi-final against Sheffield. Newman has recovered from chest and shoulder injuries sustained in a crash at Sheffield in the first leg of the semi-final. Schlein has recovered from concussion and a wrist injury also suffered at Sheffield in the Championship Pairs. Rider replacement remains in operation for Justin Sedgmen.
The Panthers are without number one Jack Holder with Scott Nicholls guesting again against the Witches. Tom Bacon remains on the sidelines with injury with Scott Campos guesting at number seven. The home side are also missing Bradley Wilson-Dean who has been suffering from illness recently and will run rider replacement at two.
The Witches have run the Panthers close on both occasions this season at Alwalton losing 48-42 and 46-44 in the two meetings and Ritchie Hawkins will be hoping his side can gain a positive result to take back to Foxhall for the second leg next Thursday.
Team Manager Hawkins says he was hoping to face the Panthers with a local derby in the final a mouth-watering prospect.
"We were all hoping for Peterborough as a local derby is great for both clubs," said Hawkins. "It is short notice for the fans but hopefully we will get plenty of support at Peterborough like we always do. We have lost two last-heat deciders there this year and we are looking to go better this time around."
Hawkins says his side will relish racing at Peterborough on a track everyone enjoys going to.
"It is a new day so past meeting do not come into that much but everyone loves going to Peterborough. We have a team that are happy to race there and we will go there looking to win. It is our local derby and we are the only two southern clubs left in the league so that will add a little bit extra to it."
The boss is pleased to have Newman and Schlein back in the side and has no concerns over their fitness.
"If we had rode on Thursday in the first leg that was planned, Rory and Kyle both would have rode. They are both back fit now and there are no worries there and they have recovered well. Luckily it wasn't anything too serious for them, just bruising and that has all died down and they are raring to go."
The former skipper says it is nice to have the six riders all fit for the final after doing so well all season to reach this point.
"It is nice to have all six riders together for us and as it has been a six-man team most of the season and they have done so well to get themselves in this position and to have them all back with a chance to win a trophy is what they deserve."
Words: Henry Chard
Peterborough 'T Balfe Construction' Panthers:
1. Scott Nicholls (g) 8.92
2. R/R for Bradley Wilson-Dean 5.92
3. Paul Starke 6.67
4. Ulrich Ostergaard (c) 6.78
5. Chris Harris 8.26
6. Simon Lambert 4.24
7. Scott Campos (g) 2.63

Team Manager: Carl Johnson
Ipswich 'Tru7.com' Witches:
1. Danny King (c) 8.87
2. R/R for Justin Sedgmen 6.17
3. Cameron Heeps 6.93
4. Kyle Newman 6.10
5. Rory Schlein 8.58
6. Nathan Greaves 4.51
7. Connor Mountain 3.33
Team Manager: Ritchie Hawkins
Referee: TBC
Parade: Sunday, 5.00pm
Venue: East of England Arena & Events Centre, PE2 6XE
Last five results at Peterborough:
02.07.17 L42-48
17.04.17 L44-46
30.05.16 L36-56
22.05.16 L45-48
12.06.15 W46-44

Peterborough Factfile
Main Sponsor: T. Balfe Construction
Team Colours: Red, white and black
Race-Night: Sunday (afternoon)
Website: www.peterboroughpanthers.co
Track Length: 336 metres
Track Record: 58.4 seconds (Krzysztof Kasprzak, 20th September 2010)
Admission Prices:
Adults: £16
Concessions (Over 65s and Students): £13
Juniors (aged 10-16): £5
Children (under 10): Free (with adult)
Programme: £3
Car Parking: £1
Stadium Address
Peterborough Speedway, East of England Arena & Events Centre, Alwalton, Peterborough, PE2 6XE
Telephone: 07760 162164
By Train: The nearest station is Peterborough, which is on the mainline from London King's Cross to Scotland. The East of England Arena & Events Centre is five miles from the station.