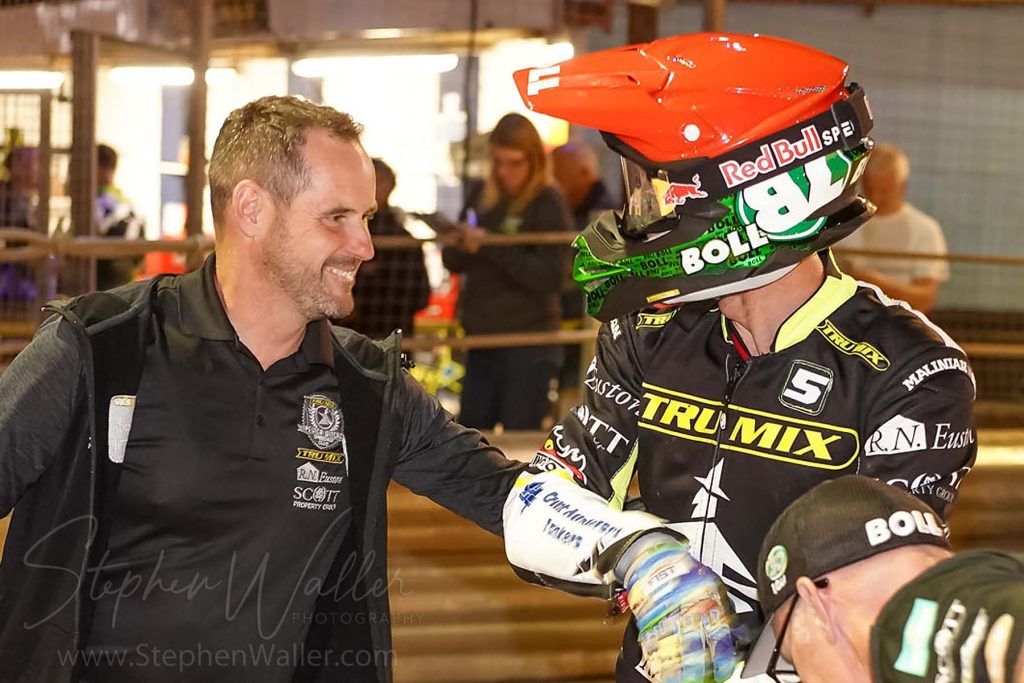 By Mike Bacon
Ipswich 'Tru Mix' Witches promoter Chris Louis says the sporting success currently reverberating around the town can be a huge lift to his team, as the Foxhall side go in search of a league and cup double.
The Witches head into Tuesday night's huge Sports Insure Premiership grand final, first leg clash with Sheffield Tigers at Foxhall Stadium (7.30pm start), looking to build a big lead for the second leg in South Yorkshire on Thursday.
And Louis hopes the current sporting 'feel good factor' around the town will play a big part in the Witches winning the double for the first time in 25 years.
"Sporting success has often gone hand in hand in Ipswich with the football team and the speedway team," he said.
"It's been awesome to see Ipswich Town start so well this season in the Championship, and we already have one cup in the bag – we want another.
"It would be wonderful to see Ipswich Town fans come and give us a look – give us a cheer for this one final meeting. The atmosphere at Portman Road in recent seasons has been phenomenal, I know, I've experienced it – and it's been getting better and better at Foxhall as well."
Louis also heaped praise on team manager Ritchie Hawkins, who, in his seventh season with the club, has now taken the Witches to three play-off finals – one in the Championship and two in the Premiership, as well as two cup finals.
"Managers in all sports take stick because everyone is an armchair manager, but his commitment to the club and the efforts he puts in has never wavered," Louis said.
"He's always done a good job with the tools he has had at his disposal. This is his third play-off final now. We've reached two cup finals. If we can pull off a cup and league double, I'd be made up for him, as well as the team."
The Witches have already beaten Sheffield in the Knockout Cup final two weeks ago over two legs. But it is set to be a different Sheffield team who come to Foxhall on Tuesday, although Louis is only concentrating on his side – he knows they can write their names into Witches folklore.
"I want to see this team get what they deserve," he added.
"Because for any poor individual performances, or the team has had, they've never stopped trying.
"I have seen that. I have seen when there have been issues and problems. But that's a life thing. They're human beings at the end of the day.
"But they genuinely want the club to succeed, they have given 100% all the time. I really hope they pull it off."
Admission for fans on Tuesday at Foxhall: Adults (17+) £22, concessions (65+) £20, children (16 and under) free, car parking is also free, matchday race programme: £3
IPSWICH WITCHES v SHEFFIELD TIGERS, Sports Insure Premiership grand final, first leg, Foxhall Stadium, Tuesday, October 3, 7.30pm start.