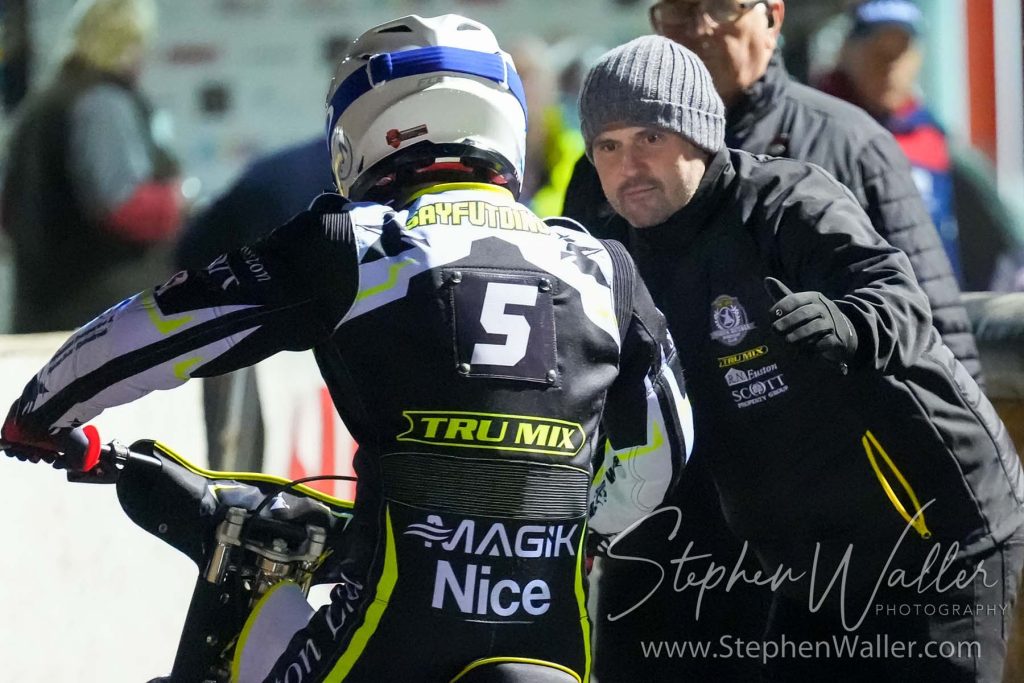 By Mike Bacon
Ipswich 'Tru Mix' Witches promoter Chris Louis knows his side face a competitive, but still potentially exciting, second half of the season.
The Witches boss is realistic of the situation his side find themselves in, currently sitting one place outside the play-off picture. However, with Erik Riss back in the Witches line-up this Thursday after a long lay-off, as Ipswich entertain Peterborough Panthers at Foxhall Stadium, 7.30pm start, Louis knows his team can – and must – kick on.
"I still see no reason this season can't have an exciting finish for us," Louis said.
"There's certainly no doom and gloom from the management or the team, I can assure you. Yes, perhaps we have made it a bit tougher than I would rather it was.
"But speaking to many fans, I know in the main they are supportive and appreciative of what we've done and are trying to do, and they love watching Jason (Doyle) and Emil (Sayfutdinov).
"They enjoy all the wonderful racing antics those two are bringing to the team, but of course it's currently a little tempered by the fact we are not winning enough meetings. I get that, it's disappointing.
"My first thoughts on that are that if we had ever been able to put out the team we built, we would be winning more meetings. But obviously that team never even took to the track with Jack (Thomas) suffering his broken back.
"Keynan (Rew) has seen his start to the season also tempered as he has just come back from major injuries and then of course we lose Erik (Riss) within a couple of meetings. So, it has been a tough start for us."
And Louis says he gets why fans call for change.
"Of course, I understand the calls for changes," he said.
"I've heard, why don't we sign this guy and that guy and the other guy? But you know, we wanted a change, we've been down many of these roads, and we needed to do things slightly differently and that's what we're doing.
"Now, with Erik back, if his health is maintained, we are back to where we should be and we can win the meetings we need to and get into the play-offs, which I think we can still do."
Louis, like all Witches fans, is delighting in the quality of Jason Doyle and Emil Sayfutdinov, but knows they need support.
"Too much pressure has been put on Emil and Jason, they've responded fantastically but too much pressure has been put on them and it's not fair," Louis said.
"It will be nice when Keynan finds a bit of consistency to his points-scoring, 15 one week, two the next is difficult to cope with. But he's got all the time in the world with us. We haven't brought him in to be a superstar in 2023, that was never the plan.
"He has no pressure on him, but now he's been to all the tracks in the Sports Insure Premiership, hopefully he can find that consistency at the back end of the season.
"Danny (King) is another who has had to take on more rides, more responsibility and with that more pressure. But now, with a fit Erik back, that pressure on everyone will be hopefully alleviated.
"However, there is much for us to improve on, and it starts this Thursday against Peterborough."
The Panthers arrive at Foxhall with their new Russian star Vadim Tarasenko on board. With the Witches having won at Peterborough back in March, any victory for Louis' side will see Ipswich claim all three points in their play-off pursuit.
The Panthers also stand in the way of the Witches and a Knockout Cup final appearance, with the Witches holding a 24-point lead after the two sides met in the semi-final first leg. The second leg is at the East of England Arena in August.
"Thursday will be a tough test, don't just think it will be easy because of their league position," Louis said. "They have a decent line-up.
"And we need to finish the job off in the cup at Peterborough. Then we possibly have a cup final to look forward to and, as I said, I still see us in the play-offs."
IPSWICH WITCHES v PETERBOROUGH PANTHERS, Foxhall Stadium, Thursday 7.30pm.