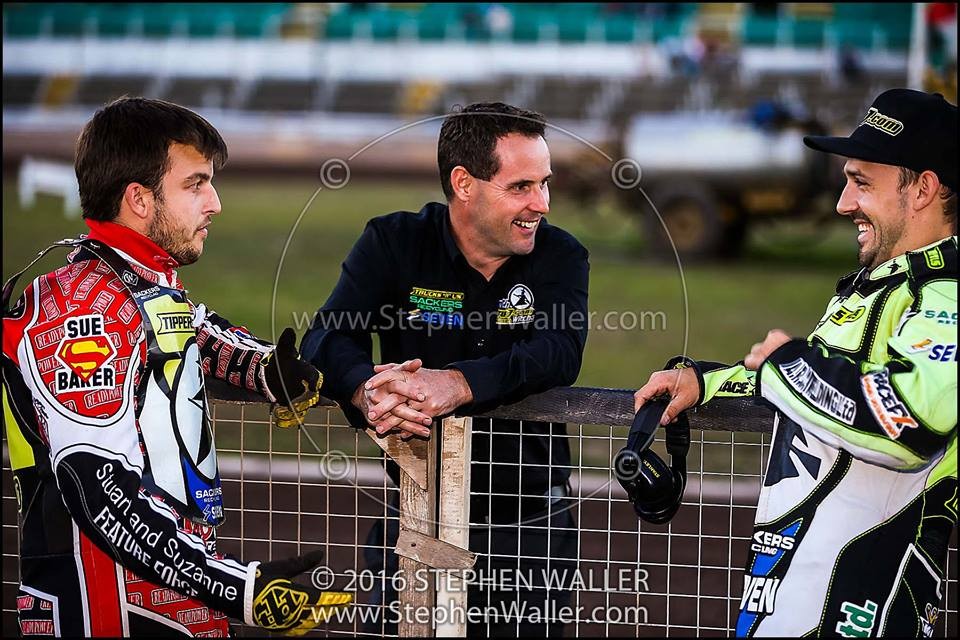 'Tru7.com' Witches promoter Chris Louis has backed the recent changes made to British speedway after the annual AGM was concluded on Thursday.
Club bosses spent the last three days discussing a revamp to the sport in Britain and Louis was pleased with the outcome.
"I am very pleased with the outcome and very enthused about what 2017 holds," said Louis. "There have been a few fundamental changes but we've brought two leagues back in line so that everyone will understand the sport no matter what level you support. That can only be positive for British speedway going forward."
Louis says the re-brand was much needed to freshen the image of the sport and is excited at the prospect of promotion and relegation from the leagues.
"The re-brand is designed to bring it all together and of course actually re-branding the league names was needed because as a brand SGB had become a little dull to be honest and I think that view was shared by a lot of people. We've worked hard over the last three days and for a long time before to move it on and re-brand it and give it a fresh look.
"Promotion and relegation links the two leagues together like they used to be in my riding days. It looks right now and it looks good and we look forward to promotion and relegation. Obviously being in the second tier we look forward to being involved in that and I've always said I wanted to earn our right to be in the top flight and there will be no better way to do that than winning promotion."
There will be no League Cup in 2017 with teams facing each other twice home and away in the SGB Championship. The Witches are in a very northern looking division which Louis says continues to be tough.
"We fall in line with what the Elite League was in a sense; in that we will ride home and away twice plus the Knockout Cup. The first meetings will be the Knockout Cup and that will get concluded in the early part of the season.
"It's unfortunate but the Premier League has never worked out for us geographically. It's a shame we have lost Rye House because they were our nearest neighbours and it happened last time when we dropped down and then lost King's Lynn who were our nearest neighbours at that point. It doesn't make a massive difference though, it's always been tough and it will continue to be."
The former two-times British champion believes the new 'one average' based on Premier League figures brings a common ground between the two leagues.
"It brings a commonality in terms of team building in both leagues and then the conversion figure will be adjusted in May when they are both up and running and we can see what it is. It was a team building formula and its simple and it works and that's why they are going to Premier League averages so that everything is done the same way.
"It had to be done because the previous Elite League format had confused the averages and they needed to fall in line with Premier League averages. Furthermore, the base average is now two as opposed to three and the number seven rider has to be British but does not have to be a two pointer in our league."
The current Sky Sports pundit is also pleased that team changes will not be permitted after July 31 saying the new system is more in line with other sports.
"What Poole did at the end of the season didn't look morally right and what Peterborough did in a bid to make the play-offs didn't look right to me. Had they (Peterborough) have made the play-offs and then succeeded and did well, that wasn't the team that had got them there and done well. We're trying to make that fairer and other sports do it with transfer windows so I'm happy with that change."
Regarding team announcements for 2017 Louis stated that the club have advanced plans in place and can now crack on with confirming riders for the new season.
"I can't predict any announcements but myself and Ritchie (Hawkins) have spoken a lot and our thoughts and plans are quite advanced. Now the AGM is out of the way we can start to action those things and we are. We can expect announcements to come soon but I can't give a timescale what with contract negotiations varying in time so we will wait and see."
The former captain would like to announce the full side all at once but knows that can be difficult with contract negotiations.
"I haven't got a definite plan, it depends on negotiations and whether they go quick enough that we can wait and deliver the whole team in one which I'd like to do as it is quite exciting and gets the fans talking. Again, I can't confirm that will be the case and we will have to see how contract negotiations go."
The promoter is now looking forward to Friday's 'End of Season Dinner' before preparing for 2017.
"I'm now looking forward to a good night with the riders, staff, fans and sponsors and the real task of preparing for 2017 starts the day after!"
SGB Championship 2017:
Berwick
Edinburgh
Glasgow
Witches
Newcastle
Peterborough
Redcar
Scunthorpe
Sheffield
Workington* (*subject to confirmation)
Knockout Cup 2017:
Preliminary:
Peterborough v Redcar
Workington v Newcastle
1st Round:
Scunthorpe v Peterborough or Redcar
Glasgow v Workington or Newcastle
Berwick v Witches
Edinburgh v Sheffield
2017 Major Events:
Championship Riders' Individual: Glasgow
Championship Pairs: Somerset
Championship Fours: Peterborough
Management Comittee: Keith Chapman (Chairman), Rob Godfrey (Vice-Chairman), Chris Van Straaten, George English, Colin Pratt