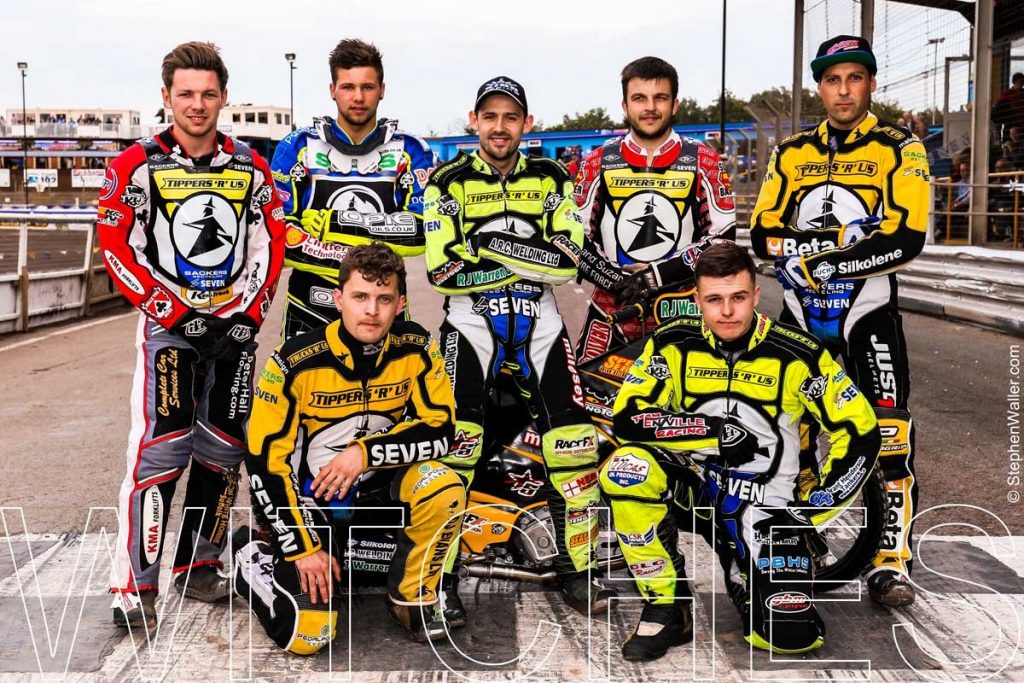 We had to be 100% at home in July and we will have to continue that at home for the rest of the season. It was good though as all the performances were convincing apart from Rye House. That wasn't so good as they were a team we needed to stop getting a point but that aside we seem as a team to have learnt our home track. It's been a bit unsettled with Ollie (Greenwood) leaving and we've been sharing the position with Connor (Mountain) and Danyon (Hume) in recent weeks. Unfortunately Connor won't get the opportunity of a team place for the rest of the year due to his serious back injury and we wish him well in his recovery.
We also gave Jake (Knight) a go at Sheffield but we have made our decision to go forward with Danyon for the rest of the season, more on that later. The performances have been exactly what we need though and we went into the month with Ritchie (Hawkins) saying nothing less than 100% will be enough and that is what they have done. Confidence is high but August is now a month, after four home meetings in July, that will be the real test. It's make or break now and we've put ourselves in a position to give ourselves a chance.
Regular home meetings has helped the team click. They feel like they've got a home track that they are used to and they've all learnt it and gelled as a team since the changes have happened. Ben (Barker) coming in has been a major factor and although we haven't had many meetings with Joe (Jacobs) that has been massive too because he is scoring consistently and making starts. Even in races when he has dropped back a position he has done enough to ensure the opposition haven't had a run at getting to the front. Joe has made as big a difference as Ben has.
Ben seems to have turned a corner mechanically and has given up on the Jawa's after a lot of convincing! Now he is banging in consistent points which is what we needed and the team changes are working. It's a shame we've had an unsettled position at seven but it's not been a position that we've been strong at all year so we've not been hindered by that anymore than the rest of the year. It would have been nice to have found someone who can consistently bang in two or three points and who knows Danyon might be that man!
It did seem a bit early to be chucking Danyon in and it probably is but it's the old school way of doing things. You look back at the likes of Jeremy (Doncaster), Mark (Loram), myself, Screeny (Joe Screen) and Havvy (Gary Havelock), they were all thrown in at a reasonably high level and told to get on with it and that's what we did. That does not happen very often now. There are one or two young British riders that have that attitude and Danyon is one of them. All he wants to do is test himself against the best possible riders he can and improve.
Given that attitude I am quite happy to give him a chance. On a tricky track against Plymouth he was unfortunate to slip off in his first ride and then he didn't get past the first turn in his next one but I think he would have had a good meeting if those things had not have happened! Luckily he didn't injure himself too badly and he has come back to form and I don't think giving him the opportunity has done him any harm at all.
We need points away from home in August and it's a question asked a lot in Speedway – why is it so hard to get points on the road in the sport? It's a little easier to explain and see in Speedway because the shape, size, width and conditions do vary a lot more than they do in other sports like Rugby and Football. There is a much more definitive home advantage in Speedway. Any visiting team is battling against that and against the knowledge that the home riders have of their surface. It's unquestionably more difficult to get results away from home. With us it's come down to mental state. We as a team of seven riders have to believe we are good enough to accumulate more points than the opposition away from home. We are good enough and I'm not going to say in every case because we do have a couple of meetings that look very difficult but we also have meetings where I feel as seven riders riding with a clear head and a bit of confidence then we have the potential to win at least two or three of those meetings away from home.
The World Cup went well for Team GB, they got a silver medal which was well deserved. It was a tight meeting and they got themselves back in the meeting thanks to the Joker ride which not everyone agrees with but it's there and you've got to use it. Tai (Woffinden) answered any critics and there are very few I think but they seem to be most vocal! His decisions to prepare himself for the World Cup were validated and correct and his inclusion in the team has to be correct! He scored nearly as many points as Australia. There is no question that he is the reason we got a silver medal. The event was well run from a BSI point of view and Belle Vue's point of view when it came down to the Race-Off and the Final. I thought the racing was excellent in the Final after they had the chance to prepare the track without the weather intervening.
Whilst I applaud the team and Rosco (Alun Rossiter) for getting a silver medal, the meeting did highlight that we are probably the fifth best team in the world. I'm not 100% convinced we would have qualified although we could have done. At the end of the day the realism is we probably are the fifth best Speedway nation in the world at the moment. We got a fully deserved silver medal and the lads knuckled down at the end of the meeting which I'm sure was difficult after most of them did not have a great meeting up until that point, they deserved it and rode hard for it. Facts are facts though and there is a lot of work to do as Tai has said but they have to be congratulated for a great evening and cracking on with it.
From our perspective the Premier League Fours were terrible but as an event I thought it was very very good. It was a thoroughly enjoyable weekend, a bit too hot to be stood around for that long but we'd be moaning if it was too wet! I think the principle of the event is something to build on and it should be stuck with. Undoubtedly things will be learnt from its first running but Peterborough did really well as hosts and it's probably the only place that can run it if you want to run it that way. It probably needs to be sped up a bit, whether that be through the formula  and/or the way the meeting is run. In my opinion it all took a bit long but it was an enjoyable couple of days.
Thank you for your continued support,
Chris