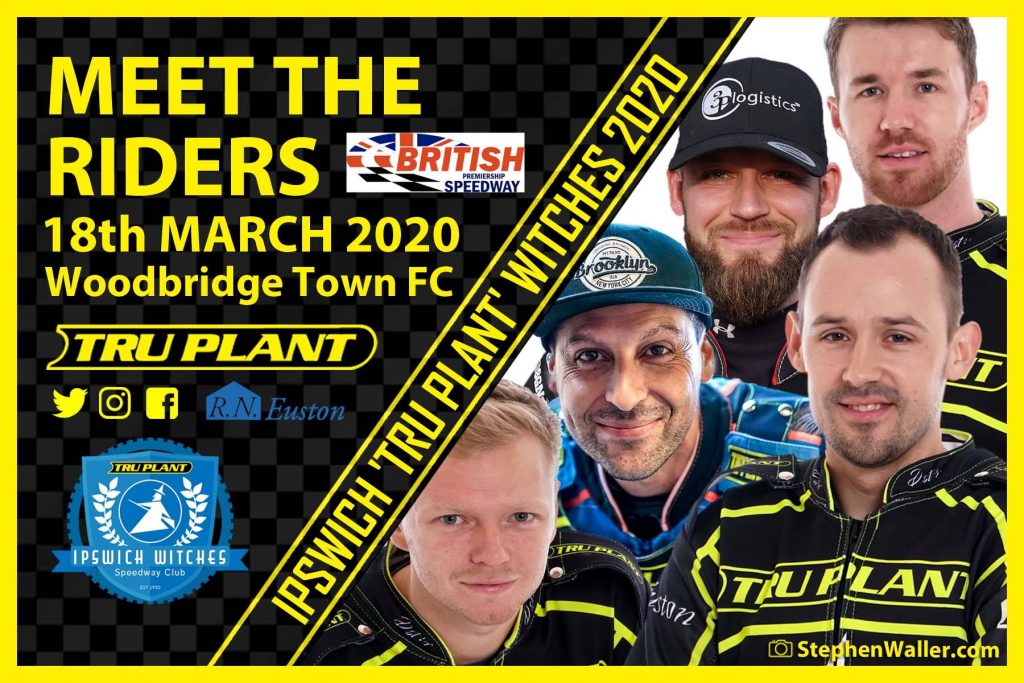 The annual 'Meet The Riders' event will take place at Woodbridge Town FC on Wednesday 18th March at 7.30pm.
Doors open at 7.00pm and the evening will be hosted by Kevin Long as he chats to the 2020 Witches. Team manager Ritchie Hawkins will reveal the riding order and you will have a chance to see the new team kevlars. There will be a buffet and a raffle on the night too.
After the presentations, there will be plenty of time for fans to chat with the riders and management team – don't miss a great opportunity to meet the new Witches, have your photo with them and catch up with some old ones as well!
Tickets to this event cost £6 and admittance is strictly by ticket only. You can buy tickets here. Alternatively, you can pay via post (cheques payable to Save our Speedway and please enclose a S.A.E), and send to I.S.S.C., 7 Penshurst Road, Ipswich, IP3 8QZ
Tickets will also be available to purchase at the Supporters' Club monthly quiz on Wednesday 12th February and Wednesday 11th March at Kesgrave Social Club.
Important note: Tickets will be issued twice a week (Thursday & Sunday evenings) so if you order them on a Monday or Tuesday for example you will receive them on a Thursday.
Venue address: Woodbridge Town FC, Notcutts Park, Fynn Rd, Woodbridge, IP12 4LS