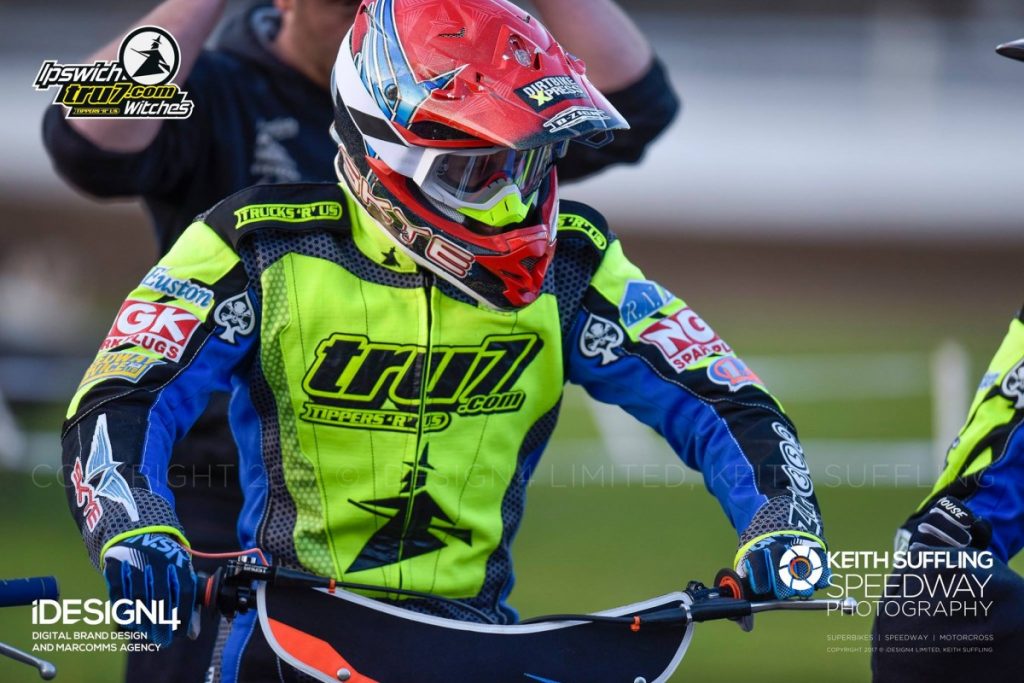 The 'Tru7.com' Witches travel to Berwick Bandits again on Saturday in the Championship (7.00pm).
The two sides are familiar with each other having met home and away in the Knockout Cup earlier in the season and were due to meet on Thursday at Foxhall but the meeting was postponed due to bad weather shortly before the start.
The Witches will be without Nico Covatti for some period of time and rider replacement is used at number five whilst the management work out the best way forward. Danyon Hume will also be on the sidelines for a lengthy period after breaking his arm and Sheffield's Jack Parkinson-Blackburn guests at number seven. Cameron Heeps switches to the number two position as Team Manager Ritchie Hawkins decides to change the riding order for Saturday's clash.
Berwick have made three early teams changes to their side after a torrid start to the season that has seen them fail to pick up any points from six league meetings so far. It will be the first time the new look side take to their home track as Nick Morris, Jye Etheridge and Lee Payne make their home debuts.
In the Knockout Cup tie at Berwick earlier in the season the home side ran out 49-41 winners as the Witches progressed on aggregate with ease.
Hawkins believes it was the right call to postpone Thursday's meeting at Foxhall.
"It had been drizzling all day and if it had stopped before seven I think Bob (Ellis) could have got it ready to race but it didn't stop until about eight o'clock and by then it had too much water on it," said Hawkins.
The boss says that although depleted by injuries, the team will continue to battle hard for points at Berwick.
"We are going there missing two riders but we have got to start picking up points away from home and we'll be looking to do that on Saturday. Things are not going our way but we will keep on battling and we won't be giving up or feeling sorry for ourselves."
Hawkins provided an update on injured duo Hume and Covatti and says he and Chris Louis are working hard on putting the side back together.
"Danyon is still waiting for his operation after a serious injury and it is too early to tell how long he will be out for. Nico has had his operation and also a skin graft and has now flown back to Italy for further treatment.
"Injuries are part of the sport but we were so optimistic at the start of the season about the side we had built and it doesn't look like we will ever see it. We are working very hard still to put together a strong team to compete for honours and that is still the goal we are working hard towards."
The former captain says that despite the changes in the Bandits team, he is focused on his own team heading into Saturday.
"They've not had a good start to the year and have made changes. Nick Morris is in good form and I'm sure he will do very well but it's not really my business what they do with their side. I'm focused on my team and we are capable of going there and getting points."
Words: Henry Chard
'Olympus Marquees' Berwick Bandits:
1. Nick Morris 8.97
2. Jye Etheridge 4.00
3. Kevin Doolan (c) 6.99
4. Liam Carr 4.69
5. Lewis Bridger 8.53
6. Danny Gappmaier 4.00
7. Lee Payne 2.61

Team Manager: Gary Havelock
Ipswich 'Tru7.com' Witches:
1. Danny King (c) 9.57
2. Cameron Heeps 5.07
3. Rory Schlein 7.17
4. Kyle Newman 6.31
5. R/R for Nico Covatti 7.49
6. Connor Mountain 2.00
7. Jack Parkinson-Blackburn (g) 2.00
Team Manager: Ritchie Hawkins
Referee: S. Wilson
Parade: Saturday, 7.00pm
Venue: Shielfield Park, TD15 2EF
Championship Table
| | | |
| --- | --- | --- |
| Team | Pl | Pts |
| Edinburgh | 5 | 16 |
| Glasgow | 5 | 13 |
| Witches | 7 | 10 |
| Sheffield | 5 | 9 |
| Redcar | 5 | 9 |
| Peterborough | 5 | 9 |
| Workington | 3 | 7 |
| Scunthorpe | 9 | 7 |
| Newcastle | 4 | 6 |
| Berwick | 6 | 0 |
Last five results at Berwick:
01.04.17 L41-49
18.06.16 L33-60
11.07.15 W48-42
09.05.15 L43-47
17.05.14 L41-49
Berwick Factfile
Main Sponsor: Olympus Marquees
Team Colours: Black and gold
Race-Night: Saturday (7.00 pm)
Website: www.berwickbandits.co
Track Length: 368 metres
Track Record: 62.8 seconds (Craig Cook, August 15 2015)
Admission Prices:
Adults: £15
Senior Citizens: £11
Students: £11
Kids: Free
Stadium Address
Shielfield Park Stadium, Tweedmouth, Berwick-upon-Tweed, Northumberland, TD15 2EF
Telephone: 01289 307707 (race-nights only)
By Train: The nearest station is Berwick-upon-Tweed, which is on the main East Coast London to Edinburgh line.