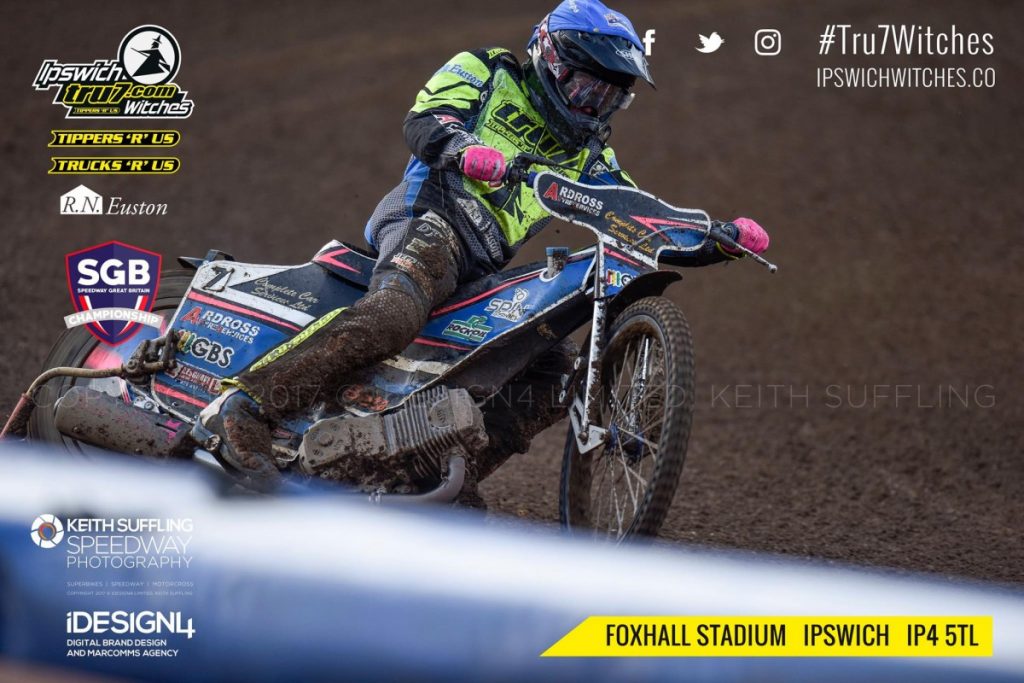 The 'Tru7.com' Witches start their northern tour at Berwick Bandits on Saturday in a Championship fixture (7.00pm).
Having beaten Scunthorpe convincingly at Foxhall on Thursday night, the Witches now face two away meetings this weekend starting with the Bandits on Saturday before visiting Newcastle on Sunday.
Nathan Greaves returns to the side after missing Thursday's victory over Scunthorpe due to riding in the British Under-19 Championship in which he finished twelfth with five points. Ritchie Hawkins makes a tweak to the riding order once again with Rory Schlein moving to number three as Cameron Heeps goes to four with Justin Sedgmen at five.
Berwick have endured a torrid season this year and sit rock bottom of the table with just 10 points to their name and well adrift of the rest. Multiple team changes have been made since the start of the season with riders out of form and injuries mounting up. Former Witches rider Kevin Doolan captains the visitors as Joe Jacobs races against his hometown club having been recently brought into the side. Ben Hopwood guests for the injured Lee Payne at reserve and Ryan Douglas comes in to guest for number one Nick Morris, who is out injured after a fall riding in the World Cup for Australia.
The Witches will be hoping for a repeat of the first league meeting at Shielfield Park earlier this year as the Suffolk side eased to a 50-40 win with Rory Schlein notching 15 points backed up by paid 14 from Cameron Heeps.
Team Manager Hawkins says a win on Saturday will be a real boost going to Newcastle on Sunday.
"If we can get a win on Saturday it will help with the momentum for Sunday and everyone will be on a high going to Newcastle, where all things considered we did well at earlier in the year," said Hawkins. "If we can go there having picked up a win it will be a real boost."
The boss says his side should have enough knowledge of the Berwick track having visited the Bandits twice this year.
"We have been to Berwick twice this year so we should have recent experience of the track and we have done well both times. It is the biggest track in the country I think and it is quite unique. Starting is vital as there is not a massive amount of passing there. Both times we have been there it has been after wet weather, so hopefully it will be a dry meeting and we can make the starts."
Words: Henry Chard
'Olympus Marquees' Berwick Bandits:
1. Ryan Douglas (g) 5.59
2. Joe Jacobs 5.36
3. Danny Gappmaier 5.13
4. David Howe 6.81
5. Kevin Doolan (c) 6.41
6. Jye Etheridge 4.24
7. Ben Hopwood (g) 2.44

Team Manager: Gary Havelock
Ipswich 'Tru7.com' Witches:
1. Danny King (c) 8.94
2. Kyle Newman 5.86
3. Rory Schlein 8.51
4. Cameron Heeps 6.71
5. Justin Sedgmen 6.93
6. Nathan Greaves 4.63
7. Connor Mountain 2.67

Team Manager: Ritchie Hawkins
Referee: D. Hartley
Parade: Saturday, 7.00pm
Venue: Shielfield Park, TD15 2EF
Championship Table
| | | |
| --- | --- | --- |
| Team | Pl | Pts |
| Edinburgh | 19 | 41 |
| Witches | 20 | 40 |
| Glasgow | 16 | 39 |
| Redcar | 19 | 35 |
| Sheffield | 15 | 30 |
| Peterborough | 17 | 28 |
| Newcastle | 15 | 22 |
| Workington | 11 | 21 |
| Scunthorpe | 21 | 17 |
| Berwick | 21 | 10 |
Last five results at Berwick:
29.04.17 W50-40
01.04.17 L41-49
18.06.16 L33-60
11.07.15 W48-42
09.05.15 L43-47
Berwick Factfile
Main Sponsor: Olympus Marquees
Team Colours: Black and gold
Race-Night: Saturday (7.00 pm)
Website: www.berwickbandits.co
Track Length: 368 metres
Track Record: 62.8 seconds (Craig Cook, August 15 2015)
Admission Prices:
Adults: £15
Senior Citizens: £11
Students: £11
Kids: Free
Stadium Address
Shielfield Park Stadium, Tweedmouth, Berwick-upon-Tweed, Northumberland, TD15 2EF
Telephone: 01289 307707 (race-nights only)
By Train: The nearest station is Berwick-upon-Tweed, which is on the main East Coast London to Edinburgh line.