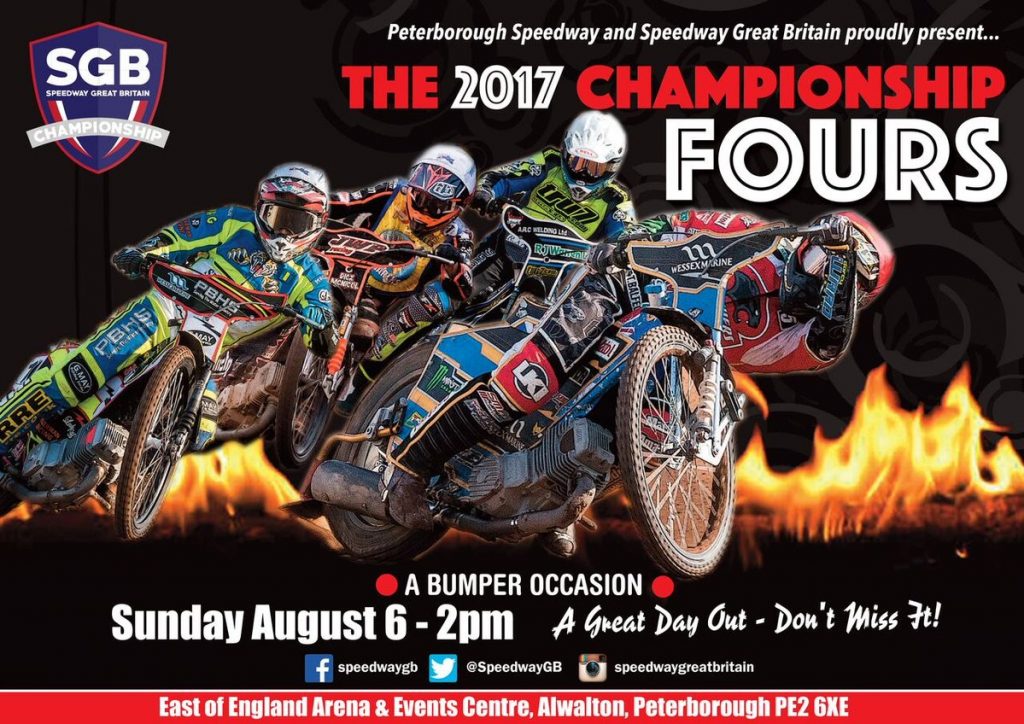 The 'Tru7.com' Witches head to Peterborough on Sunday for the Championship Fours (2.00pm).
Ipswich are represented by Danny King, Rory Schlein, Cameron Heeps and Justin Sedgmen with Nathan Greaves at reserve following the withdrawal of Kyle Newman due to injury.
The Suffolk side find themselves in Group B alongside Glasgow, Newcastle, Redcar and Berwick as they look to make their way through to the Grand Final that follows by finishing in the top two of the Group B semi-final.
The Witches bowed out after finishing bottom of their group in 2016 and will be looking for better fortunes this time around at the East of England Arena and Events Centre.
Team Manager Ritchie Hawkins says that the injured Kyle Newman was due to be reserve contrary to what the BSPA had published but believes the Witches still have a strong team heading to Peterborough.
"Nathan (Greaves) will be at reserve instead of Kyle," said Hawkins. "Having Kyle at reserve was making us look even stronger but we still go there with a really strong side and it will be a tough meeting. We are going there looking to win it, but it is all about how you perform on the day. I know how hard it is to win it but it is a great feeling when you do."
The boss says the team will have to be firing from the off and is looking for a much better performance than in 2016.
"You have got to be on it straight away. I think we are in the second semi-final so we can see how the track develops a bit. We need to be on it from the get-go, last year we were massively disappointing and we take a big travelling support to Peterborough. It is a tough meeting but why can't we win it? We are a very good side and will go there and give it our all."
Hawkins has enjoyed success in the competition having been part of the 2005 winning Somerset team and says avoiding last places is key to victory.
"A lot of it is steady points really, you don't want to be running last places, you want to be steadily picking up the points and keeping the scoreboard ticking along. Sometimes it is harder getting out of the semi and then you get into the final. The year we won it, we were massively led by Zorro (Magnus Zetterstrom) and the other three riders backed him up with second and third places or wins when we needed it to keep picking up those points."
The boss says a trophy will boost the morale going into the final stretch of the season and adds that it is a great occasion to be part of.
"To get a trophy at this stage of the season would boost anyone and boost everyone's morale. It is all about on the day. You look at Plymouth last year, they didn't have a great league campaign but won the Fours and deservedly so. It is a great meeting to win, there is a great atmosphere and a great crowd and hopefully the sun will be shining and we will try our best to win it."
Words: Henry Chard
Qualifying Teams/Riders
GROUP A
Peterborough: Chris Harris, Paul Starke, Ulrich Ostergaard, Simon Lambert
Edinburgh: Erik Riss, Ricky Wells, Theo Pijper, Josh Pickering
Sheffield: Josh Grajczonek, Josh Bates, Kyle Howarth, Todd Kurtz
Workington: Craig Cook, Ty Proctor, Thomas Jorgensen, Mason Campton (reserve: Matt Williamson)
Scunthorpe: Michael Palm Toft, Lewis Kerr, Ryan Douglas, Josh Auty
GROUP B
Glasgow: Richard Lawson, Aaron Summers, Richie Worrall, Nike Lunna (reserve: Dan Bewley)
Newcastle: Steve Worrall, Stuart Robson, Ludvig Lindgren, Ashley Morris
IPSWICH: Danny King, Rory Schlein, Cameron Heeps, Justin Sedgmen (reserve: Nathan Greaves)
Redcar: Jason Garrity, Charles Wright, Ben Barker, Jonas B Andersen (reserve: Ellis Perks)
Berwick: David Howe, Jye Etheridge, Kevin Doolan, Dany Gappmaier
Meeting Format
Each group races over 10 heats and each team will race in eight of those 10 heats. Each rider appears twice.
Each team has an equal share of gate positions over their eight races, i.e., they go off each gate twice. No rider goes off the same gate position twice and each rider races three different opponents in his two races.
The top two teams from each group qualify for the Final.
The Final will be raced over the standard 12-heat format, with the final four heats based on points scored beforehand, i.e. the top scorers meet in heat 12.
Dates/ Times
Sunday August 6 @ 2.00pm
Venue
East of England Arena & Events Centre, Alwalton, Peterborough, PE2 6XE
Track Telephone: 07760 162164
Website: www.peterboroughpanthers.co
Admission Prices
Adults: £20.00
Concessions: £15.00
Children (aged 5-15): £5.00
Children (under 5s): FREE
Programme: £4.00