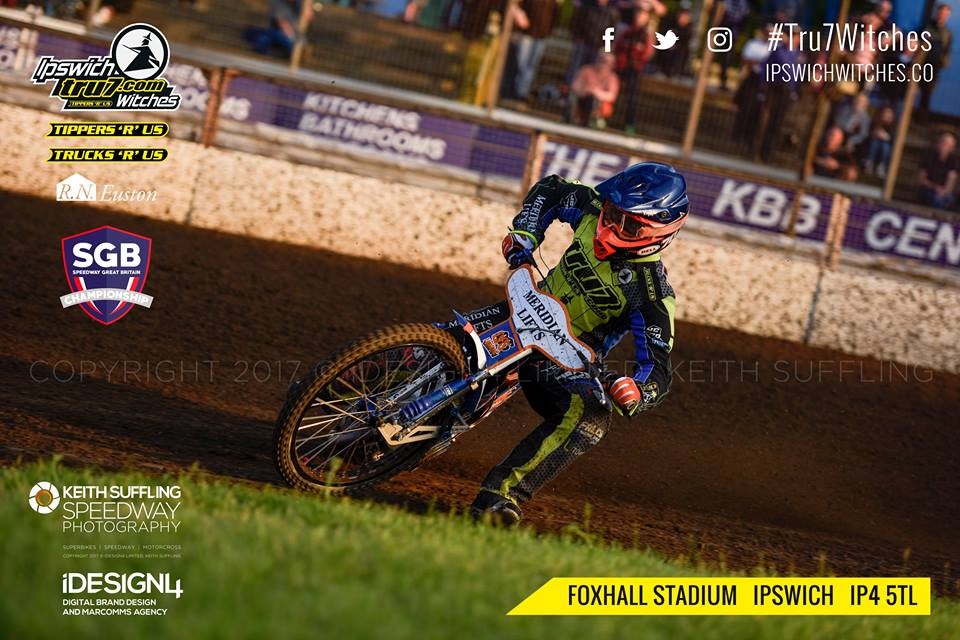 The 'Tru7.com' Witches travel to Scotland on Friday to face league leaders Edinburgh Monarchs in the Championship (7.30pm).
The Witches were in action last night as they recorded another comfortable home victory over Berwick to take them second in the table ahead of the showdown in Scotland on Friday.
The two sides met last week in Suffolk as the Witches recovered well to come from behind and inflict defeat on the Scottish side, running out 50-39 winners.
The away side make a change to the riding order for Friday's meeting as Kyle Newman moves to the number two position with Cameron Heeps going to number four.
The Monarchs are unbeaten at Armadale in 2017 and have been the team to beat so far this campaign as they sit top of the table. Australian champion Sam Masters captains the side with Erik Riss at number three, who impressed at Foxhall last week. Another who impressed was young Australian Josh Pickering who rides at reserve for the Monarchs in his first season in British speedway.
Armadale has not been a happy hunting ground for the Witches in recent times, with the Monarchs winning comfortably on the previous five meetings north of the border.
Team Manager Ritchie Hawkins says his team go to the league leaders full of confidence and is hoping for a determined performance from his team.
"There is an opportunity there for us to go there and get a result," said Hawkins. "The boys like the track and we need to be confident in ourselves about how good a team we are. There is always the potential for us to win away from home as well as at home. We need to go there full of confidence and with a lot of determination and focus."
Rory Schlein and Justin Sedgmen return to their former home track and the boss says it is a track that his team are looking forward to racing.
"That should help their confidence going back there and Danny (King) and Cam like the track there too. It's a meeting the boys are looking forward to but it is how we go on the day and we need to be confident and determined on the day."
Hawkins says that past results mean nothing ahead of the trip with the team a much-changed outfit.
"I think the team has changed so much, even since I took over as Team Manager there is only Danny left. We have rebuilt the side after a terrible year two years ago and we look a good unit. I don't think previous history matters and we go there believing in ourselves."
Words: Henry Chard
Edinburgh 'Parsons Peebles' Monarchs:
1. Sam Masters (c) 8.90
2. Mark Riss 6.74
3. Erik Riss 8.00
4. Max Clegg 4.70
5. Ricky Wells 8.46
6. Josh Pickering 4.50
7. Mitchell Davey 3.04
Team Manager: Alex Harkess
Ipswich 'Tru7.com' Witches:
1. Danny King (c) 8.88
2. Kyle Newman 6.31
3. Justin Sedgmen 7.60
4. Cameron Heeps 6.64
5. Rory Schlein 8.06
6. Connor Mountain 2.67
7. Nathan Greaves 2.26

Team Manager: Ritchie Hawkins
Referee: J. McGregor
Parade: Friday, 7.30pm
Venue: Armadale Stadium, EH48 2PD
Championship Table
| | | |
| --- | --- | --- |
| Team | Pl | Pts |
| Edinburgh | 16 | 35 |
| Witches | 15 | 32 |
| Glasgow | 12 | 30 |
| Sheffield | 12 | 24 |
| Redcar | 15 | 24 |
| Workington | 10 | 21 |
| Newcastle | 13 | 19 |
| Peterborough | 11 | 15 |
| Scunthorpe | 17 | 14 |
| Berwick | 17 | 10 |
Last five results at Edinburgh:
30.09.16 L37-53
10.06.16 L39-52
14.08.15 L34-56
05.06.15 L37-53
17.10.14 L32-58
Edinburgh Factfile
Main Sponsor: Parsons Peebles
Team Colours: Blue and Gold
Race-Night: Friday (7.30pm)
Website: www.edinburghmonarchs.co
Track Length: 260 metres
Track Record: 54.8 seconds (Craig Cook, May 30 2014)
Admission Prices:
Adults: £15 in advance
Senior: £12 in advance
Students: £12 in advance
Children (12-16): £5 in advance
Children (5-11): £1 in advance
Children (under 5s): Free
Stadium Address
Armadale Stadium, Bathgate Road, Armadale, West Lothian, EH48 2PD.
Telephone: 01501 734404
By Train: There is now a station at Armadale with a regular service from Edinburgh, about 20 minutes' walk from the station.