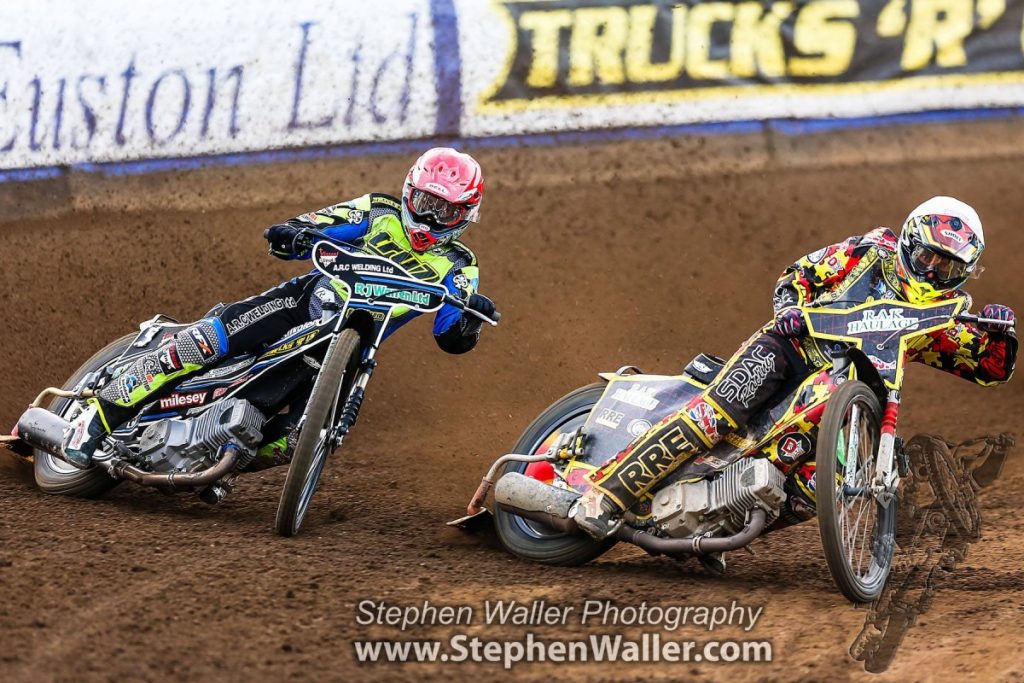 The 'Tru7.com' Witches are back in Scotland again on Saturday as they take on high-flying Glasgow Tigers in the Championship (7.00pm).
The Witches bounced back from defeat at Edinburgh last week with a fantastic win over Workington on Thursday at Foxhall to put them second in the table. Saturday's trip represents a chance to secure some valuable away points against a rival side in the play-off positions.
The away side stick with the same riding order as Thursday as they hope for better fortunes north of the border on this occasion. Kyle Newman remains at number two after his paid maximum on Thursday as Cameron Heeps is at three with Justin Sedgmen at four.
Glasgow are always amongst the pre-season title favourites and this year has been no different. The Tigers have failed to clinch the title in recent years but have reached the play-offs in the past two seasons and their start to 2017 suggests they will be in the end of season shootout once again this year. The Tigers are led by the same heat leader trio as last season as Richard Lawson, Aaron Summers and Richie Worrall signed up for another season in Scotland. Scunthorpe's Ryan Douglas guests for Dan Bewley who is away representing Great Britain in an FIM European U21 event.
The Witches have not tasted success in Glasgow since 2013 when the Suffolk side ran out convincing 56-36 winners as Ben Barker racked up 13 points and current Witch Cameron Heeps scored 10+4 with Ritchie Hawkins chipping in with 5+2.
Hawkins believes his side will be racing against the best team in the league on current form and sees it as a chance to see how his side currently compare.
"It is going to be a really tough meeting and we are racing against what is currently the best team in the division," said Hawkins. "It will be good to judge how far off we are at the moment because we have not been at 100% of our potential yet. We will see how far we have got to go in the second half of the season. Glasgow have started as the best team in the league, there is no doubt about that and we will see where we are at when we go there."
When reminded of his role in the Witches' last win in Glasgow the boss joked that it would be used as motivation for the boys but is anticipating an exciting encounter.
"I never scored more than five points in Scotland! I will definitely be reminding the boys of that before the meeting! In theory, we should have a lot of riders that like the Glasgow track, it is fast and banked now, but the first bend is very important as always in speedway there. There should be a good crowd for it too after it was advertised in the Motorcycle News this week and it should be a really good match."
Words: Henry Chard
Glasgow 'Allied Vehicles' Tigers:
1. Richard Lawson 9.36
2. Ryan Douglas (g) 5.45
3. Richie Worrall 8.96
4. Nike Lunna 6.07
5. Aaron Summers (c) 9.07
6. Tom Perry 3.57
7. Jack Smith 2.00

Team Manager: Stewart Dickson
Ipswich 'Tru7.com' Witches:
1. Danny King (c) 8.88
2. Kyle Newman 5.58
3. Cameron Heeps 6.64
4. Justin Sedgmen 7.60
5. Rory Schlein 8.06
6. Connor Mountain 2.67
7. Nathan Greaves 2.26

Team Manager: Ritchie Hawkins
Referee: S. Wilson
Parade: Saturday, 7.00pm
Venue: The Peugeot Ashfield Stadium, G22 6RU
Championship Table
| | | |
| --- | --- | --- |
| Team | Pl | Pts |
| Edinburgh | 19 | 41 |
| Witches | 17 | 35 |
| Glasgow | 13 | 33 |
| Sheffield | 14 | 30 |
| Redcar | 16 | 27 |
| Workington | 11 | 21 |
| Newcastle | 14 | 19 |
| Peterborough | 14 | 18 |
| Scunthorpe | 18 | 14 |
| Berwick | 18 | 10 |
Last five results at Glasgow:
14.08.16 L39-50
21.06.15 L45-47
22.06.14 L40-53
25.08.13 W56-36
19.08.12 L33-42

Glasgow Tigers Factfile
Main Sponsor: Allied Vehicles Ltd
Team Colours: Red and White
Race-Night: Saturday (7.00pm)
Website: www.glasgowtigers.co
Track Length: 319 metres
Track Record: 55.59 seconds, Aaron Summers (September 4, 2016)
Admission Prices
Adults: £17.50
Over 65 & Retired/Students/Disabled: £13.50
Children (12-15): £6
Children (3-11): £1
Children (under 3): Free
Programme: £3
Stadium Address
The Peugeot Ashfield Stadium, 404 Hawthorn Street, Springburn, Glasgow, G22 6RU
Telephone: 0808 115 3337
By Train: A service connects Glasgow's Queen Street Station in the heart of the city with Ashfield Stadium which can be reached in just 10 minutes travel time and that includes the short walk from Ashfield station!