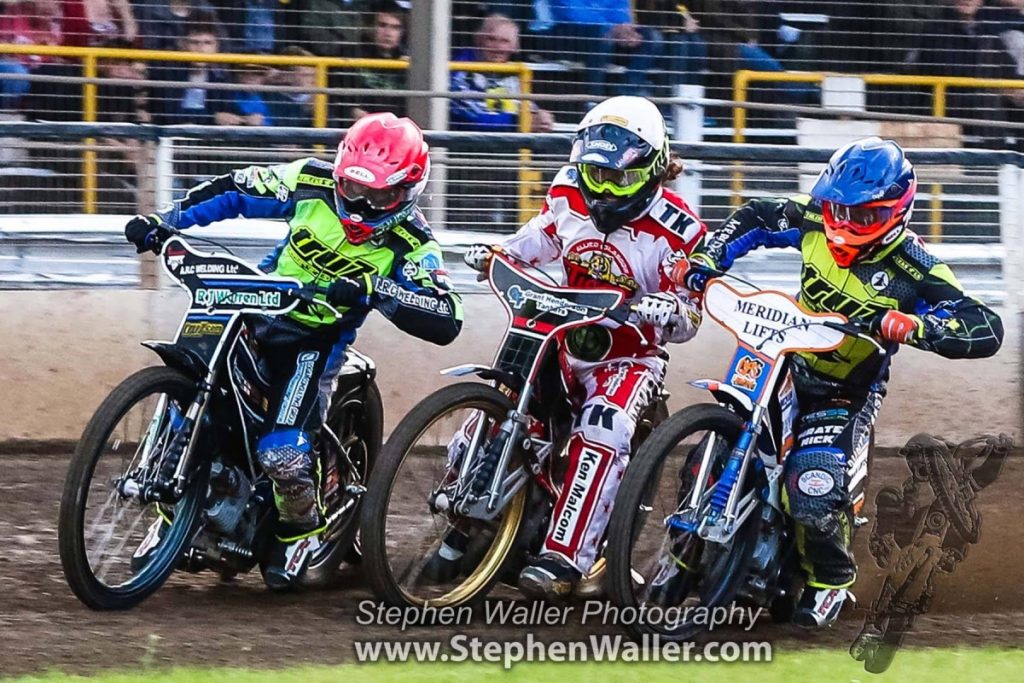 The 'Tru7.com' Witches make another lengthy trip to Scotland on Wednesday to take on Glasgow Tigers in the Championship (7.30pm).
The Suffolk side took a point at Edinburgh on Friday night after a narrow defeat before suffering a frustrating rain off at Sheffield on Sunday. The Witches have confirmed their play-off spot and barring a disastrous week, the Tigers will also be in the top four come the end of the season.
Cameron Heeps is still on the side-lines with injury and rider replacement will be used at number two on Wednesday. Justin Sedgmen is still missing with injury and Mark Riss guests again at number three after an impressive guest appearance at Foxhall a couple of weeks ago.
Glasgow started the season strongly and have spent the majority of the season in the top two but with injuries mounting up their form has dropped in recent weeks and they now sit in fourth with meetings in hand. Nike Lunna is out for the season with Tom Perry and Dan Bewley both currently on the side-lines too. Rider replacement will be used for Bewley with Scunthorpe's Ryan Douglas coming in for Lunna and Poole's James Shanes coming in at reserve.
Ipswich claimed a point at Ashfield earlier in the season after a battling display saw them recover from a bad start to narrowly lose 49-43.
Team Manager Ritchie Hawkins is hopeful they can get the meeting on this week with the miles being clocked up for his Witches side at the moment after a long hard season.
"We want to get the fixture on at Glasgow on Wednesday and we are hoping for no rain although the forecast is not looking great at the moment," said Hawkins. "We want to get the meeting done and there is potential there to get a good result with both teams carrying injuries and having riders missing going into the fixture. I would take a win there in the play-offs if it meant we lost on Wednesday but we are looking for another good performance like at Edinburgh.
"We have done a lot of travelling up and down to Scotland this season and it can takes its toll on people. We have riders that are very professionally set up and they are going to get a few months off over the winter. When you are focused on big meetings and the adrenaline is going I don't think it will be a factor though."
Mark Riss guests again for the Witches having impressed Hawkins and the boss says there are plenty of options if guests are needed in the play-offs.
"Mark knows Glasgow well having been there a couple of times this year with Edinburgh and he has done well there in the past. When we go to Sheffield as well, he will be there that day too. He fits in well and he did well last week when he rode for us so is getting some more meetings. In the play-offs hopefully Cam will be back, his fitness levels are improving and he is positive about that. If he is fit it would just be r/r for Sedgy but we have good options if we do need a guest."
Words: Henry Chard
Glasgow 'Allied Vehicles' Tigers:
1. Richie Worrall 8.85
2. R/R for Dan Bewley 5.94
3. Richard Lawson 8.65
4. Ryan Douglas (g) 6.08
5. Aaron Summers (c) 8.27
6. James Shanes (g) 2.83
7. Jack Smith 2.38
8. Ryan MacDonald

Team Manager: Stewart Dickson
Ipswich 'Tru7.com' Witches:
1. Danny King (c) 9.15
2. R/R for Cameron Heeps 6.93
3. Mark Riss (g) 6.16
4. Kyle Newman 6.13
5. Rory Schlein 8.44
6. Nathan Greaves 4.62
7. Connor Mountain 3.27

Team Manager: Ritchie Hawkins
Referee: S. Wilson
Parade: Wednesday, 7.30pm
Venue: The Peugeot Ashfield Stadium, G22 6RU
Championship Table
| | | |
| --- | --- | --- |
| Team | Pl | Pts |
| Sheffield | 31 | 77 |
| Witches | 34 | 73 |
| Edinburgh | 32 | 64 |
| Glasgow | 30 | 63 |
| Redcar | 33 | 59 |
| Newcastle    | 32 | 47 |
| Peterborough | 31 | 44 |
| Workington | 28 | 38 |
| Scunthorpe | 34 | 31 |
| Berwick | 35 | 27 |
Last five results at Glasgow:
24.06.17 L43-49
14.08.16 L39-50
21.06.15 L45-47
22.06.14 L40-53
25.08.13 W56-36
Glasgow Tigers Factfile
Main Sponsor: Allied Vehicles Ltd
Team Colours: Red and White
Race-Night: Saturday (7.00pm)
Website: www.glasgowtigers.co
Track Length: 319 metres
Track Record: 55.59 seconds, Aaron Summers (September 4, 2016)
Admission Prices
Adults: £17.50
Over 65 & Retired/Students/Disabled: £13.50
Children (12-15): £6
Children (3-11): £1
Children (under 3): Free
Programme: £3
Stadium Address
The Peugeot Ashfield Stadium, 404 Hawthorn Street, Springburn, Glasgow, G22 6RU
Telephone: 0808 115 3337
By Train:  A service connects Glasgow's Queen Street Station in the heart of the city with Ashfield Stadium which can be reached in just 10 minutes travel time and that includes the short walk from Ashfield station!