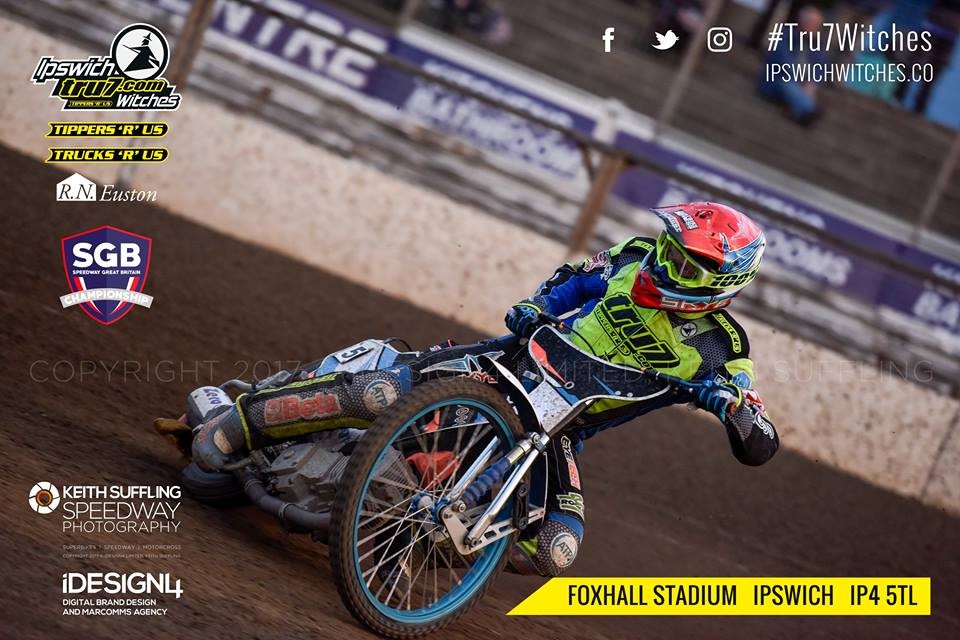 The 'Tru7.com' Witches welcome a patched-up Berwick Bandits to Foxhall on Thursday in a Championship fixture (7.30pm).
The two sides have met already this season home and away in the Knockout Cup with the Witches sailing through to the next round after a big 60-30 at home and a narrow defeat at Berwick.
The original date for the meeting had to be postponed due to bad weather and Thursday will be the third meeting at Foxhall in succession for Ipswich as they look to continue their 100% home record in 2017.
The Suffolk side go into the meeting high on confidence after they produced a fantastic comeback to beat league leaders Edinburgh Monarchs last Thursday. Nathan Greaves is fit for the clash after a heavy fall last week forced him to withdraw after two rides.
The visitors have endured a difficult start to 2017 but have improved their fortunes since making team changes. However, the Bandits will be without Nick Morris, Lewis Bridger, Dany Gappmaier and Lee Payne for Thursday's meeting. Edinburgh's Sam Masters is back at Foxhall as a guest and Alfie Bowtell guests at reserve. Rider Replacement will be used for Lewis Bridger and Ben Morley also guests for the visiting side.
The visitors have struggled at Foxhall in recent history with the Witches winning the past five meetings between the two sides in Suffolk.
Team Manager Ritchie Hawkins says his side will not be taking the challenge lightly and believes the Bandits could cause problems.
"We can't take anything for granted," said Hawkins. "After the start to the season they have had and how we beat them earlier in the year, you could quite easily take them lightly. With the team changes they have made, they are quite capable of doing well anywhere. On paper they are not a weak side. We need to stay focused and we can't think it will be an easy night as it certainly won't be."
The boss says that Kyle Newman and Justin Sedgmen are becoming more comfortable at Foxhall and are getting better with every week.
"Sedgy has got a busy week and getting the laps in will help him and confidence will build meeting by meeting. He is scoring points even though he is nowhere near his best which is positive.
"Kyle is getting better every race and like Sedgy he is nowhere near his best but is scoring points. When they both hit top form you will see how good we can be."
Words: Henry Chard
Meeting Sponsor: Scott Properties
Ipswich 'Tru7.com' Witches:
1. Danny King (c) 8.88
2. Cameron Heeps 6.64
3. Justin Sedgmen 7.60
4. Kyle Newman 6.31
5. Rory Schlein 8.06
6. Connor Mountain 2.67
7. Nathan Greaves 2.26

Team Manager: Ritchie Hawkins
'Olympus Marquees' Berwick Bandits:
1. Sam Masters (g) 8.90
2. Ben Morley (g) 3.85
3. David Howe 6.72
4. R/R for Lewis Bridger 6.59
5. Kevin Doolan (c) 6.69
6. Jye Etheridge 4.00
7. Alfie Bowtell (g) 2.00
Team Manager: Gary Havelock
Referee: M. Bates
Parade: Thursday, 7.30pm
Venue: Foxhall Stadium, IP4 5TL
Championship Table
| | | |
| --- | --- | --- |
| Team | Pl | Pts |
| Edinburgh | 16 | 35 |
| Glasgow | 12 | 30 |
| Witches | 14 | 29 |
| Sheffield | 11 | 21 |
| Workington | 10 | 21 |
| Redcar | 14 | 21 |
| Newcastle | 12 | 19 |
| Peterborough | 11 | 15 |
| Scunthorpe | 16 | 14 |
| Berwick | 16 | 10 |
Last five home results v Berwick:
30.03.17 W60-30
14.07.16 W58-34
20.08.15 W60-30
21.05.15 W46-44
31.07.14 W60-34
Berwick's last five:
CH Peterborough 54–38 Berwick
CH Berwick 53–40 Newcastle
CH Glasgow 54-38 Berwick
CH Berwick 48-44 Workington
CH Berwick 34-50 Redcar