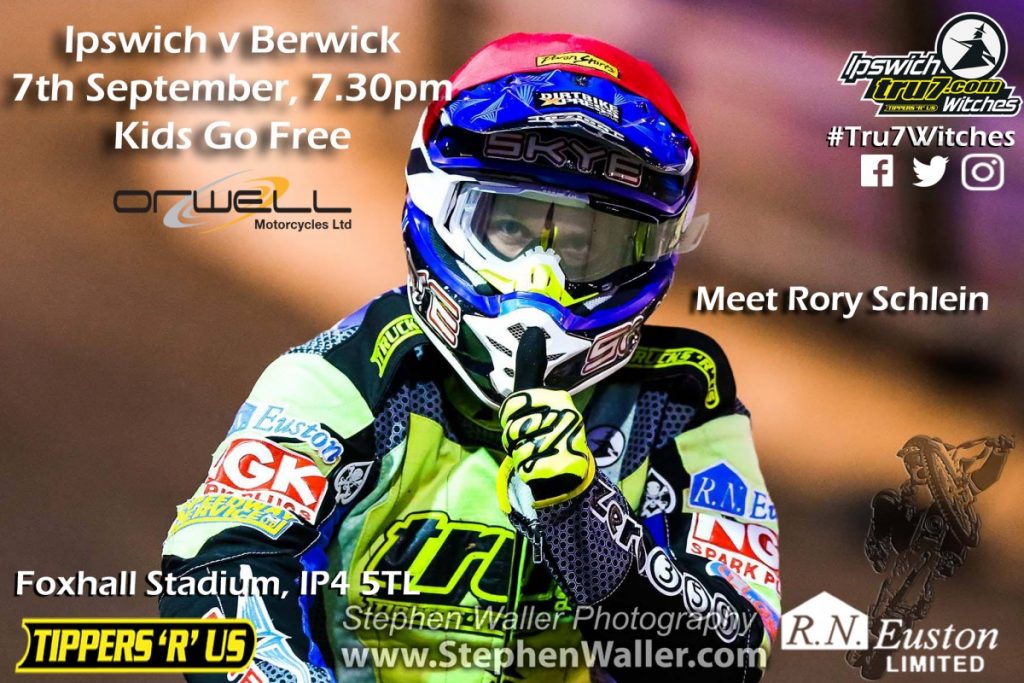 The 'Tru7.com' Witches complete their home league fixtures for the regular season on Thursday as they host Berwick Bandits at Foxhall (7.30pm).
The Suffolk side all but confirmed their place in the play-offs last Saturday with a 51-39 win over Redcar at Foxhall thanks to Danny King's paid maximum from five rides. Although not mathematically confirmed it would take an almighty effort from the Bears in their final four meetings to overhaul the Witches' current points total of 69, with their away trip to Newcastle still yet to be confirmed and the cut-off date looming. Workington still have 39 points to play for but it looks almost certain they will not fit their fixtures in before the deadline of 18th September.
The home side remain without injured duo Cameron Heeps and Justin Sedgmen, with rider replacement in use for Sedgmen and former Witch Lewis Kerr coming into guest for Heeps at three.
Berwick have not enjoyed a fruitful 2017 and sit bottom of the table, where they have spent the whole season. Injuries have prevented the Bandits from getting into full flow as team changes have also been made in the season to try and improve their fortunes. In recent weeks, Gary Havelock's side have been in their best form of the season, winning four of their last five and picking up a point in a narrow away defeat. Nick Morris is at number one with former Witches rider Kevin Doolan captaining the side at four. Alfie Bowtell guests for the injured Lee Payne and rider replacement is used for Nicolaj Busk Jakobsen at two.
Foxhall has proved to be a tough place for many to come this season and that is no different for the Bandits who have been beaten heavily twice already this season in Suffolk.
Team Manager Ritchie Hawkins says he expects his team to complete the job on Thursday and believes a grippy track has helped the Witches at home this season.
"I expect our side to get the win on Thursday against Berwick who are bottom of the league and hopefully we will do it in a convincing way," said Hawkins. "As always, we can't take them lightly and we need to get the job done.
"Our home form is mainly due to the fact we have a strong side. We probably have it a bit grippier here at Ipswich than other tracks and when you are riding that every week you adapt to it. You see the top boys don't have a problem when they come to Ipswich and we have some great races. With tracks mostly being slick nowadays, it is harder for the less experienced riders to get used to the grip so they struggle a bit and that gives us home advantage."
With a play-off spot almost a certainty, Hawkins says he still wants his side to keep in the winning habit and not ease off in the final few league meetings.
"As a speedway rider you never want to lose and the sport is only fun if you are winning. We have a good atmosphere around the camp and we are getting used to winning. We want to carry that on especially on Thursday and then we have three tough away meetings remaining where we need to pick up a bit of knowledge ahead of the play-offs."
The boss said there is no new update on injured duo Heeps and Sedgmen as both continue their treatment to return to full fitness.
"There is no update from last week really and I have not spoken with Sedgy. He has to concentrate on getting himself fit as he has the chance to be at the Australian Grand Prix and that is a big thing for him. Cam is carrying on his rehabilitation and hopefully that will progress really well. It is tight for him to get back for the play-offs so we will take it week by week on that one."
Hawkins says he is wary of slipping up on Thursday after seeing local side Mildenhall draw at home to basement side Buxton in the National League.
"Berwick have had a tough year and I would expect us to win and win well on Thursday. I listened to James Easter on the radio last week talking about Buxton coming to Mildenhall and how he expected to win that one easy and then Buxton went and got a draw! We need to look at our other local club and make sure we don't fall into that same trap!
Kids go free to this meeting and fans will have the chance to meet Rory Schlein, who will be up by the turnstiles prior to the meeting.
Words: Henry Chard
Meeting Sponsor: Orwell Motorcycles
Ipswich 'Tru7.com' Witches:
1. Danny King (c) 9.15
2. R/R for Justin Sedgmen 6.17
3. Lewis Kerr (g) 6.95
4. Kyle Newman 6.13
5. Rory Schlein 8.44
6. Nathan Greaves 4.62
7. Connor Mountain 3.27

Team Manager: Ritchie Hawkins
'Olympus Marquees' Berwick Bandits:
1. Nick Morris 8.74
2. R/R for Nikolaj Busk Jakobsen 6.50
3. Dany Gappmaier 5.05
4. Kevin Doolan (c) 6.21
5. David Howe 6.10
6. Jye Etheridge 5.04
7. Alfie Bowtell (g) 2.00

Team Manager: Gary Havelock
Referee: C. Turnbull
Parade: Thursday, 7.30pm
Venue: Foxhall Stadium, IP4 5TL
Championship Table
| | | |
| --- | --- | --- |
| Team | Pl | Pts |
| Sheffield | 30 | 76 |
| Witches | 32 | 69 |
| Glasgow | 29 | 60 |
| Redcar | 32 | 56 |
| Edinburgh | 28 | 54 |
| Newcastle    | 31 | 45 |
| Peterborough | 30 | 41 |
| Workington | 25 | 37 |
| Scunthorpe | 32 | 31 |
| Berwick | 33 | 24 |
Last five home results v Berwick:
15.06.17 W56-37
30.03.17 W60-30
14.07.16 W58-34
20.08.15 W60-30
21.05.15 W46-44
Berwick's last five:
CH Berwick 51-39 Newcastle
CH Workington 48-42 Berwick
CH Berwick 56-37 Workington
CH Berwick 48-42 Scunthorpe
CH Berwick 47-46 Peterborough