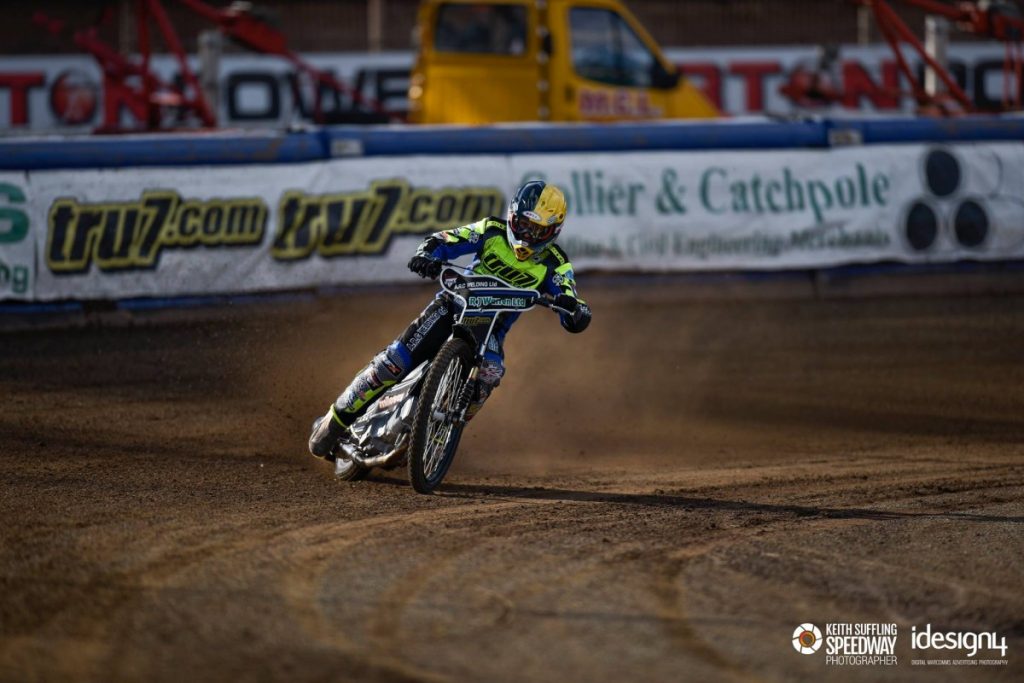 The 'Tru7.com' Witches are back in action at Foxhall on Thursday as they take on the Berwick Bandits in the Knockout Cup (7.30pm). This meeting is sponsored by title sponsors 'Tru7.com'.
The Witches started the 2017 season in style on Saturday night as they put Sheffield to the sword to bag three Championship points in front of a big crowd. Attentions now turn to the Knockout Cup as Berwick visit Suffolk for the first leg tie as the home side look to build a lead to defend at Shielfield Park on Saturday.
The Foxhall outfit have been dealt an early blow with the news that Kyle Newman will be ruled out for a period of time after fracturing his shoulder blade and tearing muscles in his shoulder after a fall at Poole last Friday. Chris Louis and Ritchie Hawkins have moved quickly to cover Newman's absence by bringing back James Sarjeant on a short term deal until Newman is back fully fit. Sarjeant was a hit with the Foxhall crowd in 2016 and will ride at number two on Thursday.
It's an exciting year for the Bandits as they enter their 50th season and with new owners and management, optimism is high on the terraces. Managed by Gary Havelock, the Bandits swooped for Lewis Bridger to spearhead their 2017 team with Witches asset Kevin Doolan captaining the side again this season. Dany Gappmaier misses Thursday's clash with concussion and is replaced by Leicester's Danny Ayres at reserve.
Team Manager Hawkins is hoping his side can build up some momentum and take a big lead to Berwick on Saturday.
"It's nice to be riding again a few days after a good result and we can build some momentum," said Hawkins. "We have got a week off after the Knockout Cup clashes with Berwick and we can't afford any slip ups, it's a competition we want to win. We need to put in a really good performance and build a decent lead."
Hawkins says the feedback on the track changes at Foxhall has been positive amongst the riders.
"The feedback was really positive which is good for Chris (Louis), we know the surface is a lot better now. Even I could see that the wideness of the track was helping, you could see it helping Nico (Covatti) straight away in his first ride. You will see more use of the wideness over the course of the year but all the work Chris has done on the banking has been a massive improvement."
The boss says his side will head to Berwick on Saturday looking to win whatever happens on Thursday and wants to see his team progress week by week.
"We have got to put a solid performance like we did last week and I have no doubt that we are good enough to go through. We will go up to Berwick looking to win too but we will concentrate on building the biggest lead possible on Thursday. As riders it would be good to see each of them progress more this week too."
Hawkins had special words for Berwick but is hoping his team end their Knockout Cup hopes this week.
"I wish Berwick all the best, it seems like a breath of fresh air for everyone up there with the changes and I have heard the crowds are good which is positive. We had a good crowd on Saturday and I really hope it is successful up at Berwick as they are some of the nicest people you'll ever meet but I hope we knock them out this week!"
Words: Henry Chard
Meeting Sponsor: Tippers 'R' Us
Ipswich 'Tru7.com' Witches:
1. Danny King (c) 9.57
2. James Sarjeant 5.81
3. Nico Covatti 7.49
4. Cameron Heeps 5.07
5. Rory Schlein 7.17
6. Connor Mountain 2.00
7. Danyon Hume 2.00
Team Manager: Ritchie Hawkins
'Olympus Marquees' Berwick Bandits:
1. Lewis Bridger 8.53
2. Liam Carr 4.69
3. Dimitri Berge 6.91
4. Claus Vissing 6.80
5. Kevin Doolan (c) 6.99
6. Danny Ayres (g) 3.60
7. Ryan Blacklock 2.00


Team Manager: Gary Havelock
Referee: P. Carrington
Parade: Thursday, 7.30pm
Venue: Foxhall Stadium, IP4 5TL
Last five home results v Berwick:
14.07.16 W58-34
20.08.15 W60-30
21.05.15 W46-44
31.07.14 W60-34
01.08.13 W56-37

Witches Knockout Cup history:
2016 R1 Lost v Rye House
2015 R1 Lost v Berwick
2014 Runners Up v Edinburgh
2013 QF Lost v Workington
2012 Runners-Up to Newcastle
Berwick in 2017:
TTT Newcastle 55-35 Berwick
TTT Berwick 45-45 Newcastle