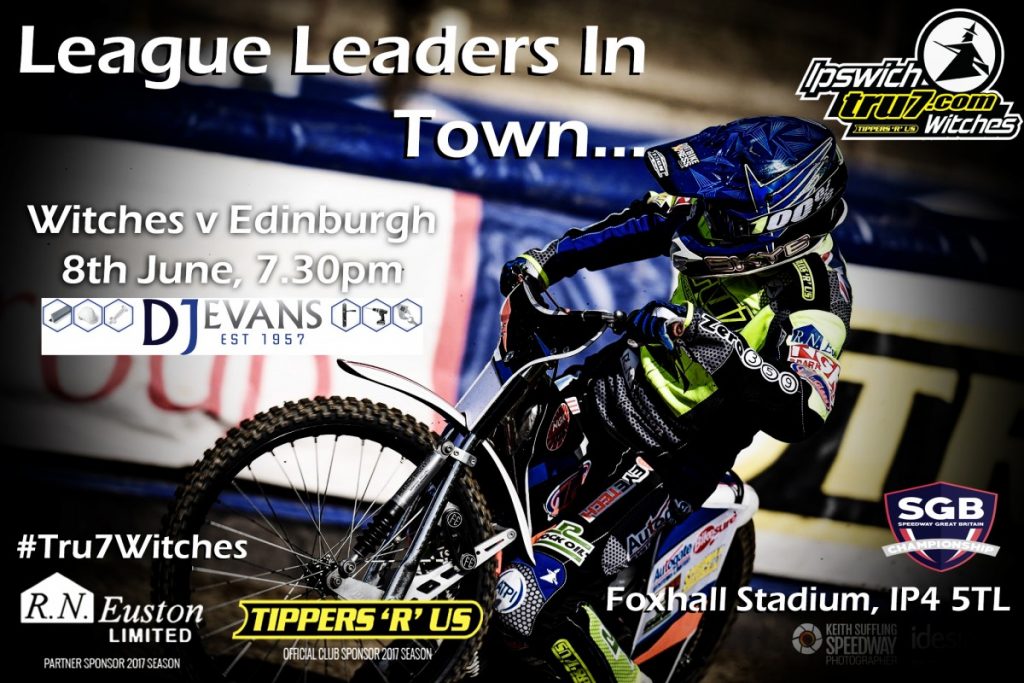 The 'Tru7.com' Witches collide with the Championship league leaders on Thursday as Edinburgh Monarchs head to Foxhall (7.30pm).
The Witches boast a 100% home record in 2017 with seven wins from seven in all competitions so far but Thursday will be the biggest test at Foxhall with the visitors bringing the division's best away record to Suffolk.
The East Anglian outfit have been imperious at home and it was no different last week as they put Newcastle to the sword to bounce back from defeat at Workington previously. The Witches are at full strength for Thursday's meeting as Rory Schlein and Justin Sedgmen face their former club.
Edinburgh have enjoyed great success in recent history and have put together a side that looks set to challenge for more silverware in 2017. Sam Masters leads the side for the fourth consecutive season and is supported by USA World Cup rider Ricky Wells at the top end. Mark and Erik Riss are playing an important role in the Monarchs' promising start to the season and it is certain to be a close encounter on Thursday.
The two sides last met in last season's play-off quarter-final as the Witches progressed on aggregate after a 58-32 win at home and a 37-53 defeat at Armadale.
Team Manager Ritchie Hawkins says the visitors will come to Foxhall in high spirits but believes his side will have enough on the night to take the win.
"They have had a good start to the season and being top of the league their confidence will be high," said Hawkins. "We have got more than enough to beat them. It's the same every week now against play-off contenders, we don't want to be giving them points and we need to make sure we win by a minimum of seven."
The Witches are in another run of home fixtures and the boss says that is exactly what the team want.
"We have had more away matches than at home, so we are catching up on them in the next few weeks. It's nice to be riding at home nearly every week and you want that continuity and we have been brilliant round our own place this season. The fixture list is a nightmare to organise these days with doubling-up and hopefully that can be sorted in the future."
Nathan Greaves has impressed many fans since his arrival in Suffolk and Hawkins is confident he can improve further.
"Nathan has impressed so far and he can keep pushing on. I didn't know him on a personal level before we signed him but we did our homework and I have seen him ride plenty of times and know a bit about him. I'm not surprised about how well he is doing but I'm really impressed with how he has fitted in and his attitude to racing. He has come in and set an example at times and has fitted the bracket of what I want from a Witches rider and I'm really happy with how he is doing."
The former skipper says Kyle Newman and Justin Sedgmen have been low on confidence in recent weeks but remains confident they will find their best form.
"Kyle and Justin when you look at it on paper are our star pairing. They have been lacking a little in confidence but there are no concerns over them and I'm confident they will outscore their opposite numbers on Thursday and improve week by week from here."
Words: Henry Chard
Meeting Sponsor: DJ Evans Ltd
Ipswich 'Tru7.com' Witches:
1. Danny King (c) 8.96
2. Cameron Heeps 6.93
3. Justin Sedgmen 7.60
4. Kyle Newman 6.31
5. Rory Schlein 8.00
6. Connor Mountain 2.45
7. Nathan Greaves 2.26
Team Manager: Ritchie Hawkins
Edinburgh 'Parsons Peebles' Monarchs:
1. Sam Masters (c) 8.70
2. Mark Riss 6.85
3. Erik Riss 7.75
4. Josh Pickering 4.36
5. Ricky Wells 8.34
6. Max Clegg 4.00
7. Mitchell Davey 3.18
Team Manager: John Campbell
Referee: C. Gay
Parade: Thursday, 7.30pm
Venue: Foxhall Stadium, IP4 5TL
Championship Table
| | | |
| --- | --- | --- |
| Team | Pl | Pts |
| Edinburgh | 14 | 32 |
| Glasgow | 11 | 26 |
| Witches | 13 | 26 |
| Sheffield | 10 | 21 |
| Workington | 10 | 21 |
| Redcar | 12 | 21 |
| Newcastle | 11 | 19 |
| Peterborough | 10 | 12 |
| Scunthorpe | 15 | 11 |
| Berwick | 14 | 7 |
Last five home results v Monarchs:
22.09.16 W58-32
19.05.16 W48-45
03.09.15 W52-38
16.07.15 D45-45
16.10.14 L37-53

Monarchs' last five:
CH Edinburgh 49-44 Sheffield
KOC Sheffield 53-37 Edinburgh
CH Edinburgh 60-30 Peterborough
CH Workington 51-42 Edinburgh
CH Edinburgh 53-39 Newcastle