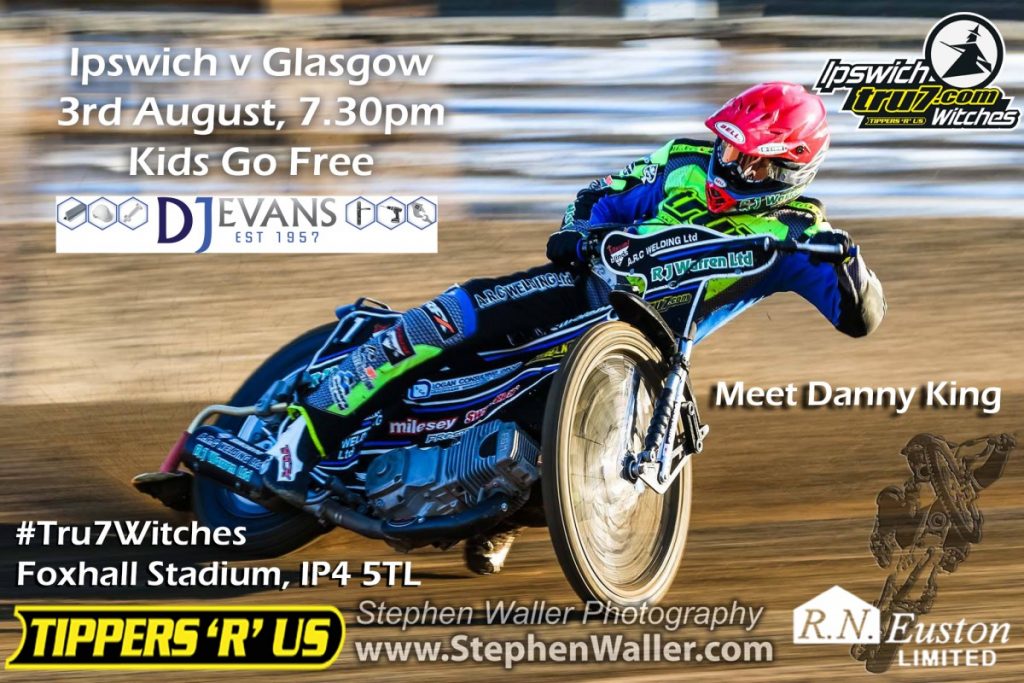 The 'Tru7.com' Witches look to get back to winning ways on Thursday as they take on league leaders Glasgow at Foxhall in the Championship (7.30pm).
It has been a tough week on and off the track for the club as they lost their 100% home record last Thursday after a 46-47 defeat to Edinburgh. Following the defeat, planned team changes were rejected at the last hour, meaning the Witches will continue their campaign with the current seven riders.
Danny King skippers the side as usual, having represented Team GB in the World Games in Poland last weekend. Justin Sedgmen and Connor Mountain maintain their places in the side and both will be looking forward to getting back out on track after a difficult weekend off the track.
Glasgow lead the pack in 2017 and look to be the team to beat this season having claimed points from 20 of their 21 meetings so far. The visitors have a formidable heat leader trio of Richard Lawson, Aaron Summers and Richie Worrall and will provide the Witches with a stern test on Thursday. 18-year-old Dan Bewley rides in the main body of the side and is a name many fans in the sport are excited to see progress. Tom Bacon guests for Tom Perry who was taken ill on Wednesday evening.
Thursday is likely to be no different to the last time the Tigers were in town earlier this season as they claimed a point after a tight meeting that the Witches won 48-42. It promises to be an entertaining night of close action, with the Witches keen to prove a point.
Team Manager Ritchie Hawkins admitted it had been a difficult weekend for the club and all involved but says he is determined to work harder to make things right.
"It has been an awful weekend for everyone involved especially the riders," said Hawkins. "All we can do now is put it behind us, there is no point in looking at the past now. I have got to work even harder than before and get it right now, that is my job."
Hawkins says the only way to move on is to come back stronger from a rough situation as a team.
"It has been a tough lesson and when things happen in life that are hard or wrong, you have to pick yourself back up from it and come back stronger. I have tried to do that my whole life, nothing has ever been easy and I have learnt over the years that all you can do is get up the next morning and carry on working the best you can. That is all we can do as a team and as individuals."
The boss says he still has faith in the team and will work hard to get the best out of the current seven.
"We always had faith in the original seven and we wouldn't have put it out there if we didn't believe in it. I think with the advanced transfer deadline and the situation we were in, we had to do something but it was not possible. We have got to work hard to get things right with the team we have got rather than change now which is not a bad thing."
The former skipper says that the team could not have asked for a tougher meeting on Thursday against Glasgow.
"We need to pull together now and we couldn't have asked for a tougher test in a tougher situation. We have got to dig as deep as we can now as a team."
Hawkins says he fully understands the frustration from the fans but added that everyone at the club is working hard to achieve the common goal of success for the club.
"You can understand the fans' frustration. If you make changes people are unhappy, if you try to make changes there are people unhappy and if you don't do anything it's the same, you will never please everyone.
"From the start of last season, I have wanted everyone to pull together and I know this has put a big spanner in the works but at the end of the day we all want the same thing even if we have different views on how to get there. We all want success for Ipswich speedway club. We have got to keep that ambition in an unfortunate situation."
Kids Go Free to this meeting and fans will have the chance to meet Danny King up by the turnstiles prior to the meeting.
Words: Henry Chard
Meeting Sponsor: DJ Evans Ltd
Ipswich 'Tru7.com' Witches:
1. Danny King (c) 8.88
2. Kyle Newman 6.14
3. Cameron Heeps 6.61
4. Justin Sedgmen 6.67
5. Rory Schlein 8.17
6. Nathan Greaves 4.65
7. Connor Mountain 3.18

Team Manager: Ritchie Hawkins
Glasgow 'Allied Vehicles' Tigers:
1. Richard Lawson 8.86
2. Nike Lunna 5.96
3. Richie Worrall 8.74
4. Dan Bewley 5.90
5. Aaron Summers (c) 8.67
6. Tom Bacon (g) 2.52
7. Jack Smith 2.54

Team Manager: Stewart Dickson
Referee: C. Ackroyd
Parade: Thursday, 7.30pm
Venue: Foxhall Stadium, IP4 5TL
Championship Table
| | | |
| --- | --- | --- |
| Team | Pl | Pts |
| Glasgow | 21 | 52 |
| Edinburgh | 23 | 51 |
| Witches | 25 | 50 |
| Sheffield | 22 | 50 |
| Redcar | 24 | 42 |
| Peterborough | 22 | 36 |
| Workington | 16 | 28 |
| Newcastle | 22 | 28 |
| Scunthorpe | 24 | 20 |
| Berwick | 27 | 11 |
Last five home results v Glasgow:
05.05.17 W48-42
09.06.16 L44-46
23.07.15 L43-47
17.07.14 D45-45
27.06.13 W63-29

Glasgow's last five:
CH Workington 48-45 Glasgow
CH Scunthorpe 36-48 Glasgow
CH Glasgow 58-32 Berwick
CH Berwick 42-42 Glasgow
CH Glasgow 51-41 Peterborough