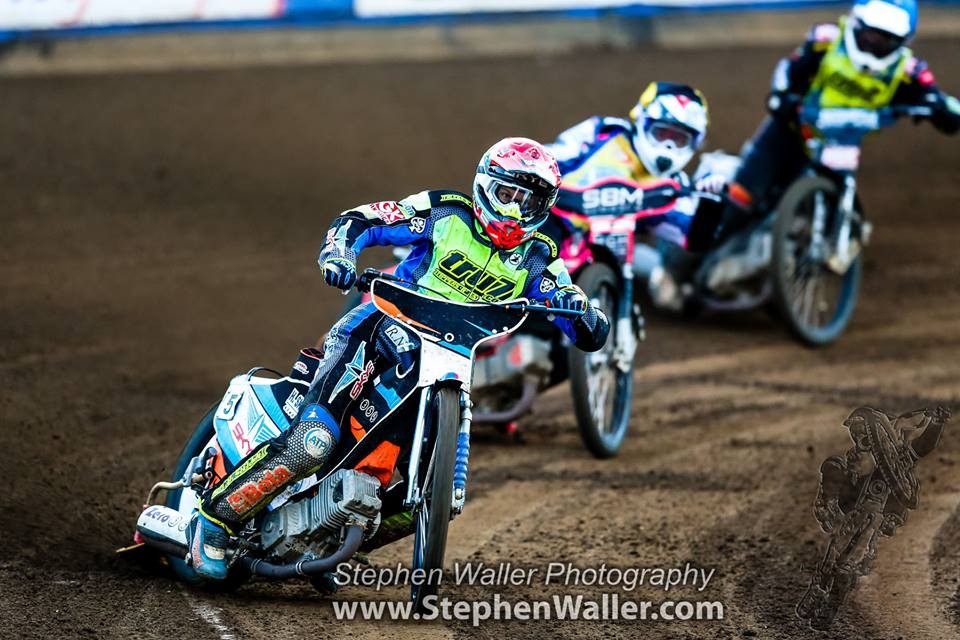 The 'Tru7.com' Witches host local rivals Peterborough Panthers on Thursday at Foxhall in the Championship (7.30pm).
The home side go into the meeting in buoyant mood after four straight wins have cemented their place in the top four, with a play-off position almost secure. Following the defeat at home to Edinburgh the Witches have reeled off home wins against Glasgow and Workington as well as picking up wins at Scunthorpe and Workington.
The Suffolk side continue to be without Justin Sedgmen who has ongoing shoulder problems and rider replacement will be used at number two. Workington's Mason Campton guests in place of Kyle Newman who suffered a leg injury after a crash on Monday.
The visitors come into the meeting in the opposite form. Four successive defeats on their travels mean a play-off position looks almost impossible at this stage. The East Anglian side have the exciting Chris Harris at the top end of the side with Australian talent Jack Holder at five. Rider replacement will be used for the injured Bradley Wilson-Dean as James Sarjeant guests for Simon Lambert. Despite the disappointing campaign the Panthers did win the Championship Fours on home shale just a few weeks ago showing the potential of their top end.
Peterborough have not fared well at Foxhall in recent times as the Witches put them to the sword earlier in the season with a 60-32 win as Danny King recorded a maximum from four rides.
Team Manager Ritchie Hawkins says he does not want his side to give away any points to their local rivals and believes it is important to keep the winning run going.
"It is always a big meeting being our local derby and we certainly don't want to be dropping any points to Peterborough even if they are out of the play-off race," said Hawkins.
"We are in a really nice run of form with four wins on the bounce, two away from home and we need to keep that spirit going and that winning feeling going for the rest of the season."
The boss says he does not know how long Sedgmen will be out for as he receives ongoing treatment on his shoulder.
"Sedgy is having ongoing treatment on his shoulder. He is sitting out this week and we are not sure how long he will be out for or what his recovery will be."
Hawkins says Thursday's opponents have a strong team and believes it will be an entertaining night of action at Foxhall.
"Peterborough have a strong side and could cause us some problems. Bomber (Chris Harris) was really entertaining last week so it will be really good to see him there again and Jack Holder is having a really good season. They have a strong team on paper and there could be some really good racing like we have seen a lot of at Foxhall recently.
"We hope for another big crowd as we were pleased with the crowd last week and they got entertained on a good night. Hopefully everyone can get behind us as we have an exciting side and we are racing an exciting team too, so it should be entertaining."
Fans will have the chance to meet Connor Mountain prior to the meeting who will be signing autographs up by the turnstiles. There will also be a special Ipswich/Peterborough classic race jacket display on show at Foxhall. Ipswich Town mascot Crazee will also be in attendance entertaining the fans!
Words: Henry Chard
Meeting Sponsor: Kent Blaxill
Ipswich 'Tru7.com' Witches:
1. Danny King (c) 9.03
2. R/R for Justin Sedgmen 6.38
3. Cameron Heeps 6.94
4. Mason Campton (g) 5.61
5. Rory Schlein 8.34
6. Nathan Greaves 4.48
7. Connor Mountain 3.18

Team Manager: Ritchie Hawkins
Peterborough 'T. Balfe Construction' Panthers:
1. Chris Harris 9.21
2. R/R for Bradley Wilson-Dean 6.00
3. Paul Starke 6.96
4. Ulrich Ostergaard (c) 7.02
5. Jack Holder 8.78
6. James Sarjeant (g) 3.41
7. Tom Bacon 2.60
Team Manager: Carl Johnson
Referee: P. Griffin
Parade: Thursday, 7.30pm
Venue: Foxhall Stadium, IP4 5TL
Championship Table
| | | |
| --- | --- | --- |
| Team | Pl | Pts |
| Sheffield | 27 | 67 |
| Witches | 29 | 63 |
| Glasgow | 25 | 56 |
| Edinburgh | 27 | 54 |
| Redcar | 28 | 49 |
| Peterborough     | 26 | 37 |
| Newcastle | 25 | 34 |
| Workington | 21 | 31 |
| Scunthorpe | 28 | 28 |
| Berwick | 30 | 17 |
Last five home results v Panthers:
15.04.17 W60-32
21.07.16 W57-36
14.04.16 W48-42
27.08.15 W61-29
03.04.15 W53-39
Panthers' last five:
CH Scunthorpe 53-37 Panthers
CH Newcastle 58-34 Panthers
CH Berwick 47-46 Panthers
CH Edinburgh 58-32 Panthers
CH Panthers 53-39 Redcar