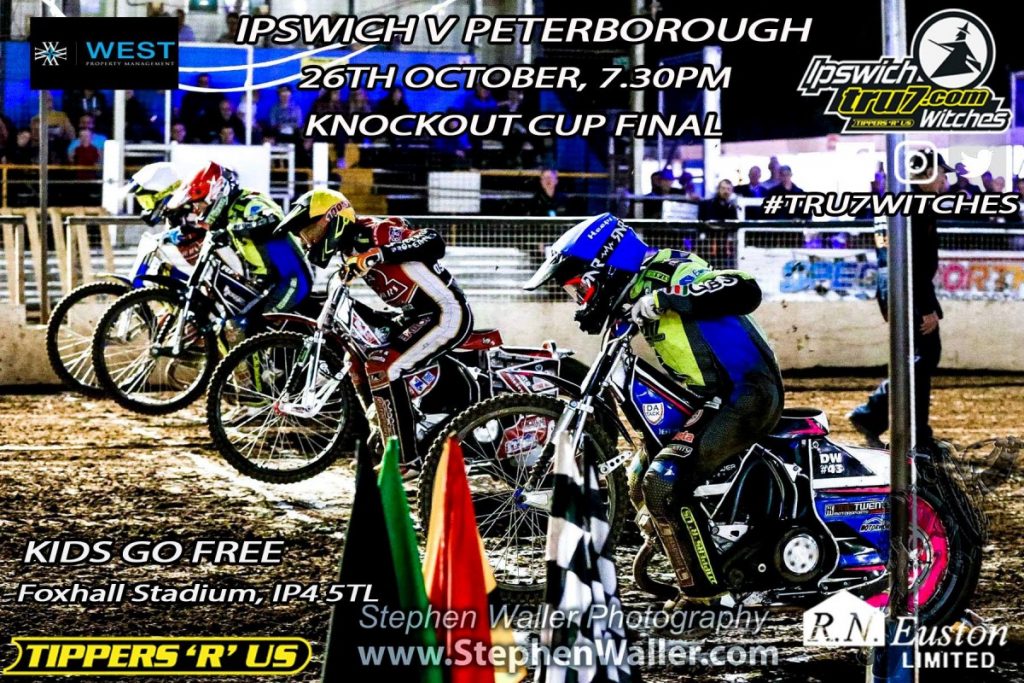 The 'Tru7.com' Witches bring the 2017 season to a close with the deciding leg of the Knockout Cup final at Foxhall against local rivals Peterborough on Thursday (7.30pm).
The two sides met at the East of England Arena and Events Centre on Sunday where the Witches produced a fantastic comeback to lose by just four in a 47-43 defeat despite losing Rory Schlein to injury, leaving them with just five riders after four heats.
Schlein suffered a badly sprained ankle in that crash which has brought his season to an end. The home side have moved to book Scott Nicholls to cover the Australian's absence, a booking sure to get fans talking on the terraces as the Ipswich-born rider rides for the side he won the treble with in 1998. Rider replacement continues to be used for Justin Sedgmen at two.
The visitors are without two members of their side for Thursday's clash. Number one Jack Holder is still out with Ben Barker coming in as a guest. Jack Parkinson-Blackburn is named at number seven for the injured Tom Bacon but Bradley Wilson-Dean has recovered from illness to take his place at number two.
The Suffolk side have a strong record against their rivals at Foxhall having not lost since defeat in 2014 in the League Cup. The Witches have won both encounters in the league this season.
Team Manager Ritchie Hawkins says his side are in a good position to lift the trophy but must keep at the top of their game if they are to be victorious.
"We have got ourselves in a good position after Sunday and we need to make sure we do the job on Thursday," said Hawkins. "We can't slack off, everyone has the winter to recover from a really tough and gruelling year for everyone. I am so proud of being able to get this far and we need a trophy in the cabinet to give a great year that final touch."
Hawkins says the team were delighted with Sunday's result but says things can change quickly in speedway.
"Everyone was so happy after Sunday. To get it down to four points from where we were and without Rory was a great achievement, it felt like a win. It is a tough final and everyone is well aware that things can turn around very quickly and you don't know what is going to happen on Thursday night. We need to focus on our job and carry on performing like we have done and then I believe we will get the rewards."
The boss gave an injury update on Schlein and says that it was an easy decision to book Nicholls as a guest.
"Rory has a badly sprained ankle and looking at the state of it, it is hard to see how there is nothing broken there. That will be a winter recovery job for Rory.
"We knew we could fit Scott in and it wasn't a tough decision. We are allowed to do it by the rules. Whether we should or shouldn't because he rode for them in the first leg is a different question. It is great to have him in the team and he very nearly guested earlier in the season for Danny (King). It is a bonus for us and it will maybe give a little edge to everyone."
The former captain hopes his side will be backed once again by a big crowd at Foxhall and says the riders deserve the support.
"There was a lot of people there on Sunday and it did make a difference. Everyone has got behind this team and they deserve it because they give everything we ask from them. They put everything in and are desperate to win and so they deserve that support and the crowd are getting a team they want to support. Hopefully it will be another big crowd on Thursday and we can bring a trophy back for them as it has been a long time coming."
Kids go free to this meeting!
Words: Henry Chard
Meeting Sponsor: West Property Management
Ipswich 'Tru7.com' Witches:
1. Danny King (c) 8.87
2. R/R for Justin Sedgmen 6.17
3. Cameron Heeps 6.93
4. Kyle Newman 6.10
5. Scott Nicholls (g) 8.58
6. Nathan Greaves 4.51
7. Connor Mountain 3.33

Team Manager: Ritchie Hawkins
Peterborough 'T Balfe Construction' Panthers:
1. Ben Barker (g) 8.92
2. Bradley Wilson-Dean 5.92
3. Paul Starke 6.67
4. Ulrich Ostergaard (c) 6.78
5. Chris Harris 8.26
6. Simon Lambert 4.24
7. Jack Parkinson-Blackburn (g) 2.63
8. Scott Campos 2.00

Team Manager: Carl Johnson
Parade: Thursday, 7.30pm
Venue: Foxhall Stadium, IP4 5TL
Last five home results v Panthers:
24.08.17 W52-41
15.04.17 W60-32
21.07.16 W57-36
14.04.16 W48-42
27.08.15 W61-29
Peterborough's last five:
KOC Peterborough 47-43 Ipswich
KOC Glasgow 45-45 Peterborough
KOC Peterborough 50-40 Glasgow
CH Peterborough 54-38 Edinburgh
CH Peterborough 50-43 Workington