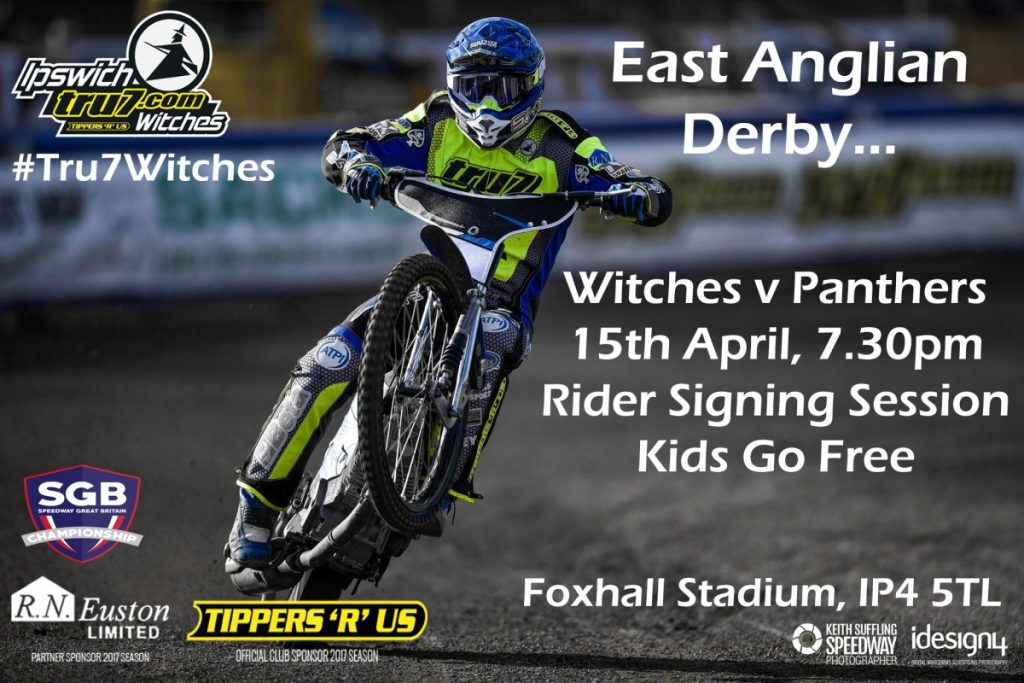 The 'Tru7.com' Witches host local rivals Peterborough Panthers on Easter Saturday at Foxhall in a much-anticipated East Anglian derby (7.30pm).
The Witches come into the meeting off the back of a visit to Sheffield on Thursday and will be looking to continue their strong start to the new season with optimism high on the terraces.
The home side continue to be without Kyle Newman with James Sarjeant staying at number two. Danyon Hume goes back to number seven with Connor Mountain back at number six, as the two continue to share the reserve slots.
The Panthers have had a big winter shake up after a disappointing 2016 season that involved several team changes. Ulrich Ostergaard and Simon Lambert remain from last season's team but in comes Jack Holder at number one. A title winner with Somerset last year, Paul Starke is in the middle order. Exciting youngster Bradley Wilson-Dean is joined by Tom Bacon at reserve. Kenneth Hansen is out with illness and the Panthers will operate Rider Replacement at number five.
Both sides have started the season in good form and it is sure to be a fantastic clash between the two East Anglian sides in front of a big crowd at Foxhall.
Team Manager Ritchie Hawkins is hoping for derby day delight in front of another big Foxhall crowd.
"It's a tough run of meetings and we need to beat Peterborough as it is our local derby," said Hawkins. "We have had some varied results in the past but I'm looking for another good performance and if we carry on the way we have rode in the first two home meetings I'm sure we will get another good result.
"We have had two positive crowds so far, it is a local derby and it will be a really exciting meeting. Its two sides who have both started well and we need all the support we can get. Hopefully the weather will be great and there is a feel good factor about the place. We have an exciting line up and the track is better now. It should be a great meeting and we're looking to get the right result.
The boss believes the Panthers riders will have pressure on their shoulders after team changes throughout 2016.
"I think they have started quite well, they've had favourable matches so far. We know if things are not going right they will make team changes and all of those boys will be under pressure and racing for their jobs because they'll get dropped if they are not doing well. For them, they'll know they need to put in a good performance against us but I'm confident in our own team's ability."
Hawkins says the local derbies have an extra edge for him, having grown up watching Saturday's opponents.
"Racing against Peterborough there is an extra edge for me personally and it's the same as a Team Manager. Obviously being from Peterborough I grew up watching the Panthers but now I want bragging rights for the rest of the year!"
Kids Go Free to Saturday's meeting and there will be a poster signing session with all seven riders from 6.30-7.00pm. The first 250 kids will receive free Easter eggs too. Furthermore, there will be an interactive competitionin the stands. A number of Easter eggs will be around the stadium, on the terraces and on the seats. Should you be lucky enough to find one, all you have to do is upload a picture with the Easter egg and use the hashtag #Tru7Witches and tag @ipswichspeedway on Twitter to be entered into a competition to win two tickets to the next meeting at Foxhall!
Words: Henry Chard
Meeting Sponsor: RN Euston Construction
Ipswich 'Tru7.com' Witches:
1. Danny King (c) 9.57
2. James Sarjeant 5.66
3. Nico Covatti 7.49
4. Cameron Heeps 5.07
5. Rory Schlein 7.17
6. Connor Mountain 2.00
7. Danyon Hume 2.00

Team Manager: Ritchie Hawkins
Peterborough 'T. Balfe Construction' Panthers:
1. Jack Holder 7.16
2. Simon Lambert 5.25
3. Paul Starke 6.62
4. Ulrich Ostergaard (c) 7.14
5. R/R for Kenneth Hansen 6.74
6. Bradley Wilson-Dean 5.02
7. Tom Bacon 2.00

Team Manager: Carl Johnson
Referee: D. Watters
Parade: Saturday, 7.30pm
Venue: Foxhall Stadium, IP4 5TL
Championship Table
| | | |
| --- | --- | --- |
| Team | Pl | Pts |
| Edinburgh | 3 | 9 |
| Glasgow | 3 | 7 |
| Sheffield | 4 | 6 |
| Peterborough    | 2 | 6 |
| Workington | 1 | 3 |
| Newcastle | 2 | 3 |
| Witches | 2 | 3 |
| Scunthorpe | 5 | 3 |
| Redcar | 0 | 0 |
| Berwick | 4 | 0 |
Last five home results v Panthers:
21.07.16 W57-36
14.04.16 W48-42
27.08.15 W 61-29
03.04.15 W 53-39
04.09.14 W 59-36

Panthers in 2017:
KOC Redcar 44-46 Panthers
KOC Panthers 49–39 Redcar
CH Scunthorpe 44-46 Panthers
CH Panthers 51-42 Scunthorpe
Panthers 33-57 Coventry (Challenge)