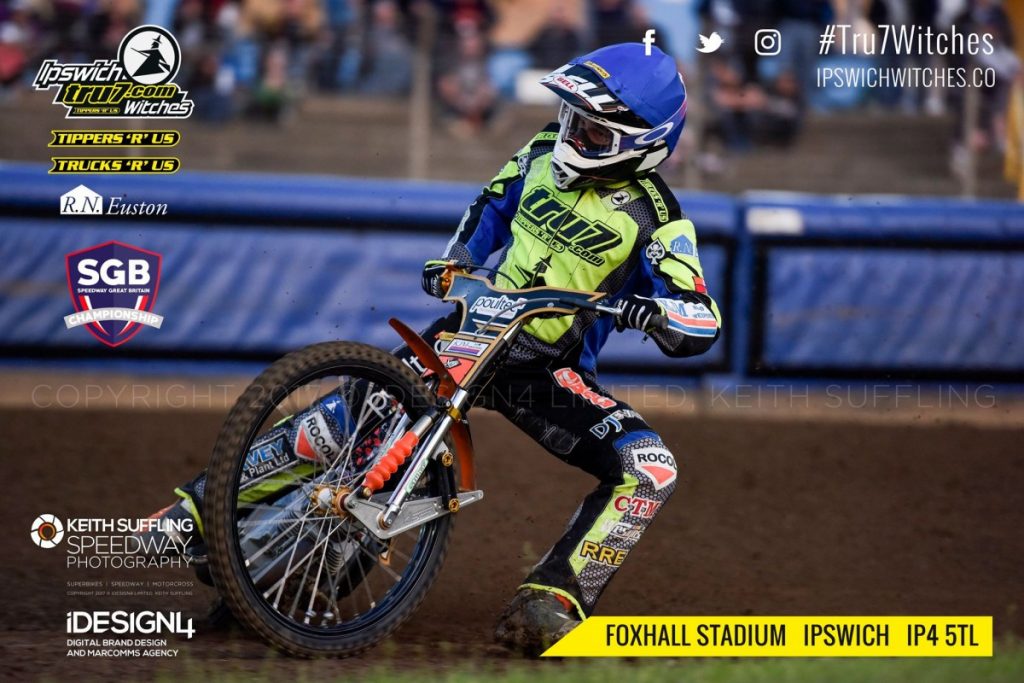 The 'Tru7.com' Witches are back on home shale on Thursday as they welcome back the Scunthorpe Scorpions for a second time in the Championship (7.30pm).
Since beating Workington at Foxhall two weeks ago, the Witches have been on their travels at Glasgow and Peterborough. In both meetings the Witches produced battling performances to pick up a point after narrow defeats as the race for the play-offs hots up.
The home side will be without reserve Nathan Greaves who rides in the British Under-19 Final at Plymouth. Sheffield's Robert Branford comes in as a guest for Greaves and the reserve scored 8+2 for the Tigers when he was at Foxhall earlier this season.
The Scorpions look highly unlikely to mount a play-off challenge this season as they sit ninth in the table with just five wins from 20. However, the visitors have run play-off contenders close away from home in recent weeks and will be keen to cause an upset on Thursday. Lewis Kerr returns to Foxhall in the number one spot with another former Witch at reserve in Carl Wilkinson.
The Witches were convincing winners earlier in the season against a depleted Scorpions side but the away side will be looking for a repeat of their 48-41 League Cup success at Foxhall last season where Alex Davies led them to victory scoring 13.
Team Manager Ritchie Hawkins believes the away side will provide a sterner test than earlier in the season but believes his side have reason to be confident at Foxhall.
"I think they were weakened last time by injuries and they will put in a lot better performance on Thursday," said Hawkins. "We have got to show the form we have shown so far this season at home and we have been great at home. We can be confident in ourselves but we cannot be complacent.
"Scunthorpe are quite capable of giving us a run for our money but as I have said we can be confident but not complacent. We just need to perform as we have been to take the league points."
After a home meeting on Thursday the Witches face a busy weekend on their travels with visits to Berwick and Newcastle as the boss eyes more points on the road.
"We did well at both tracks considering we had a weakened side at both. Going there with a settled team and riding well, we are looking to go to both places to win meetings and pick up points which we need to do to keep in the play-off spots and keep the momentum going."
The Carley Gittus UK Tour moves to Foxhall Stadium on Thursday July 6. Again joined by Hayley Perrault, the girls will be on track during the interval and again after Heat 15. Carley is looking forward to meeting up with Cameron Heeps, who is local to her home track in Pinjar, Australia.
Words: Henry Chard
Meeting Sponsor: RN Euston Construction
Ipswich 'Tru7.com' Witches:
1. Danny King (c) 8.94
2. Kyle Newman 5.86
3. Cameron Heeps 6.71
4. Justin Sedgmen 6.93
5. Rory Schlein 8.51
6. Robert Branford (g) 4.30
7. Connor Mountain 2.67

Team Manager: Ritchie Hawkins
Scunthorpe 'Henderson Insurance' Scorpions:
1. Lewis Kerr 7.38
2. Tero Aarnio 5.28
3. Josh Auty 6.60
4. Ryan Douglas 5.59
5. Michael Palm Toft (c) 7.33
6. Carl Wilkinson 4.97
7. Josh Bailey 2.38

Team Manager: Dave Peet
Referee: C. Turnbull
Parade: Thursday, 7.30pm
Venue: Foxhall Stadium, IP4 5TL
Championship Table
| | | |
| --- | --- | --- |
| Team | Pl | Pts |
| Edinburgh | 19 | 41 |
| Glasgow | 16 | 39 |
| Witches | 19 | 37 |
| Redcar | 18 | 35 |
| Sheffield | 15 | 30 |
| Peterborough | 16 | 24 |
| Newcastle | 15 | 22 |
| Workington | 11 | 21 |
| Scunthorpe | 20 | 17 |
| Berwick | 21 | 10 |
Last five home results v Scorpions:
11.05.17 W59-32
11.08.16 W56-34
17.03.16 L41-48
30.07.15 W59-33
25.09.14 W57-35
Scunthorpe's last five:
CH Scunthorpe 39-50 Redcar
CH Scunthorpe 49-40 Berwick
CH Edinburgh 52-40 Scunthorpe
CH Peterborough 54-36 Scunthorpe
CH Sheffield 51-41 Scunthorpe