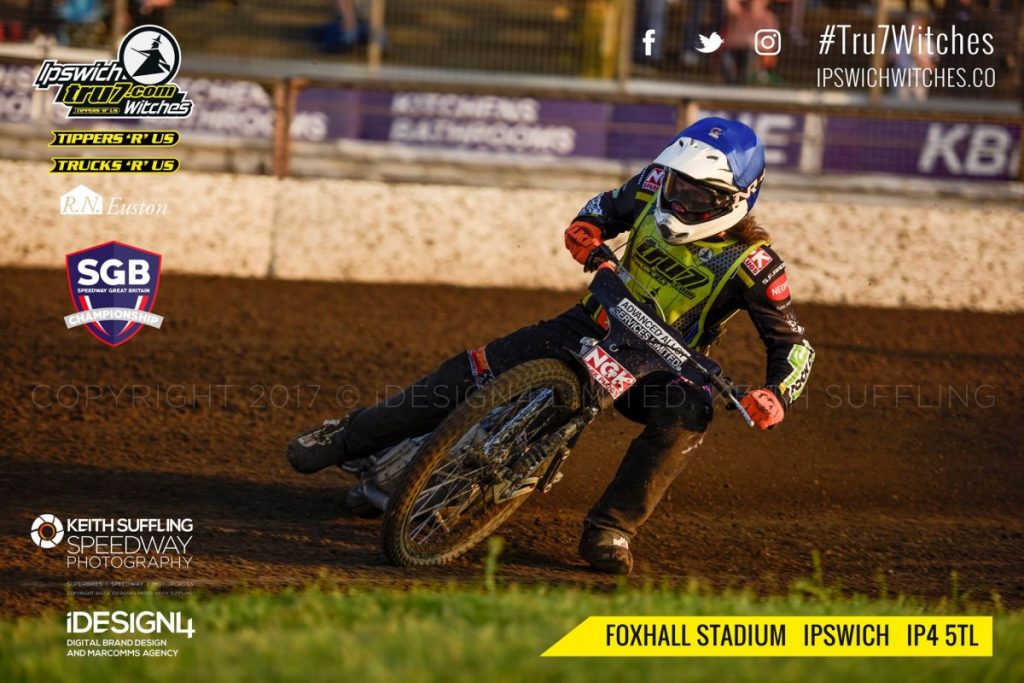 The 'Tru7.com' Witches conclude their northern tour with a visit to Newcastle Diamonds on Sunday in the Championship (6.30pm).
The Witches were at Berwick on Saturday night where they picked up a narrow 47-45 away win after a last heat 5-1 from Danny King and Rory Schlein. The Witches had been in control of the tie but the home side reacted in the final third of the meeting to almost cause an upset and the Witches will be keen to improve on Sunday.
The Suffolk side are at full strength with captain Danny King returning to a former home track of his. King spent time with the Diamonds in 2014 and his teammate Rory Schlein has good form there too after winning the British Championship semi-final earlier this year.
The Diamonds have had a steady first half of the season and sit in seventh but in striking distance of the top four. They have been beaten at home this season though which will give the Witches hope. The home side have a powerhouse top two with Team GB stars Robert Lambert and Steve Worrall leading the side. Newcastle have new reserves since the Witches last visited with Ben Hopwood and Alfie Bowtell replacing Dan Greenwood, who had replaced Connor Coles previously and the injured Danny Phillips.
Points in the North East have been hard to come by in recent years for the Witches with no wins since 2011 where the Witches hung on for a 47-46 win with Lasse Bjerre and Kevin Doolan leading Ipswich to victory.
Team Manager Ritchie Hawkins is looking for a performance to get over Saturday's late meeting blip on Sunday.
"We need to perform again and get over Saturday's result at Berwick," said Hawkins. "We got three points in the end but we made it a lot closer than it was early on. We had three bad heats in four and had a bad last third of the meeting but we came out of it with three points and we will go to Newcastle having collected an away win and three points and I know we can perform well at Newcastle."
The boss says past form at Newcastle won't come into his thinking but says visiting every track twice helps the second time around.
"Our team is massively different from previous years but everyone goes there knowing the place well and having been there plenty of times and obviously we have been there already this year. I don't particularly like the format of going everywhere twice but it does help when you are going there the second time."
Hawkins says his side are capable of matching the Diamonds at home if they ride to their potential.
"They have a strong heat leaders and at home they are backed up well by the rest of the team who go well at home. We are very capable and I look at every match thinking it is in our hands everywhere we go. If all the boys ride to their capabilities, we will score points and win races everywhere. We need to focus on our own performance and if we get beat having rode to our full potential then they have done very well, it is not a case of the track or anything like that."
Words: Henry Chard
Newcastle 'Sapphire Engineering' Diamonds:
1. Robert Lambert 9.65
2. Ashley Morris 4.95
3. Lewis Rose 6.27
4. Ludvig Lindgren (c) 6.71
5. Steve Worrall 8.81
6. Ben Hopwood 2.44
7. Alfie Bowtell 2.00

Team Manager: George English
Ipswich 'Tru7.com' Witches:
1. Danny King (c) 8.94
2. Kyle Newman 5.86
3. Rory Schlein 8.51
4. Cameron Heeps 6.71
5. Justin Sedgmen 6.93
6. Nathan Greaves 4.63
7. Connor Mountain 2.67
Team Manager: Ritchie Hawkins
Referee: J. McGregor
Parade: Sunday, 6.30pm
Venue: Newcastle Stadium, NE6 2XJ
Championship Table
| | | |
| --- | --- | --- |
| Team | Pl | Pts |
| Edinburgh | 20 | 44 |
| Witches | 21 | 43 |
| Glasgow | 17 | 42 |
| Redcar | 19 | 35 |
| Sheffield | 16 | 33 |
| Peterborough | 18 | 28 |
| Newcastle | 16 | 22 |
| Workington | 12 | 21 |
| Scunthorpe | 22 | 20 |
| Berwick | 23 | 10 |
Last five results at Newcastle:
23.04.17 L38-52
18.09.16 L37-55
10.05.15 L43-48
25.05.14 L44-46
29.09.13 L27-65

Newcastle Factfile
Main Sponsor: Sapphire Engineering
Team Colours: Black, white and blue
Race-Night: Sunday (6.30 pm)
Website: www.newcastlediamonds.co
Track Length: 300 metres
Track Record: 61.0 seconds (Kenni Larsen, October 24, 2010)
Admission Prices:
Adults: £15 online, otherwise £16
Concessions: £11 online, otherwise £12
Children (5-16): £3
Under 5: Free
Programme: £2.50
Car Parking: £1
Stadium Address
Newcastle Stadium, Fossway, Byker, Newcastle upon Tyne, NE6 2XJ
Telephone: 01912 656581
By Train: The nearest station is Newcastle Central Station, which is on the main line from London to Edinburgh.