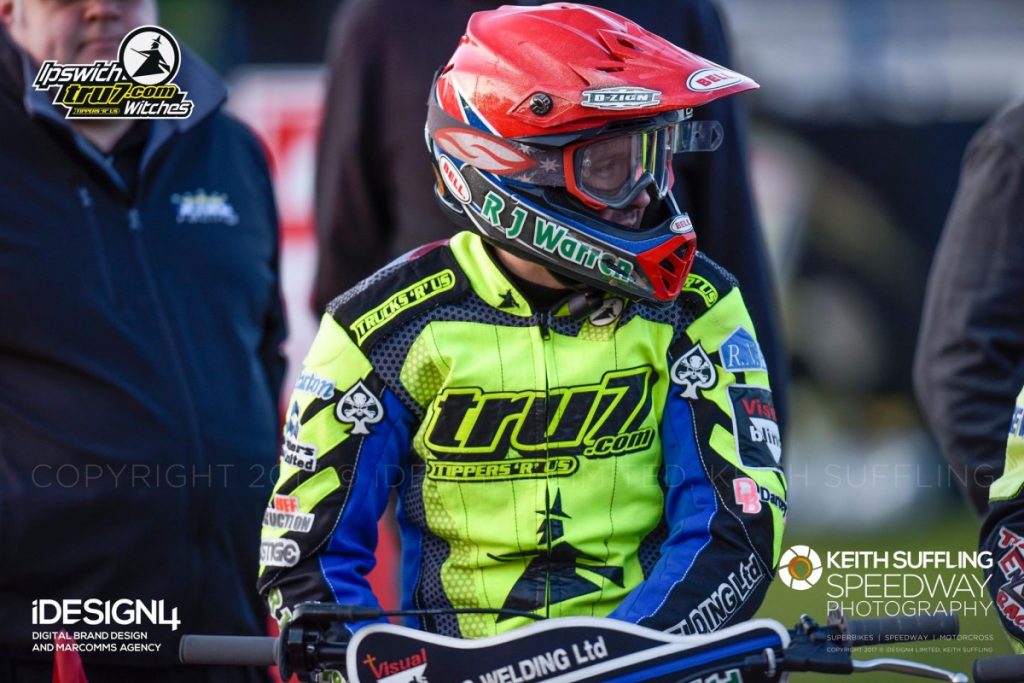 The 'Tru7.com' Witches round off a busy week with the long trip to face Newcastle on Sunday in the Championship (6.30pm).
It will be the Witches' fourth meeting of the week after collecting a point at Peterborough on Monday following a narrow defeat. A heavy defeat at Redcar followed on Thursday but the Witches got revenge over the Bears at Foxhall on Saturday with a 54-38 win.
Rider Replacement will once again be in operation at number three after Nico Covatti suffered a broken wrist in Thursday's defeat at Redcar. Josh Bates guests again at number four with Cameron Heeps still out with illness. It is the last meeting of James Sarjeant's injury replacement period as we wait to find out the fitness of Kyle Newman and whether he is able to return to the track. Danyon Hume and Connor Mountain switch their reserve positions from Saturday for this meeting as captain Danny King returns to a track he knows well after a spell as a Diamond in 2014. Chris Louis will manage the side with Ritchie Hawkins suffering from a sickness bug.
The Diamonds suffered a shock quarter-final play-off defeat in 2016 to the Sheffield Tigers but have opted to stick with the majority of the side in 2017. British star Robert Lambert leads the side with Steve Worrall at number five forming a powerful top two. Diamonds regular Ludvig Lindgren is back for another season and captains the side. Former Witch Ashley Morris is at number two with Lewis Rose hoping to avoid an injury hit season at three. A man who Witches fans know well from last season is Connor Coles who gets his Championship chance with the Diamonds as Danny Phillips completes the side.
A depleted Witches side was beaten in this fixture last year and it has not been a happy hunting ground for the Suffolk side who have just one draw from the last five fixtures.
Team Manager Ritchie Hawkins is confident his team can run the home side close on Sunday.
"I think we will run Newcastle close, it will be a tough meeting but I think we can come away with something," said Hawkins. "It will be a really close one and I'm looking forward to it and am confident in the team."
The boss says the busy period will benefit the riders and believes the Diamonds will be a strong outfit at home in 2017.
"It's busy and a couple of the boys have other meetings in-between but in general it's really good and time on the bike is especially good at this time of year.
"They (Newcastle) have started well and Lewis Rose has stepped up and is going well, as is Ashley Morris. They will be strong at home and always go well at our place but in general I think they will stronger at home than away this year."
Words: Henry Chard
Newcastle 'Sapphire Engineering' Diamonds:
1. Robert Lambert 8.70
2. Ashley Morris 4.98
3. Lewis Rose 5.97
4. Ludvig Lindgren (c) 7.69
5. Steve Worrall 8.47
6. Connor Coles 2.00
7. Danny Phillips 2.00

Team Manager: George English
Ipswich 'Tru7.com' Witches:
1. Danny King (c) 9.57
2. James Sarjeant 5.66
3. R/R for Nico Covatti 7.49
4. Josh Bates (g) 4.89
5. Rory Schlein 7.17
6. Danyon Hume 2.00
7. Connor Mountain 2.00
Team Manager: Chris Louis
Referee: W. Dishington
Parade: Sunday, 6.30pm
Venue: Newcastle Stadium, NE6 2XJ
Championship Table
| | | |
| --- | --- | --- |
| Team | Pl | Pts |
| Edinburgh | 4 | 12 |
| Glasgow | 4 | 10 |
| Witches | 6 | 10 |
| Sheffield | 5 | 9 |
| Peterborough | 5 | 9 |
| Scunthorpe | 8 | 7 |
| Workington | 2 | 6 |
| Redcar | 4 | 6 |
| Newcastle | 2 | 3 |
| Berwick | 6 | 0 |
Last five results at Newcastle:
18.09.16 L37-55
10.05.15 L43-48
25.05.14 L44-46
29.09.13 L27-65
09.06.13 D45-45
Newcastle Factfile
Main Sponsor: Sapphire Engineering
Team Colours: Black, white and blue
Race-Night: Sunday (6.30 pm)
Website: www.newcastlediamonds.co
Track Length: 300 metres
Track Record: 61.0 seconds (Kenni Larsen, October 24, 2010)
Admission Prices:
Adults: £15 online, otherwise £16
Concessions: £11 online, otherwise £12
Children (5-16): £3
Under 5: Free
Programme: £2.50
Car Parking: £1
Stadium Address
Newcastle Stadium, Fossway, Byker, Newcastle upon Tyne, NE6 2XJ
Telephone: 01912 656581
By Train: The nearest station is Newcastle Central Station, which is on the main line from London to Edinburgh.