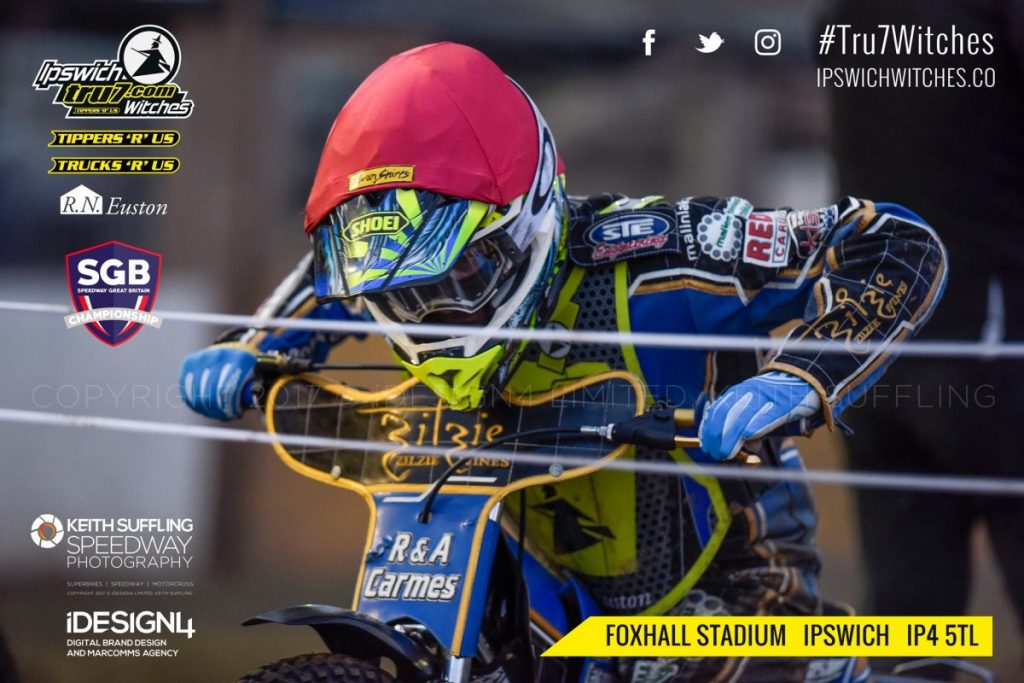 The 'Tru7.com' Witches make the short trip to local rivals Peterborough on Sunday in a Championship fixture (5.00pm).
It is the second away meeting on the trot for the Witches after they battled hard for a point at Glasgow last Saturday and after a narrow 44-46 defeat at Peterborough earlier in the season, the away side will be hoping for more points on the road come Sunday evening.
The away side are at full strength for the clash and it is a very different side to that which visited Alwalton earlier in the season. Kyle Newman missed the first visit with injury and both Nathan Greaves and Justin Sedgmen have come into the side as replacements for injured duo Danyon Hume and Nico Covatti.
The Panthers have not got the season off to the start they would have wanted and have made team changes early on in a bid to improve their fortunes. In has come three-time British champion Chris Harris at number one replacing Kenneth Hansen but Harris will be missing on Sunday due to the World Cup and he is replaced by Sheffield's Josh Grajczonek. The injured Simon Lambert made way for Richard Hall at reserve but the Panthers have replaced Hall with Liam Carr at reserve this week. Jack Holder continues to impress this season and has been in fantastic form on home shale so far as Bradley Wilson-Dean continues his rapid progress moving from reserve into the main body of the team.
It's a track that has produced plenty of entertaining clashes between the two over the years and the last time the Witches were victorious was in 2015 when current skipper Danny King clocked up 12 points in a 46-44 win.
Witches Promoter Chris Louis believes the team have what it takes to deal with any conditions at Peterborough and is targeting at least a point.
"We have settled down and Peterborough have improved since we last met, so it won't be easy," said Louis. "Our ethos has got to be that we cannot come away from an away meeting without anything. Ritchie (Hawkins) will be targeting a win as we have a bunch of lads that enjoy Peterborough. Whether it is slick or grippy, we have the sort of team that will get on with it and give it a good go. We have to be targeting a win but we cannot afford to come away with nothing."
The Witches will have Danny King in the team after he wasn't selected for Team GB in the World Cup and Louis says he has found Alun Rossiter's selections strange.
"Danny is gutted obviously and I have found Rosco's (Alun Rossiter) selections strange. I found it strange how Richard Lawson did not make the squad and I thought the team selection was odd given the squad he had. He could have put Robert Lambert to better use and included Danny which would have been stronger but at the end of the day he is the manager and has his reasons and I wish the team all the best. From our point of view it keeps us as strong as we can be, from a selfish point of view it is great."
It is two very different sides to when the two teams met earlier in the season and Louis says it shows the competitive nature of the division.
"I said before we started that the Championship was going to be the most competitive season we've had since dropping down and it is proving that way. Peterborough have improved since we last met and we have changed but have also settled down and it is almost like we have not been there as it is two different teams."
Louis is hoping the Witches fans travel in good numbers for the local derby against the local rivals.
"We're hoping for a decent day weather wise, it's a local derby and Peterborough are our big local rivals now having taken over from the King's Lynn days, which as a rider I really enjoyed that rivalry. I'm hoping we have a big crowd there to stir up the locals and take the win!"
Words: Henry Chard
Peterborough 'T Balfe Construction' Panthers:
1. Josh Grajczonek (g) 9.46
2. Bradley Wilson-Dean 6.36
3. Paul Starke 7.25
4. Ulrich Ostergaard (c) 6.46
5. Jack Holder 8.62
6. Liam Carr 3.00
7. Tom Bacon 2.04

Team Manager: Carl Johnson
Ipswich 'Tru7.com' Witches:
1. Danny King (c) 8.94
2. Kyle Newman 5.86
3. Cameron Heeps 6.71
4. Justin Sedgmen 6.93
5. Rory Schlein 8.51
6. Nathan Greaves 4.63
7. Connor Mountain 2.67

Team Manager: Ritchie Hawkins
Referee: J. McGregor
Parade: Sunday, 5.00pm
Venue: East of England Arena & Events Centre, PE2 6XE
Championship Table
| | | |
| --- | --- | --- |
| Team | Pl | Pts |
| Edinburgh | 19 | 41 |
| Witches | 18 | 36 |
| Glasgow | 15 | 36 |
| Redcar | 17 | 31 |
| Sheffield | 14 | 30 |
| Workington | 11 | 21 |
| Peterborough     | 15 | 21 |
| Newcastle | 14 | 19 |
| Scunthorpe | 19 | 17 |
| Berwick | 20 | 10 |
Last five results at Peterborough:
17.04.17 L44-46
30.05.16 L36-56
22.05.16 L45-48
12.06.15 W46-44
06.04.15 L37-56
Peterborough Factfile
Main Sponsor: T. Balfe Construction
Team Colours: Red, white and black
Race-Night: Sunday (afternoon)
Website: www.peterboroughpanthers.co
Track Length: 336 metres
Track Record: 58.4 seconds (Krzysztof Kasprzak, 20th September 2010)
Admission Prices:
Adults: £16
Concessions (Over 65s and Students): £13
Juniors (aged 10-16): £5
Children (under 10): Free (with adult)
Programme: £3
Car Parking: £1
Stadium Address
Peterborough Speedway, East of England Arena & Events Centre, Alwalton, Peterborough, PE2 6XE
Telephone: 07760 162164
By Train: The nearest station is Peterborough, which is on the mainline from London King's Cross to Scotland. The East of England Arena & Events Centre is five miles from the station