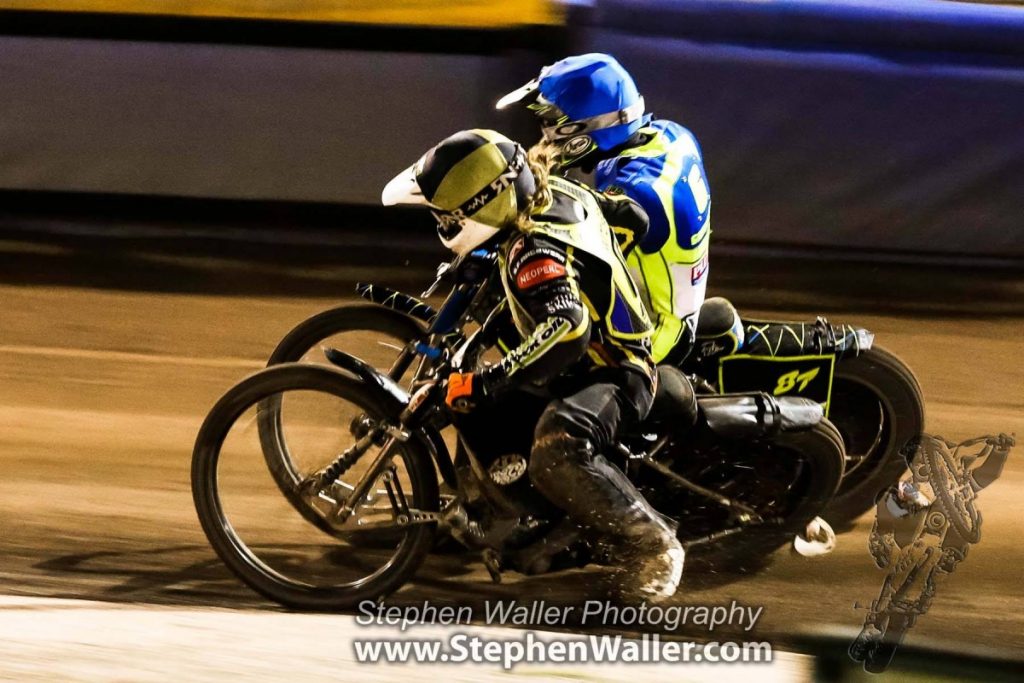 The 'Tru7.com' Witches lock horns with Sheffield Tigers once again as they pair meet in the Knockout Cup semi-final first leg on Thursday at Owlerton (7.30pm).
The two sides recently contested the Championship Play-Off final as the Tigers came out on top over the two legs to lift the trophy at Foxhall. The Witches will be seeking revenge in the cup this week as they look to end the season on a high with a trophy for their efforts.
The Suffolk side welcome back Connor Mountain to the side after he missed the final with a shoulder injury. However, as had been the case all season, as one rider returns sadly one misses out. Rory Schlein will miss both meetings this week following his crash at the Championship Pairs on Sunday where he suffered concussion and picked up a hand injury. Former Witch Ben Barker will deputise at number five. Rider replacement remains in operation at two for the injured Justin Sedgmen.
The newly crowned champions are without number one Josh Grajczonek who aggravated an injury in the first leg of the Play-Off final at Owlerton a couple of weeks ago. Scott Nicholls guested for the Tigers in the second leg of the final at Foxhall and he steps in again for both legs of the semi-final this week. The hosts added the Championship Pairs trophy to their collection this season after Kyle Howarth and Lasse Bjerre won on home shale last Sunday. However, Howarth will be missing after picking up an injury and rider replacement will be in operation for both legs this week.
The Witches have found it tough going at Owlerton this season with three defeats by 14 points or more and know they must keep things closer this time around before the second leg at Foxhall on Friday.
Team Manager Ritchie Hawkins says his side need to cut out the mistakes made in the Play-Offs if they want to progress to the Knockout Cup final.
"We have got to go with the same philosophy that we have had all year and we will go and try to perform to the best of our ability," said Hawkins. "We need to cut out the mistakes we made in both legs of the final if we are going to make the cup final. I have confidence in the team that we can go and win the cup. We will go there looking to do the job and progress."
Hawkins says the team are determined to win a trophy this season and says heads have not dropped since the Play-Off final defeat.
"Maybe we feel that we have had such a great year together and have done so well, everyone wants a trophy. The determination is there and this is our last opportunity to win something and this is our last goal this season.
"We spoke after the Play-Off final and everyone was determined to win the cup. With these six riders, I have been so happy with their attitude all season and that has not changed because we lost a Play-Off final. Straight away, our focus was on winning the cup and nobody's heads are down, they are just focused on the next goal."
The boss is pleased to have Mountain back in the side but frustratingly is now without Schlein for the semi-final.
"It is great to have Connor back and he had a brilliant meeting at Mildenhall on Sunday. Unfortunately, we won't have Rory there so we carry on with five Witches riders."
Words: Henry Chard
Sheffield 'Window Centre' Tigers:
1. Scott Nicholls (g) 9.47
2. Todd Kurtz 5.39
3. Lasse Bjerre 8.42
4. Josh Bates 6.65
5. R/R for Kyle Howarth 8.62
6. Jan Graversen 5.10
7. Georgie Wood 2.68

Team Manager: Simon Stead
Ipswich 'Tru7.com' Witches:
1. Danny King (c) 8.87
2. R/R for Justin Sedgmen 6.17
3. Cameron Heeps 6.93
4. Kyle Newman 6.10
5. Ben Barker (g) 8.58
6. Nathan Greaves 4.51
7. Connor Mountain 3.33

Team Manager: Ritchie Hawkins 
Referee: A. Steele
Parade: Thursday, 7.30pm
Venue: Owlerton Stadium, S6 2DE
Knockout Cup semi-final
Ipswich vs Sheffield
Peterborough v Glasgow/Newcastle
Last five results at Sheffield:
28.09.17 L37-53
14.09.17 L38-52
13.04.17 L33-57
04.08.16 D45-45
21.04.16 L43-47
Sheffield Tigers Factfile
Main Sponsor: Sheffield Window Centre
Team Colours: Blue and Yellow
Race-Night: Thursday (7.30pm)
Website: www.sheffieldspeedway.co
Track Length: 361 metres
Track Record: 59.1 seconds, Ricky Ashworth (October 14, 2010)
Admission Prices
Adults: £15
Concessions (over 65s): £12
Juniors (aged 12-17): £5
Children (aged 5-12): £1
Programme: £3
Stadium Address
Owlerton Stadium, Penistone Road, Sheffield, S6 2DE
Telephone: 01142 853142
By Train: The nearest station is Sheffield, which is about two and a half miles from Owlerton Stadium.