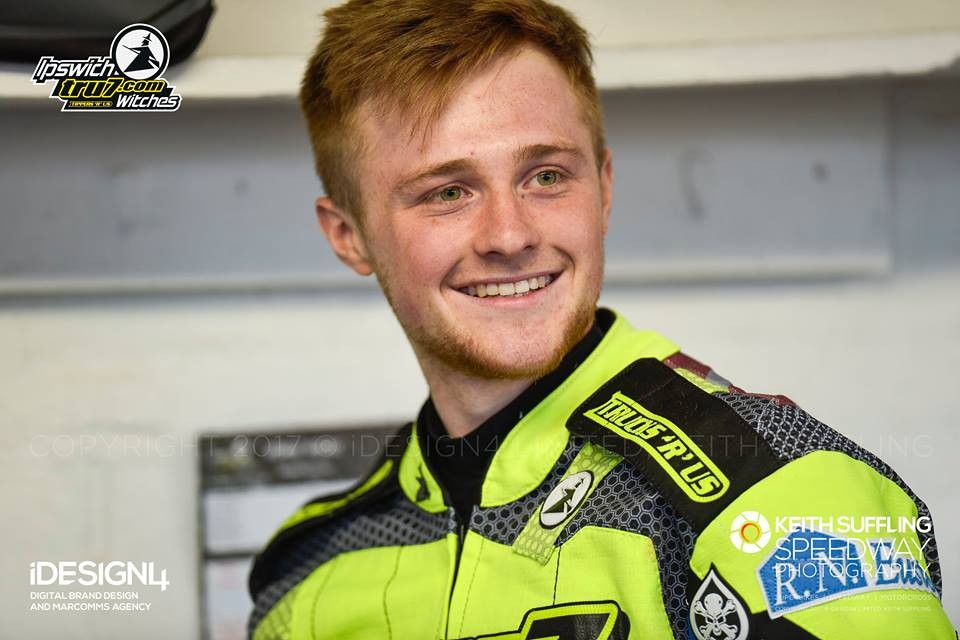 'Tru7.com' Witches reserve Connor Mountain heads to Poole on Wednesday to contest the British U21 Final (7.30pm).
Mountain is hoping to replicate the form he showed in the semi-final at Peterborough but is not putting any pressure on himself.
"If I can take the form from the qualifying to Poole then that will stand me in good stead," said Mountain. "I've never been there but I think it will be good.
"I'm taking it as another meeting, there isn't any pressure on me and I'm going there to enjoy myself and do as well as I can. Like I say if I can ride like I did at Peterborough then I think it will be a good night."
It will be the 19-year-old's first visit to Wimborne Road but the reserve has sought the advice of skipper Danny King ahead of the meeting.
"I have done some research by watching videos from Premiership meetings there in the past and I had chat with Danny about what it is like there which is a big help."
Mountain is happy with how he has started the season and is looking forward to locking horns with Ipswich teammate Danyon Hume once again.
"It's been a pretty good start, I have been scoring my average every meeting. I have had a bit of a dip at Ipswich which I think is mental more than anything and I just have to ride out of that but my away form has been good and my individual meetings have been good. Everything injury wise has been good and I'm feeling great.
"It's always nice to race with your mates and against them. Danyon and I had that really good race at Peterborough so if we can have another one like that it will be really fun."
The King's Lynn born rider goes up against plenty of fellow Championship reserves and says the step up this season from the National League is noticeable.
"There will be plenty of regular faces there and it is always fun to race against them and I'll go out and enjoy it and hopefully get a good result.
"It's a big difference, getting used to the different tracks and how they are prepared which is quite different to National League tracks. I think you have just got to have that determination in the first turn and that is the main difference out of the start."
Mountain has been drawn at number 15 with Hume drawn at number six. The 16 riders will go through 20 qualifying heats, with the top two going directly to the Grand Final and the riders placed 3rd-6th racing in a semi-final. The top two from the semi-final then progress to the Grand Final to race for the title.
Words: Henry Chard
Date: Wednesday April 26, 7.30pm
Venue:
Poole Speedway Stadium, Wimborne Road, Poole, Dorset, BH15 2BP
Track Telephone: 01202 681 145
Website: http://www.poolepirates.co
Admission:
Adults: £15
Senior Citizens & Concessions: £12
Programme: £4
Qualifying Riders:
1. Danny Phillips
2. Max Clegg
3. James Shanes
4. Ellis Perks
5. Nathan Stoneman
6. Danyon Hume
7. Liam Carr
8. Adam Ellis
9. Zach Wajtknecht
10. Nathan Greaves
11. Jack Smith
12. Robert Lambert
13. Dan Bewley
14. Josh Bates
15. Connor Mountain
16. Luke Harris
Reserves:
17. Josh Bailey
18. Danno Verge