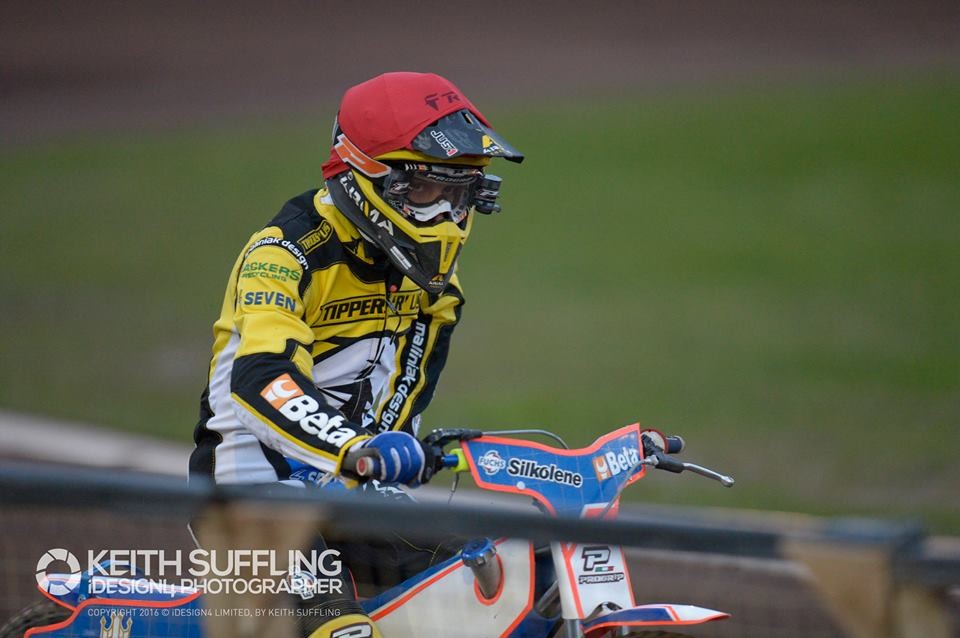 Words: Henry Chard
The move to England
In this edition Nico talks about his first chance in England and the surprising opportunity at Ipswich where he is happy with life.
In 2012 people saw me in a meeting at Lonigo in a semi-final of the Grand Prix qualifying. I had a great meeting and also in the meeting was Danny King, Martin Smolinski, Ben Barker; all riders who were with the Birmingham Brummies and it was there Phil Morris saw me who was the Team Manager of Birmingham. After the race he talked with Armando Castagna straight away and asked if I had what it takes to compete in England and Armando agreed and said 'Nico is doing very well and has a chance of making it'. After two days I was here in England!
It was quite a shock to me as well because I had never seen a meeting here in England and I was in the Elite League for the first time with little experience. It was very difficult for me but I did not want all my dreams to fade because I had no experience. It would have been a better decision to enter the Premier League first. It was not so bad though, I didn't finish the last three months at Birmingham but the other year I had a full year with Birmingham that was very good because we reached the final against Poole. It was a good season for me and I added more experience to my CV, it was hard and l learnt a lot.
We had another year with Birmingham, half of the year when things were not good with the club and it was closed and there were quite a few problems for me economically. At this point I was close to returning to Argentina because I had no club in England, I honestly had no money to live and that was when Sheffield called me to ride in the Premier League. It was the last part of the season, which was good because I didn't have any other opportunities.
During the British winter after this season Chris (Louis) called me and it was a surprise because I did not expect it. I really did not think I could come back to England because I didn't have too many contacts and things hadn't gone well at Birmingham and I didn't have a plan for the future and then Chris called. It was all a new project, I had only seen this track once and therefore I had to start all over again with new people. It was difficult for me because I don't know the language well and to come from so far away without knowing anyone, everything is starting from scratch.
It has helped me a lot being here and the team last year was good too with Danny King who I knew from Birmingham and he was one of the first to help me grow at different tracks here. Really, it was a huge turnaround in my life because I was going to be heading back to a lower level and to then go to a higher level , riding a lot in England, it was a really big step. It also helped me in Europe in international races and I finished better before returning to Argentina and then we talked about 2016 with Chris.
Every year in Europe was a step that I kept on climbing. I'm happy, I have lived some great moments others not so good, good meetings, injuries and times where I needed to be operated on but I'm happy. I come from a country where economically things are always very difficult. I don't have a family that has money that can help me to be where I am. I need to ride well because if not, I really do not have people or sponsorship to help me.
It all started off very small but everything has come together to have good achievements in my sports career. I've had good meetings at Grand Prix qualifying level with far less economic structure because I'm against riders who really are strong and we have done great things. That leads me to believe a little more because I think that if I was lucky enough to be better off financially I could do so much more.
It's hard sometimes when things do not go well but I always have a positive mentality which has helped me grow a lot. I think I've gained a respect from other riders which is also very important.
Nico Covatti: El sueño imposible (Tercera parte)
Palabras: Henry Chard
El paso a Inglaterra
En esta edición Nico habla sobre su primera oportunidad en Inglaterra y la oportunidad sorprendente de Ipswich donde se encuentra contento hoy en día.
En 2012 se me vio en una carrera en Lonigo en un semi-final del Grand Prix. Tuvo un muy bien carrera y en ese momento había sido Danny King, Martin Smolinski, Ben Barker; todos los pilotos que estaban con los Birmingham Brummies y fue allí donde me vio Phil Morris que era el entrenador de Birmingham. Después de la carrera hablo automáticamente con Armando Castagna y lo pregunto si yo tendría una posibilidad de competir en Inglaterra y Armando accedió y dijo 'Nico anda muy bien y tiene posibilidades'. Después de dos días yo estaba aquí en Inglaterra!
Fue un golpe bastante para mí también porque jamás he visto una carrera aquí en Inglaterra y estaba por primera vez en Elite League con poca experiencia. Fue muy difícil para mí pero no quiera que se me venga todos mis sueños por no tener experiencia. Por allí era mejor decisión entrar en el Premier League. No era tan mal, fue bien no terminé los últimos tres meses en Birmingham pero el otro año tenía un año completo con Birmingham que fue muy bueno porque llegamos al final contra Poole. Fue una buena temporada para mí así que sumé experiencia, fue duro y aprendí.
Tuvimos otro año con Birmingham, la mitad del año cuando las cosas no fueron bien con el club y se cerró y quedamos un poco con bastante problemas en mi parte, en la parte económica. Allí en esta época yo estaba cerca de volver a Argentina porque no tenía club en Inglaterra, no tenía dinero sinceramente por vivir y eso fue cuando me llamó Sheffield para correr en la Premier League. Fue la última parte de la temporada, lo cual fue bueno porque no tenía otra oportunidad.
Durante el invierno británico después de esta temporada me llamó Chris (Louis) y fue una sorpresa porque no le esperaba. Realmente no pensé que pude volver más a Inglaterra porque no tenía demasiados contactos, no han ido bien las cosas con Birmingham y no tenía como proyecto por el futuro y luego me llamo Chris. Todo fue un nuevo proyecto porque solo una vez había vista esta pista y por eso tuvo que iniciar todo nuevo con gente nueva. Era difícil para mí porque no sé bien la idioma, se viene de tan lejos sin conocer nadie, todo es empezar de cero.
Me ayudó mucha acá y el equipo el año pasado también fue bien con Danny King que conocí de Birmingham y él fue uno de los primeros a ayudarme a crecer en diferentes pistas aquí. Realmente dio un vuelco a mi vida muy grande porque iba a ser un nivel bajo de estar en otro nivel más alto, corriendo muchas veces en Inglaterra. Me ayudó también fuera en Europa en carreras internacionales y terminé mejor antes de regresar a Argentina y habíamos hablado sobre 2016 con Chris.
Todo cada año en Europa se fue un escalón que fue asciendo. Estoy contento, se vivió unos momentos muy lindos y otros no tantos, carreras buenas, lesiones y tiempos donde tenía que ser operado pero estoy contento. Vengo de un país donde las cosas económicas siempre van muy difíciles. No tengo un familia que tiene dinero que pueden darme a ayudar a ser que soy.  Necesito andar bien porque si no, realmente no tengo gente o publicidades que me transmitió a ayudarme.
Entonces lo de mi fue muy reducido pero todo ha llegado a tener buenos logros en mi carrera deportivo. He hecho buenas carreras en nivel de clasificaciones de Grand Prix con muchísimo menos estructura económica porque voy contra pilotos que realmente son fuertes  y  hemos hecho cosas importantes. Eso me lleva a crecer un poco más porque pienso que si tendría la suerte de estar en una condición económica podría ser mucho más.
Es difícil a veces cuando las cosas no van bien pero siempre estoy con la mentalidad en lo más alto que me ha ayudó a crecer un montón.  Creo que he ganado un respeto de otros pilotos que también es muy importante.
Part One: http://www.ipswichwitches.co/story/nico-covatti-the-impossible-dream-part-one
Part Two: http://www.ipswichwitches.co/story/nico-covatti-the-impossible-dream-part-two