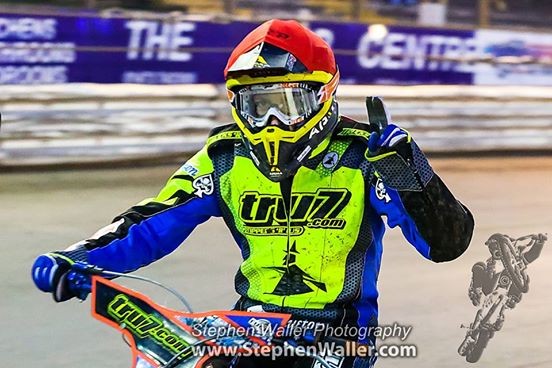 Popular rider Nico Covatti says he is delighted to be back on a bike after a nasty crash in April whilst racing for the 'Tru7.com' Witches left him with a broken wrist.
The Argentinean born Italian says it was a massively frustrating time for him to get injured with so much to look forward to in 2017.
"This should have been a really good year for me with a lot of high expectations and good things to come in the British leagues and in the rest of Europe with the large amount of meetings I had in the diary such as the GP Qualifiers, the SEC, World Cup, Italian Championship and many more," said Covatti. "To have the accident in April, so early was a huge frustration and it something that no one wants but these things happen."
The 29-year-old was operated on twice after the crash at Redcar but returned to Italy to continue his rehabilitation and says he is now ready to return to action way ahead of schedule.
"After the accident I was operated on twice in England and after that I returned to Italy where I could continue my rehabilitation alongside my friends and my girlfriend, so it was a lot more comfortable for me with also my doctor nearby.
"I started the long road to recovery but during that frustrating period I am very happy because I made faster progress than the doctors anticipated. They said it would be a year before I returned but I have been training for three months here in Italy and did my first testing In Lonigo and I felt good on the bike although I lacked a bit of strength. After four or five more practice sessions I am at 100% again and I have trained a lot in the gym and on the bike and I am feeling good and ready to return to the track competitively."
Covatti is hopeful of finding a team place in England again and has plenty of meetings lined up on the continent too after working hard to get back to full fitness.
"When the doctors told me that I wouldn't return to the track this season, it was a really sad time for me. But the days and the months went by and I realised I could return this season. With a lot of effort I have achieved that and I am ready.
"I don't have a team in England and I would love to get a team place somewhere before the end of the season. I have meetings in Italy planned and I will continue training for this. I am ready to return to England and I have all my team and equipment ready. I have not had any contact yet from anyone but it would be great to return this season after starting so badly."
Off the track, 2017 will go down as one to remember for Nico as he and his girlfriend are expecting a baby girl in January 2018 and he could not hide his excitement at the news.
"This year has been one of the worst for me in the sport seeing as I have been out of action since April. But more importantly in my personal life I am very happy because I am going to become a father as my girlfriend and I are expecting a baby girl in January.
"My family will come from Argentina and this is the best thing that has happened to me and I am happy for this. It will be a difficult year to forget for the good things that have happened and the bad things. I am happy though and to be back on the bike is great and I have a meeting in Germany coming up alongside international meetings and I am delighted to be back."
Words: Henry Chard